I
This page is still under construction please call again soon
Samuel Trevethan - Born St. Issey 1867.
David Trevethan 1826-1892, the father of those who came to New Zealand, had a brother John 1831-1898 who married Jane Moss on the 14th of October 1854 and worked as an agricultural labourer in the St. Issey area. They had five of a family, three boys and two girls and by 1861 lived at Lower Tredore which is within easy walking distance of St. Issey.
Of interest to us is their youngest boy Samuel Zachariah Trevethan who was born in 1867 and presumably was given his second name after his uncle Zachariah Trevethan whose photo is on the Porthcothan Page in connection with the fall of the St. Issey church bell tower in 1869. Young Samuel went on to marry Elizabeth Saundry which could well be his uncles David's wives niece of the same name.
Samuel who was known as "Kyi" left Cornwall along with many other young people of the time but instead of Australia or New Zealand like his cousins he choose Canada and went to help with the construction of the Great Western Railway. Of interest is some information extracted from a book "Hamilton, An Illustrated History" by John C Weaver.
A special meeting of the Hamilton, Ontario city council voted to approve purchase of stock in The Great Western Railroad on 29 August 1849. The boost to Hamilton economy came immediately. Railway construction had slowed in New York State, so equipment from Rochester, New York and Buffalo, New York flowed into Hamilton during the summer of 1850 and 1851. Contractors Moore, McElroy, and Pierson, imported two stem excavators used in New York State. Sam Farwell, who had constructed a portion of the New York and Erie Railroad brought his equipment through Port Hamilton.
As construction began, the iron moulding and machinist trades grew. Foundrymen bid to construct roughly 450 railway cars between the summer of 1852 and 1853. By 1855-57 it is likely that railway had replaced navigation as the principal means of immigrant travel. Beginning in 1856, the town of Clifton surpassed the town of Quebec City as a port of entry for Canadian immigrants. Passengers from the New York County line disembarked on the American side of the suspension bridge. The peak year (1857) saw 32,000 immigrants entering Canada by the suspension bridge.
There was a major catastrophe on the 12th of March 1857 when a Great Western Railway train plunged through a bridge over the Desjardins Canal and killed sixty people. There was a major shake-up during this time when stocks were sold illegally, double-dealing occurred, and one man's attempt to take control of the Great Western Railway failed. In 1857, financial panic meant that the new southern lines could not raise capital. The city of Hamilton, having had seven years of prosperity, was now headed for seven lean years. A reasonable estimate of population loss between 1858 and 1862 would be about twenty per cent. The city of Hamilton had to suspend interest in payments on its bonds. In 1861, twenty one per cent of the city's housing stock had become vacant. The American Civil War, tension between the United States and Great Britain, and especially the announced intention of the United States not to renew a reciprocal trade agreement with Canada upset the important trade links.
Vacated dwellings were not being filled by newcomers; immigration had slowed to a trickle. The collapse of the railway boom struck down a number of industries supplying rolling stock, and to a minor degree, locomotives. Daniel Gunn's locomotive works, which had constructed four engines for the Great Western Railway using English patterns, was one of the victims. Being forced to close his doors, he left creditors and 100-150 unemployed. The Great Western Railway was absorbed by Grand Truck Railway in 1882.
How our Samuel fitted into all this period of Canadian history we don't know but it appears that he and his family of six children later returned to Cornwall at some stage as some of his descendants still remain there today although his son John emigrated to Canada and remains there today.
Johanna Trevethan - born 1792
Huntingdon Township, Canada.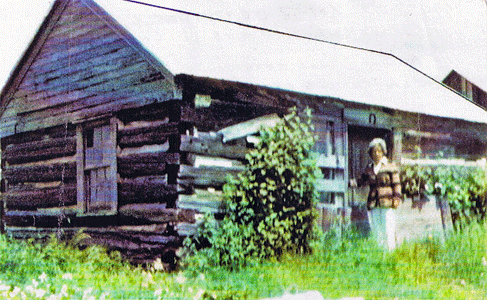 Log Cabin that Johanna Trevethan lived in 1851. Taken 1979

Johanna Trevethan a very distant relation to the New Zealand Trevathans was born in St. Merryn and baptised on the 8th of July 1792 at the local parish church. Nothing is known of her early life until her marriage on the 13th of June 1812 to William George at the same church she was christened at. The wedding was witnessed by Thomas Parsons and William Grigg.
Johanna was pregnant at the time with their first child Elizabeth who was baptised three months later on the 7th of September. Johanna and William lived at St. Merryn, Churchtown and went on to raise a family of six children, three boys and three girls. William worked as a labourer until around 1827 went he became a publican. Some time in 1844 William and Johanna, who were by now in their mid fifties, decided to emigrate to Canada taking with them their children.
Why at this stage of their lives William George was to emigrate to Canada with his family is not known.
They left from Padstow, a sea port just a short distance from St. Merryn, and sail to Huntingdon Township, Hastings County, in what was called Upper Canada at that time, now Ontario.
They set up home at Huntingdon Township, Hastings in the west of Canada. Seems William was a funeral director as they bought with them the original plaque from the funnel home which was owned by the George family in Cornwall.

By the census of 1851 William and Johanna lived in a log shanty at Huntingdon with their two youngest children John and Thomas, the older children presumably having married and moved away.

Ten years later the 1861 census shows Johanna now a widow aged 68, living with her son John aged 32. Her daughter Mary while in her 40th year died from a cold she contracted by going through the wet spring snow to comfort her mother upon the death of her brother John who had been killed in the American Civil War.

The family moved west to Port Hope and in 1884 William and Johanna's son James Trevethan George became a charter member of the Undertakers Association of the province of Ontario. Eight years later in 1892 James Trevethan George and his son Alfred purchased the furniture and funeral business from the estate of William C LeLean. It was September the 24th but it would seem they had been operating a funeral business before this date but only acquired the building in 1892.

The George family went on to conduct this business for three generations at the Wakton Street address. In 1912 the furniture store was closed allowing the firm to exclusively offer funeral services. Alfred George finally sold to presumably his son James Trevethan George on October the 4th 1937 and later he to Wilfred Cosgrove in 1952.

The George family operated both the funeral home in Cornwall as well as the Port Hope one until the death of J T George in 1904. Follow the link to Ross Funeral Chapel for more information on this business and a number of interesting photos.
There are many George's in Cornwall and it has not been possible to verify the origins of William. One story has it that his father was a Nicholas George, and that the family had originally, in centuries past, gone to Wales and then on to Cornwall. One researcher had William as the base child of Deborah George but this is now known to be untrue. She went on to married a Nicholas Parsons. Interesting to me was the mention of a Parsons who could well have been a distant relation of the John Parsons who came to New Zealand as the husband of Emma Trevathan.

The picture above is of the log shanty on Lot IV Concession X, Huntingdon Twp, Hastings County, Ontario that William and Johanna lived in all those years ago. Pictured is Merle Smith the Great Great Granddaughter of William and Johanna and was taken in 1979.
Click the link below to view the family tree in PDF format. If you need a PDF reader then click the link below to go to the Adobe site.
| | |
| --- | --- |
| | |
| Tree 120 | |