---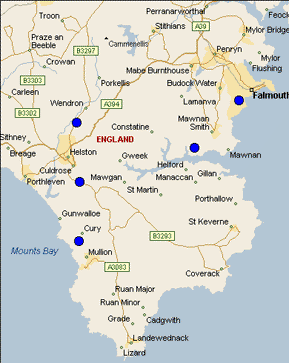 Helson Area, Cornwall

Helston parish is in the south west of Cornwall, containing the borough of Helston and almost completely surrounded by Wendron parish just a few miles from the city of Penzance. It is from here that at least some of the American Trevethans originated from. From the wills of a number of members of this family I have been able to piece together to some extent some of the history of this family.

The Prayerbook Rebellion, 1549.

In 1549 there was a rising by the Cornish people of which the roots of the protest go back to the religious changes introducted by the Tudor monarchs. The people of Cornwall in the 1500's were conservative and Catholic. Their local church was the centre point of their village life with the celebration of the great many local saints' days found in Cornwall using the Cornish language promoting their religious believes.

A good deal of the local literature comes from this period in time, as a result of religious sponsorship by institutions such as Glasney College in Penryn. Glasney College was on the Fal river and founded in 1265 by a former Bishop of Exeter, Bishop Bronescombe. This college for secular canons was endowed with great tithes from the area surrounding Falmouth and the Lizard including the parishes of Mabe, Mylor, Budock and Gluvias. Glasney College covered almost six acres and was acknowledged to be the finest and largest religious foundation in Cornwall. Miracle Plays were performed there in the Cornish language. In its prime the college had a provost (the head), 12 prebendaries, 7 priest vicars, a bellringer, 4 choristers (vicars choral) and 3 chantry priests.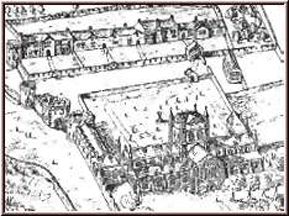 Glasney College

It was the Provost of Glasney College who in 1309 finally allowed consecration of a cemetery at St. Laudus in Mabe. Before that the people had to trundle their dead in a cart over four miles of rough muddy track for a burial in Mylor. The Provost imposed some rather hard conditions though. Each year on St. Mylor's Day (August 27th) twelve men from Mabe had to attend the service at Mylor bring twelve pennies with them as an offering. This might not seem much, but the average wage for a farm worker at that time was only twelve shillings a year. If they did not pay, the amount due doubled on the next day and thereafter. Mabe still had to continue maintaining the portion of the churchyard hedge that had been their job when burying their dead there.

John Nans a talented man, of Cornish background, became the vicar of Gwennap and aquired a prebend at Glasney. In 1497 he succeeded Sir John Oby as provost of Glasney and at the same time he was appointed the bishop's vicar-general in spirituals. It was in this capacity that he instituted his successor at Gwennap, James Trevethan(1), on his own resignationin 1497.

Master James Trevethan was instituted as a cannon at Glasney the following year and was a long holder of the office, continuing untill his death in 1547. During this time the king's conflict with the papacy deepened in the 1520s and '30s and on the 17th of August, 1534 the then provost, James Gentle, along with his three canons James Trevethan, John Knebone and Ralph Trelabys, subscribed to the king's supremacy.

In the period between 1492 and 1497 there was a dispute between John Trevethan and Sir John Eby the last Provost of the Glasney College. Sir John Oby was commonly perceived as the villain of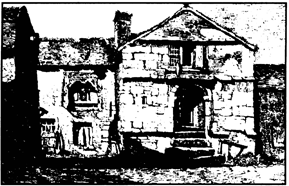 Glasney College Gate

the piece, hugely resented for his thoroughness in administering heavy taxes. His life came to an end when he was met by a band of sea-rovers involved in the Cornish Rebellion in 1497, who held against him that he had "gathered more money than came into the King's use". He was taken to Taunton, and "there in the market place slew him so piteously, in such wise that he was dismembered and cut in many and sundry pieces".

It seems that the Archbishop of Canterbury had appointed Sir John Luky, one of seven vicars at Glasney, to collect all the rents from the lands and tenements owned by Glasney College and keep the necessary books of account. He had forfilled that position for a period of six years and when he died and left John Trevethan the executor of his will. Just who this John Trevethan is it is not possible to determine but it is likely to be John Trevethan who is known to have been the vicar of Gwenap from 1497 to 1537/38. There is also a John Trevethan who was the Patron of Ladock church between 1518 and 1520 which could be one and the same man.

Upon his death these books and papers fall into the hands of John Trevethan and while he was asked many times by Sir John Eby to surrender the College's documents to him John refused. Sir John Eby then wrote to the Archbishop of Canterbury seeking a subpoena asking that John Trevethan appear before the King in his chancery to answer these charges.

John Trevethan however maintained that his actions were lawful and that he and his mother had inherited certain lands from Sir John Luky. Proof of this was known by Sir Pasche Colins the priest to Sir John Luky at the time of his death. John said that he was ready to prove this and asked that these charges be dismissed. If John and his mother were given this land by Sir John Luky one logical scenario is that John Trevethan's mother was a daughter of Sir John Luky.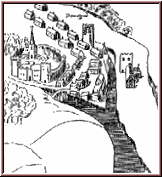 Glasney College

Sir John Eby replied that John had not provided sufficient evidence to have the case dismissed. As John had withheld the books of account which showed the lands were to be conserved for the right of Glasney College Sir John Eby could not determined the truth of this matter. What happened next is not recorded.

Penryn was proud of Glasney College, but by the 16th century things started to go downhill and there was much criticism about the wild behaviour and vandalism of the college's inhabitants. William Carvanyon, a farmer who lived nearby, was so outraged that he took civil action againest Glasney and stated "Sir James Gentle [the college's Provost] and his servants be men of great pleasures, more like temporal men than spiritual, do daily use hawking and hunting and do not only tread and break down hedges, corn and grass of them that be his poor neighbors, and also do kill, drink and joust."

Nicholas Trevethan, born ca. 1520.

From an undated Chancery document(1) we learn of a Nicholas Trevethan who petitioning the Lord Chancellor, Sir Nicholas Bacon, Knight in London for a Royal subpoena to be issued against John Tredomack (alias-Penpoole) from the parish of St. Kea near Truro. Sir Nicholas Bacon was Lord Chancellor to Elizabeth I who was crowned in 1558 and ruled until her death in 1603. Nicholas Trevethan asked that John Tredomack be asked to appear in court to explain why he stole £30 17s (about $25,000 of today's money) worth of goods and chattels from his house in 1547 during the time he was on military service in France for Kind Edward VI. King Edward was the "boy King" and was crowned at the age of 9 in 1547 and died before he was aged 17 years. What is not clear is why the case was not filed in the civil court and why it took so long for him to act after the event.

In wartime, people were impressed for the duration of the war. To learn of this war I turned to "A History of Cornwall"(1) and found "Three years later England, in alliance with the Emperor, was again at war with France. In 1544 Henry [VIII] laid siege to Boulogne, which, thanks largely to younger Sir William Godolphine and a contingent of Cornish miners, was taken in September, a few days before the Emperor made peace, leaving England to carry on the war alone. The position was dangerous, invasion was expected at any moment, trenches were dug along the southern coast of Cornwall, and a fleet collected at Southampton. In the summer the French tried to force either way into the Splent, but after some inconclusive engagements an outbreak of plague drove them back to their own shores. It was at this time, on July 19, 1545, that one of the biggest of Henry's ships, the Mary Rose, heeled over in a sudden squall and sank. Most of the five hundred men on board were drowned, among them her young captain, Roger Grenville of Stowe, who left behind him a little boy of three, Richard. Peace was made in 1546, though this did not stop the profitable disorder in the Channel, the privateering and piracy of adventurers like William Hawkins and John Eliot of Plymouth, and John Killigrew of Arwennack. Six months later the blood-intoxicated Henry died and was succeeded by his son Edward VI, a sickly boy of nine."

So the apparent theft from Nicholas took place in 1547 and his petition was filed sometime after 1558. Was the reason he took so long to file his case because he had been drafted to the war for 10 years or so? Maybe it was the matter of the Cornish Prayer Rebellion of 1548-49. This would not have been a favorable time for a Cornishman to initiate any legal action, especially one from Helston Manor, the centre of the troubles.

Nicholas was a labourer who now lived in the parish of St Martin in the Vintry within the City of London. This was one of nearly 100 parishes within the City of London. The city at that time was but a small area within the old Roman walls, so the parishes were also very small. The parish survived the Great Fire of London in 1666 and the church books go back to 1617 or so.

However, before being conscripted by Sir William Godolfin, Knight, to fight in Boulogne, France, Nicholas lived in Cornwall and in fact may have only been transient in London at the time of the court hearing. The Godolphin's were a prominent Helston, Cornwall, family dating from the 13th century or earlier. Nicholas went to France, as a "pioneer" who were advance troops who dug the entrenchment's used by the advancing troops or dug the ditches which were to protect a fort or fortress.

Nicholas's house in Cornwall is stated as being in Pooleyhase in the parish of Wilheye. However I had not been unable to locate this place until I had the help of David Row a Cornishman living in Australia. From a study of old writing he concluded the place name was Sithney. Sithney parish adjoins Helston and the west bank of Loo/Loe pool.

Nevertheless, when William Body arrived in Penryn in 1547 to take an inventory of the chantries, he was met with hostility and menace as the people of Penryn were not prepared to stand by and see it stripped and destroyed without protest, and a very brave, though futile, demonstration against William Body took place.

Ramblings of discontent in Cornwall were heard in as early as 1530 when Henry VIII closed the local monasteries. A few concessions helped to soften the opposition but when on his death the new king, Edward sent his men to attack Cornish churches trouble erupted. Over 3,000 people gathered in Helston and turned the kings men away.

Despite this warning the King's men continued to attack the culture and people of Cornwall by closing Glasney College in 1549. The threat to introduce a new English language prayer book was the last straw and sparked of a march to London by the Cornish which resulted in a great deal of bloodshead.At the time of the college was closed there were 6 prebendaries (secular canons) resident, 3 non -resident, 4 vicars resident, 3 chantry priest, 1 bell ringer/teacher and the vicar of the College of Choristers. Most of the lead coverings from the buildings were sent to the Scilly Isles for the fortifications and the remainder in 1549 along with the bells. The stone and timber were sold and transported away by Sir Jon Peryman an Exeter merchants. Some feel that many of the stones from the church are identifiable in the walls of todays Penryn buildings.

Gunwalloe Parish

Gunwalloe Parish lies between Cury and the sea on the south east coast of Cornwall with its romantic coastline linked with King Arthur. There are local stories of smuggling, looted wrecks and buried treasure. Its wild coast line has claimed 76 wrecks between 1526 and 1931. This is a land of rare birds and vegetation.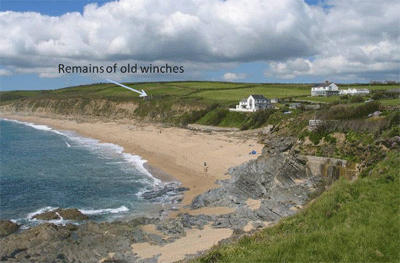 Fishing Cove, Gunwalloe showing position of capstan's mentioned below
In the past fishermen worked the coast from the shingle beach known as Fishing Cove, but this has largely died out. In 1841 the population of Gunwalloe was 298 and today has fallen to just 226.
Close to the church is the site of the manor house of Winnianton, which in 1086 included most of the south west of Cornwall. Roger de Carminow was the Lord of the Manor, a Crusader and a descendant of King Arthur.
Walter Trevethan, born c1553 died c1613
So it is in this remote and wild place that Walter Trevethan lived in the late 16th century and no doubt knew and associated with the smugglers of the time. Walter was born about 1553 and the only sibling we know about is his brother John. Seems he married his wife Margaret Bonythan the daughter of Elizabeth Godolphin and John Bonythan about 1575 in Newlyn East where they had the only two children the records can be found for. John was born first followed by Nicholas on the 31 December 1577. It seems likely that his future wife was the heiress to her father John Bonythan of Helston and this bought various properties to Walter and his sons. The family moved to Chyvarloe farm where he went to live as a gentleman farmer. Chyvarloe is in Carminow manor held in sequence by William St Aubyn followed by son Henry St Aubyn followed by daughter Isabell.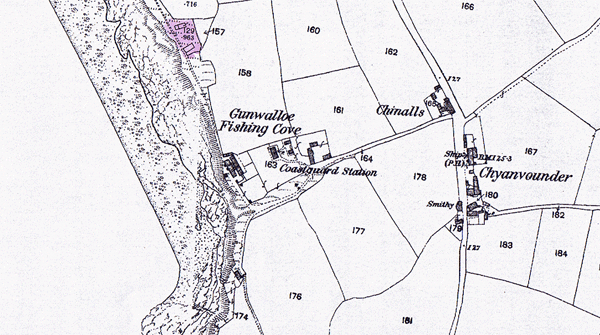 Map showing position of capstans (purple) Gunwalloe
Maybe Margaret died during child birth as no further children are recorded and Walter is in 1585 at the age of about 32 years described as having a mistress named Elizabeth St. Aubyn. I feel that this reference is to Elizabeth being the mistress of Carminow Manor and her husband Willian St Aubyn was the squire. Their daughter Isabell was to inherit the manor in 1617. It seems that at some stage Walter married Isabell and as they had no children and there were no St Aubyn heirs, it lead to Walter's son Nicholas inheriting Carminow and other properties.
In the same year Walter's mother Ursula and sister were found to be living with Mrs Warnford's in her house in Winchester where Catholics were being harboured. When Walter visited he said he came to visit his mistress Elizabeth St. Aubyn bring certain congers (marine eels) and other dry fish he had to admit that the old gentlewoman living there was his mother and the younger woman his sister. Walter was asked if he would be going to church but refused and was after this found to be in jail. At this time Walter is described as being of Mawgan the parish directly to the east of Gunwalloe.
Also in 1585 a lease for Winnianton farm which overlooks Church Cove near Mullion Cove, except fore the capstan house was transferred from his father-in-law John Bonythan to Walter Trevethan at a cost of £63 13s 8d. Winnianton is also listed among the Arundell's manors.
On the 15th of September 1592 John Arundell de Lanherne, esquire, lord of Carmynowe leased to Walter Trevethan and his sons John and Nicholas a tenement in Chyvarloe and a 1/5th close called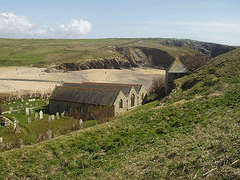 St WinwaloeChurch, Gunwalloe

Morebloe annexed to it being part of the Manor of Carmynowe in Gunwalloe. The court was held at Winnyanton before Richard Tremayne, Hugh Boscawen and William Willyams, gentlemen, surveyors and commissioners of John Arundell by virtue of a warrant dated 31st Jul 1592. CHYVARLOE farm is close to Loe pool and is the next farm to Carminow Manor farm. MOREBLO is described as a parcel of waste land adjacent to south side of Chyvarloe farm.
John Arundell reserved for himself all the tin and the great trees on the property. The rent was set at 10s for the tenement in Chyvarloe and 16d for the 1/5th close called Morebloe. As part of the lease Walter and his sons were to provide one chicken and one day's work at harvest time each year plus an obligation on the death of Walter to supply the lord of Carmynowe with one best beast for Chyvarloe and a chicken for Morebloe.


John Trevethan, died 1617.

John Trevethan, gentleman, son of Walter, was a very wealthy man for when he died in the winter of 1617 his goods and chattels were valued at £361. An inventory was made by Godolphin Fletcher, Gentleman, Nicholas Trevethan, Gentleman, William Dutton, Clerk, John Coffin, Gentleman and Daniell Bedford, Merchant. Just who this Nicholas Trevethan was I don't know for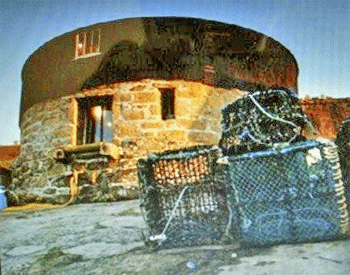 Capstan house at Sennen Cove. Is this what John's
house looked like.

sure but it seems likely that this was his younger brother Nicholas b. 1577 mentioned below.

It would seem that John was quite a large farmer who lived in Gunwalloe parish on the west coast of Lizard Peninsular. He had much land for he had growing timber valued at £18, oxen and young bullocks worth £66, horses and colts totaling £15 and sheep to the value of £73. He was into cropping as well with corn in the field valued at £36 and corn in the barn worth over £66. His other livestock included pigs, poultry and bee hives. Among his household items was his armour valued at £5.

In 1612 John acquired the 99 year lease of a messuage called Capson House (near Chyvarloe) and a parcel of land near the sea shore, 33ft long and 27 ft wide with cellars or messuages lately erected on it plus a parcel of land in Carminow manor. It was agreed he would hold the land until his death when it would past to his son Nicholas. The yearly rent was set at 12d for the Capson house and 8d for the other land. Carminow manor had been acquired by the Arundell family from the Carminow family in 1396 and at the time of this lease in 1612 was held by Henry St Albyn. David Row tells me he is pretty sure John's farm was Chyvarloe which has a boundary at Loe pool (Carminow creek). This seems to be the only farm in Gunwalloe with a copse of trees shown on map.

His only children we know of were Robert born in 1610 and William born in 1614.

Richard Trevethan, died 1623.

Possibly yet another brother of Nicholas was Richard who died in 1623. Although he was not of gentleman class and obviously far less well off than John he named Nicholas Trevethan as the overseer of his estate. He only had goods to the value of sixteen pounds, twelve shillings and eight pence including wheat, oats and barley in the ground.

He left his two children Robert and Jane six pound, thirteen shillings and four pence each which they were to receive when they reached the age of nineteen and his wife Mary was granted just twenty shillings.

Nicholas Trevethan, gent, 1577 - ca.1660.

Nicholas was born in Newlyn East in north Cornwall on the 31st of December 1577 but it seems that the family moved to Gunwalloe area when he was still a boy

When only twenty seven, and still unmarried, a special court held in Helston granted to Nicholas a tenement known as Gonehusband in the manor of Helston. A surety was provided by Henry Saint Aubyn esquire of Carminow Manor, the daughter of whom I think he was later to marry and Robert Cocke a family later to become closely connected with the Trevethan family both in Cornwall and America. This land was given by Francis Godolphin, knight a relation on Nicholas mother's side of the family for Nicholas's grandmother was a Elizabeth Godolphin.

However four years later aged thirty one he married into the Tremeneire family who were merchants in Penzance. His bride was Janee and the wedding was held in Helston at the beginning of 1608. They did not live on the tenement at Gonehusband but rather in the parish of Gunwalloe to the west.

They raised maybe ten children there and Nicholas for the time was quite a wealthy man. In 1650 he was fined £75 for being a Royalist, the fines of the era for this offence usually being 1/10 of the value of their estate making Nicholas's wealth at about £750.

Four years after their marriage in 1612 a messuage called Capson House and a parcel of land near the sea shore, 33ft long and 27ft wide, being part of Carminow Manor, with cellars or messuages that had recently been erected on it was leased to John Trevethan and on his death in 1617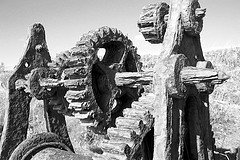 Old winch at Fishing Cove ca. 1800

transferred to his brother Nicholas Trevethan. The term of the lease was 99 years; the annual rent being 12d for the Capson house and 8d for the other land. This property is near Chinalls Tenements in the manor of Carminow a little north of Chyanvounder farm. The ruins of the capstans can still be seen today on a small cliff above the beach a couple of paddocks north of Chinalls.

Two years later Nicholas's step mother Elizabeth St Aubyn inherited Carminow and this was eventually to past to Nicholas.

On the 30th of September 1630 Nicholas Trevethan of Carminow, gentleman acquired from John Arundell of Lanherne, esquire the lease of all the messuages and tenements in the village of Chiverlowe, formerly in the tenure of Jennett Listian who had died. The lease cost £49 and the annual rent was set at 6s. 8d. plus one chicken a year and help with the harvest On Nicholas's death John Arundell was to receive one of his best beasts or a payment of 40s. 0d.

Nine years later Nicholas acquired more land for on the 31 October 1639 John Arundell of Lanherne, esquire leased to Nicholas of Carminow, gentleman for his sons John, James and John the younger the property Penchywone, lately held by John Penhellecke. The lease cost Nicholas £10 with annual rent of 4s. 4d. plus one chicken, help with the harvest and on the death of Nicholas the payment of 5s. 0d. Seems from the lease that another son Richard was added later.

Hicholas's death date is not known but he was recorded as still being living in Gunwalloe aged eighty three when the 1660 Poll Tax was taken.

William Trevethan, gent, 1609 - 1642.

Nicholas and Janee's second son, William Trevethan (ca. 1609 - 1642), in the winter of 1630, at the age of twenty one, married into the respected local Cocke family. He chose as his bride Emblena Cocke whose father Robert was the magistrate of Helston. Their first child who may have been born before the wedding, was a boy they named Nicholas after his grandfather Trevethan. Next were two daughters Jana and Loveday followed by John in March of 1636 and his younger brother William in August of 1639. Jana died a few days after her birth and it seems William also died young leaving a family of Loveday and her two brothers Nicholas and John.

Emblena is of interest to us as I am sure that it was her three brothers Thomas, William and Walter Cocke together with their cousin Christopher who were to head for the new world of America in 1684. Christopher Cocke was married to Grace Bolitho in the autumn of 1673 at Wendron so presumably she also was on the ship. Emblena's grandson, Sampson Trevethan also headed to the Virginia Colony in America at the same time so it seems reasonable to assume they all went together.

William and Emblena's life together as a family was to be a very short one for when the children were only twelve, seven and five William who was still in his early thirties became ill and was being nursed by Grace Rillston. Two days before he died he made his will before Grace Rillston and his father Nicholas Trevethan. Nicholas and John Spernon were to later become overseers of his will while his brother Henry was to be the executor. In gratitude for looking after him while he was ill he asked that Henry's wife Elnor sort out some of his items of linen as a gift for Grace Rillston.

William, who had been a farmer, had a lot of land and since none of his children were of age he directed his brother, Henry to let out the property he owned, including the land he had under tenure at Trehill from the Duchy to provide money for the maintenance of his three children until they became of age. He bequeathed to his children a gold ring each. His godchildren each, received two shillings and six pence while his brother Henry's wife received a string with a piece of gold on it which he normally wore around his wrist.

The estate would have been quite a large one for that time, being valued at almost five hundred pounds. An inventory taken after William's death gives a good insight into their rural life and lists their livestock at Trehill as six oxen, four cows, one bull, seven young bullocks, seventeen sheep, nine horses, a mare and a number of colts with a total value of around sixty pounds. Around their house in the farm yard they kept ten pigs, seventeen hens and five geese. Their life was one of self sufficiency for, other than producing their own meat they grew their own wheat, oats, barley and peas. Some of their income must have been derived from cropping for William had nine acres in wheat at the time of his death.

William and Emblena's house consisted of a kitchen, a fore chamber, middle chamber, inner chamber, a hall and a buttery. In the kitchen,cooking was carried out on the open fire using a spit, skillets and iron pots and they ate their food from wooden plates. It was here that William also kept his two muskets, pistols and his sword. In the buttery they processed food, that today we take for granted as coming already prepared from the supermarket shelves. There were two vats for making cheese, tubs of beef and bacon, and barrels and scales. In the hall could be found a backgammon board, a spinning wheel and a number of seats. The three chambers were the bedrooms and all had feather beds which sounds very luxurious until you read that the beds had on them canvas sheets! It was in the fore chamber that some of the finer things of life were kept, like thirteen silver spoons, a silver earpicker, twenty two pewter dishes, two pewter candlesticks and eight pewter spoons but can you imagine a pewter chamber pot. William and Emblena must have been able to read for they had five books, two of which were bibles. Strange to find that it was in this room they stored two bushels of threshed wheat and nine cheeses.

There was also a barn at Trehill where threshed grain and their farming tools were kept. These included a plough, four yokes, harrows, a rake and some old instruments for husbandry.

Some twenty nine years later in 1671, William's estate had still not been fully wound up when his brother Henry died making it necessary to appoint a new executor for William's estate. A new bond was taken out with Richard Trevethan, gentleman and merchant of Wendron, Christopher and William Cocke both gentlemen of Helston which appointed William's eldest son Nicholas Trevethan now aged forty two the new executor. Interesting to note that Sallomon Cock and William Cock junior were both present.

William's other son, John would have been 35 years old at the time and in the future must have inherited some of his father's wealth. He established himself as a merchant in the city of Penzance which is relatively close to their home town of Helston. A respected businessman he went on to be mayor of the city in 1681 at the age of just forty five.

Henry Trevethan, ca1612 - 1655, merchant.

Henry Trevethan one of Williams brothers and as you will have read one of the executors of his will meet with an unfortunate accident and died in the winter of 1655.

He had been married on three ociasions firstly to Elnor Harbut in 1632, to Grace Burges, the daughter of Bathazar Burges a Helston merchant, in 1649 and finally to Sarah Trigg who was expecting their first child at the time of the accident.

Henry was a wealthy man, a man with a house and a shop in Helston who carried on the business of a merchant. At his death he gave gifts of over £600 to his wife, his brothers and nephews.

Of interest is that one of the executors of his will was his former brother in law James Burges and another was Thomas Glyn whos great aunty Margery Glyn married John Trevithvan from the St Merryn line of the Trevethan family.

Thomas Trevethan, 1610 - 1677, weaver.

boys and four girls and it would seem that their eldest son John was out of favour with the family for all the sons and daughter each received five shillings from Thomas's will but John was given just one shilling. Their only other son, Robert, was to become the benefactor of his father's estate after his mother died but he also inherited his father's looms and the tackle that belonged with them.

Nicholas Trevethan, gent, 1629 - 1681.

William's eldest son, Nicholas Trevethan (ca. 1629 - 1681) by the age of twenty one was the tenant of number of lots of land in the ancient manor of Helston which covered most of the southern half of the large parish of Helston in Kerrier, and included parts of the neighbouring parishes of St. Stithians, Cury and Breage. In Helstoncoith Wolas he held a number of lots of land including a block of 21 acres presumably all land his father had once held.

At the aged fifty two Nicholas died in St. Anthony in Meneage parish, a small parish a little to the east of Helston. By then he was of more modest means than his father but had also lived off the land. His only livestock were twenty one sheep, four lambs, two pigs, a yearling cow with her calf and one nag. In the ground at the time of his death he had corn and hay growing.

His wife's name was Amye, and one is left wondering if they had any children as Nicholas left nothing to any children they may have had, rather leaving his total estate to Amye after some small legacy's to his sister family. His sister Loveday was married to Humphrie Rouse and they each received a shilling but their children James, Elizabeth and Robert faired better each receiving twenty shillings while James also received all of Nicholas's clothing except his cloak. Of interest is that the Bolithoe name once again crops up as Elizabeth Bolithoe witnessed Nicholas's will.

John Trevethan, 1636 - 1685.

John Trevethan (1636 - ca. 1685) was the third son of William and Emblena mentioned above and along with his elder brother and sister Nicholas and Loveday lived at Trehill. He was just a very young boy of five when his father died just before Christmas in 1642.
Trevethan Trade Token

Life would have been difficult for him without a father and I guess that much of his childhood would have been spent working on the family farm which was under the control of his uncle Henry. He went on to marry Mary Daniel of royal descent, who was the daughter of Alexander and Grace Daniel from Belgium.

John and Mary had a family of seven and were the parents of both William and Sampson who were later to go to America and start off one of the present day American lines of the Trevathan family.

John was a trader in Penzance and produced his own coins in 1663. In the Stewart times, the Crown provided only gold and silver coins which resulted in a great shortage of small change. The conducting of small transactions by shopkeepers with those of very modest means was therefore very difficult given the quite large purchasing power of the penny. From 1613 royal patents were granted by James I to allow the minting of farthings but the problem remained of shortages.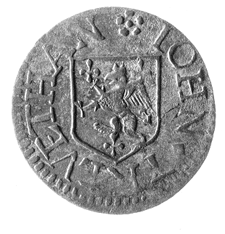 Trevethan Trade Token

Traders of the time took the only action available to them and produced their own money in the form of farthing tokens which became very popular between 1649 and 1672. Almost every town in Cornwall had at least one trader or shopkeeper who produced their own tokens. The design of John Trevethan's token was a griffen segreant between three fleurs de lis.

The fact that John produced a token with the above design is of some significance as this is the same design used 150 years earlier by John Trevithven on his coat of arms at the time of his marriage to Margaret Roche. It had earlier been thought that the Helston Trevethan family was not related to our Porthcothan Trevethans but it would seem that by a member of the Helston family using this design belonging to the Trevethans from Cardinham from whom the Porthcothan Trevethans are descended there must be a family connection. However this has not as yet been discovered and DNA evidence would seem to suggest otherwise.

The area of St. Merryn - St. Issey where our New Zealand family came from was not without its traders who produced tokens with Iosias Piper producing one in 1659 followed by Peter Swymmer and Peter Swimer in 1664. Peter Swimer has been portrayed as a local Shylock. At his death in 1693 "one William Arthur "melancholy and disordered" met his son John in the Padstow churchyard and cautioned him against lending money". A chance record shows that Thomas Billing, a fisherman of Endellion who died in 1683, owed Peter Swimer six pounds - the equivalent of a year's wages.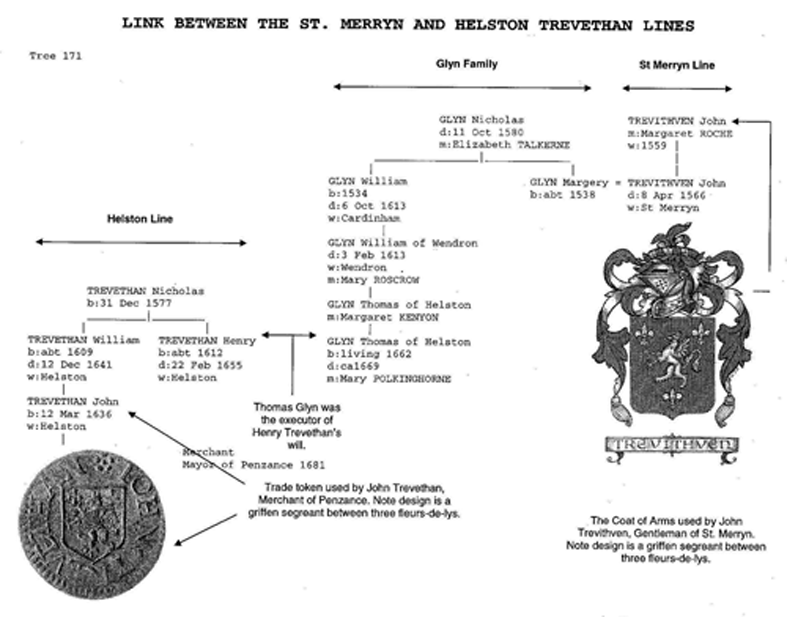 John Trevethan owned a number of properties in Penzance including two near the chapel which at the time he made his will were being lived in by Oliver May and Richard Simons. Also near the Key there were others occupied by Richard Nalkey, John [ ], Bertram Mason and Anne Pilt. John was a business man of some substance and went on to be Mayor of Penzance in 1681 at the age of 45.
John Trevethan made a will on the 9th of October 1685 when he was weak of body and one would expect that he died soon after at the young age of just forty nine. The overseers of his will were his brother-in-law George Daniel, Elisha Daniel and William Deale. He must have been quite wealthy as other than leaving money to both the poor of Penzance and Madron he lift one hundred pounds each to Alexander, Sampson, Elizabeth and Mary. In todays money these bequests along amounts to the equivalent of $120.000. Interestingly his eldest son, William, received nothing and his next eldest son Daniel only received 1 shilling. Seems likely to me that these two sons were already living in America by that time.
John's wife Mary survived him by at least twenty years and was buried on the 30th of August 1710 at Madron. Seven days before Mary died, aged most likely in her seventies, she made her last will and testament leaving to her two sons left living in Cornwall, Alexander and Samuel, fifty pounds each while her nephew Elisha Paynter received two guineas of gold and niece Amy Trewren one guinea. Her only daughter still alive was Mary who was the wife of Thomas Trevethan a merchant from Helston and she received the balance of her mother's estate which consisted of her clothes, some old plates and a similar amount of money to that her brothers received.
Angel Hotel, Helston.
Robert and John Trevethan owned the accident hotel in Helston known as The Angel until the death of John in 1758. It would appear that this John was the son of Robert and Elizabeth and born in 1714. Since John died at the age of just 43 would the Robert mentioned be his father? The building, one of the oldest in Helston, dates back to the 16th Century. It was the town house of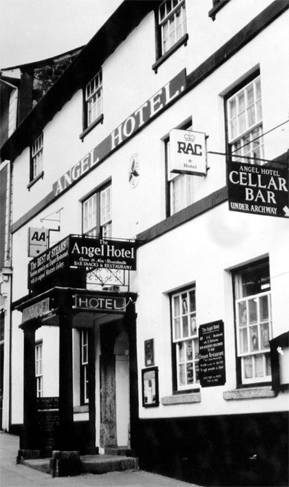 Angel Hotel

the celebrated Godolphins who represented Helston in Parliament for many years. On John's death in May 1758 it was sold to John Troughton. About this time the name kept swapping between The Dolphin, The Golden Lion and The Angel.
The Angel Hotel is still a popular pub today. This ancient public house is an interesting place. In early times it had a cock-pit and was used as a venue for Cock fighting. There is a 40 foot well next to the main bar and a minstrel's gallery in the medieval dining room upstairs. The water in the well rises and falls with the weather. In the past The Angel has been an Excise House, Posting House and Inland Revenue Office.

The hotel is in Coinage Hall Street, a strange name that reminds us of the town's past. In the 14th Century, tinners working the area's mines would assemble to have their tin tested and weighed in the coinage hall.
a back doorway of the building, there was once a large black stone, known as 'Helleston's Rock". Unfortunately, in 1783 it was broken up and used in the building of a wall, but you can still see where it was taken out if you look carefully. Legend has it that the devil threw the "fiery stone" at St. Michael who was sitting on Saint Michaels Mount (at Marazion) and it missed him and landed in Helston! Other stories have included that it was a meteor, but no meteorite shower has ever been recorded in the area.

Alexander Daniel, 1599 -

Born 1599 in Holland Alexander was sent to Truro, Cornwall at the young age of ten to live with his uncle Jenkin Daniel. His life both in Holland and Cornwall had been both interesting and dangerous, and may have contributed to his peculiar outlook on life. He believed that God took a personal interest in his life, and even thanked him for saving his sight when an apple fell in his eye. At the end of the Civil War, during which Alexander Daniel tried to please both sides and ended, as so often happens, by pleasing neither, he leased the house of a Mr. Noyes just outside of Penzance.

Alexander courted Grace Bluett of Colan who were a leading family. He recorded at the time "I rid to Tresilian with a letter from my father to Mr. Smith (her uncle) signifying that he would bind the Manor of Penzance for the assuring Grace Bluett 30 per annum, for her ?? if we would make good her portion 300, whereupon Mr. Smith with mee returned answer by letter, that for 8 score pounds he would make good , the rest I saw specialities for." On the 20th of January 1625 they were married. They lived at Tresilian with Graces uncle, William Smith, and a son Richard Daniel was the first of ten children.

While Alexandra was considered a strange man, one of his sons George was to become a very successful business man in Penzance and a very generous benefactor to the Madron parish. For it was he who founded the Madron Daniel School in 1704. He lived in Love Lane where he built a house on seven acres of land in 1675. When George died in 1709 he left £16 for the provision of a schoolmaster with a house for him to live in. Further money when to provide for boots and bread for needy scholars and a special fund so that every pupil could receive a big saffron bun on Christmas Day.

Alexanders daughter Mary Daniel was to marry John Trevethan and their life together is recorded below.

Alexander was buried in Madron Church Yard. His Gravestone was erected by the Trustees on the Madron Daniel School in 1780 to replace an older stone which had crumbled away. The Epitaph on his stone reads:-

"Belgia me Birth, Britain me breeding gave
Cornwall a Wife, ten children and a grave."

Rev. Thomas Trevethan, 1745 - 1829.

Thomas was the third son of Alexandra Trevethan by his second wife Anne Hawkins. Born in Helston in 1745 he went on to be educated at Exeter College, Oxford where he matriculated B. A.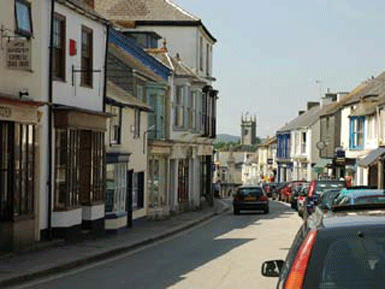 Helston Town, Cornwall

on the 6th of April 1764. He was an ecclesiastical Commissioner for Oaths in 1783 and married at Helston in 1794 Margaret Lemon of Rejarden, in Germoe.

He was to become a vicar and there are records of him from aged 31 carrying out his church duties at a number of parishes. Thomas is named as Officiating Minister at Perranuthnoe in 1776; at Cury he performed a baptism in 1780 in the absence of the Curate, and is then named as Curate in 1791, Officiating Minister in 1792 and 1793, Curate in 1794 and 1795; the same at Gunwalloe. Thomas also was the Curate at Wendron and the vicar at St. Sithney in 1806

At the age of 57 he is listed as one of the twelve freemen of the Borough of Helston. He died in 1829 at the age of 84 and was buried at Helston.

The Trevarthian Manor.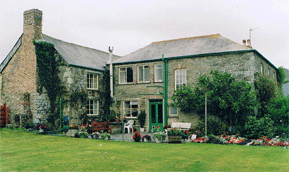 Trevarthian Manor - old part of house on the left, 1994

Near Penzance In Cornwall can be found the Trevathan Manor which is really just a large farm house build over a period of centuries. Part of the place is supposedly haunted. When Donis Bettis (nee Trevathan) from the United States of America visited with the present owner, Mrs G Davey, she wrote "Had I been able to speak to you I would have told you about our ghosts - on several occasions I have seen a lady with dark hair in a bun, wearing ground length black dress with white apron and big white Peter Pan collar. We got an exorcist to come and he found my lady and two roundhead soldiers out in the 1610 part - she was dressed in the puritan style of that period. The exorcist released all three for which he said, they all thanked him!! Anyway, I have never seen my lady since."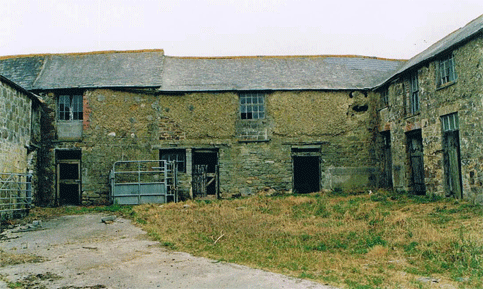 Barn at Trevarthian Manor - 1994

When I visited the property in 1994 no mention was made of the ghost but I did take the photos on these page.

Click the links below to view family trees.
| | | | | | |
| --- | --- | --- | --- | --- | --- |
| | | | | | |
| Tree 118 | Tree 151 | Tree 154 | Tree 175 | Tree 177 | |