I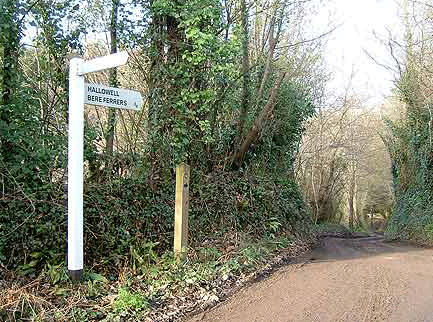 Road to Bere Ferrers
---
From St. Merryn, Cornwall To Bere Ferrers, Devon
---
This page is still under construction
The family of Joseph Trevethan are part of our Porthcothan Trevethans and it is his descendants that moved to Bere Ferrers, Devon in 1846 forming a separate family line.
Joseph Trevethan, 1717 - 1792, St Merryn.
Little is known about Joseph Trevethan who was the first born of what was to become a family of seven. He arrived on the 8th of July 1717 at St. Merryn in northern Cornwall. In 1745 at the age of twenty eight he married Mary Ivey and went on to have a family of six girls and two boys. Of interest to us in New Zealand is the fact that Joseph's youngest brother Samuel is our direct descendant.
An election was held before the Sheriff of Cornwall, John Price Esquire, on the 19th of October 1774 to elect two knights to serve in Parliament for the county of Cornwall. While these members were described as "Knights" it was not necessary for the individuals to in fact be knighted. Joseph Trevethan who lived at Towan, St. Merryn and his cousin William Bennett of Trevinon, St. Merryn travel to Lostwithiel, which is a city a short distance south east of their homes, to cast their votes in the Hundred(1) of Pyder. Lostwithiel was the borough where the county members were traditionally announced. Unlike today the votes case were not secret and a search of the files shows that William voted for H M Reed Esq. and Sir John Molesworth while Joseph voted for Sir William Lemon.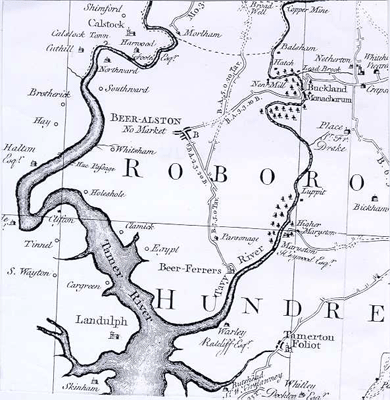 Map of Bere Ferrers - 1765

Again in 1790 there was an election and this time William Bennett and his son John from Treveoy in St. Merryn journeyed to Lostwithiel to vote. William voted for Sir William Lemon but his son's vote was rejected by the sheriff. Joseph Trevethan from Towan, and John Trevethan from Teekember, both of the St. Merryn parish also travelled to Lostwithiel to vote. Both voted for Sir William Lemon.

Virtually no really comprehensive lists, of people were made between the 1660's Hearth Tax Rolls and the 1841 Census, so these two elections mentioned above are of some interest.

A report of the 1710 election gives a good overview of what these events were like at that time. You were only entitled to vote if you were a 40 shilling freeholder (your income from the land you owned or the goods you sold had to be over 40 shillings per annum). This amounted to a mere 5-10% of adult men - men only, of course, since a man owned any property his wife might have inherited. Property owning spinsters or widows were not eligible to vote simply because they were female.

On the other hand, whether or not a person was eligible to vote in 1710, he might have felt that Cornwall was quite well represented in Parliament. The 21 Cornish Boroughs each returned two MPs to Parliament, while the county as a whole returned two 'knights of the shire'. (It is the poll lists for the knights of the shire which have survived.) Thus Cornwall had 44 MPs, which was more than the whole of Scotland.

In the very hierarchical society of that period, the 'state' gave no hand-outs of any sort. So virtually everyone owed debts or favours to someone else at a slightly higher level of society for some career assistance or financial help received. That favour owed might well take the form of voting for one's benefactor's preferred candidate. The favour might take on added urgency if the benefactor had offered a small incentive, probably financial, to vote one way rather than another. In addition, the poll was completely public - who one voted for, and how the poll was going at anyone time were all openly available information. If a person voted contrary to expectations, there might well have been someone present at the hustings (the voting place) that would have no qualms about passing on that information to his benefactor.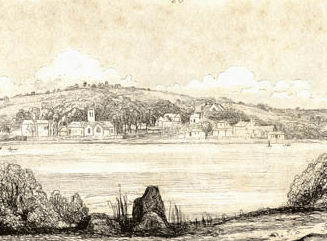 Bere Ferrers

The Government of the day was sympathetic to the problems of travel to the hustings. Celia FIENNES, who travelled around Cornwall on horseback in 1698, gave Cornish roads a poor report. There were no wheeled vehicles in use except those used by carters, and travelling by horseback was risky because of potholes, mud and mire. Lostwithiel, though in some ways centrally locate, was a good 40 miles both from Sennen, the westernmost parish of Cornwall, and Morwenstow, the northernmost parish. Yet voters came from both those parishes and other parishes almost equally distant, partially because the polls were open from the 1st to the 25th November, which gave the voters a good amount of flexibility. But this raises a question or two. If a person had decided not to vote until near the end of the period allowed, and if by then the result was a forgone conclusion, did that person bother to ride to Lostwithiel to vote? And, what percentage of eligible freeholders in Cornwall do the 2,104 voters represent? Political historians seem to agree that the turnout for the 1710 Election was pretty high, but not one of them is brave enough to suggest a percentage.

The names of the voters were recorded in the order that they voted. The lists reveal many occasions when relatives, living in different parts of Cornwall\ obviously contrived to meet up at Lostwithiel. On two \separate days a group of clergymen must have arranged to congregate at Lostwithiel, about twenty of them on each occasion, their names appearing consecutively in the poll list. It is good to think that the election had the side effect of creating opportunities for meetings in a period when travel was difficult in Cornwall. No doubt hostelries in Lostwithiel like The Crown and Sceptre did thriving trade during the poll, much of the drink probably being paid for by the agents of the candidates. Leslie DOUCH, in his marvellous book Old Cornish Inns, cites some huge bills for drinks and food run up at alehouses during the 1727 borough election in Grampound. The bills also .included money spent on fiddlers and drummers. Elections were obviously festive and none-too-sober occasions.

A handful of people at the 1710 election for the 'knights of the-shire' probably had little time for merrymaking, particularly the clerks who recorded the votes. Would a humble clerk have had the courage to ask some over-bearing member of the gentry how he spelled his surname? Probably not. In the list there are some interesting (presumably phonetic) spellings of surnames. Whether their owners would have recognized the way in which their name was spelt is questionable. The clerks had to be alert too. For instance, they noticed that William TAMBLIN of St. Mabyn had probably voted twice (several days apart), they questioned whether Joseph WICKHAM of Liskeard was 'of age', and they queried whether Stephen ROOSE of St. Endellion was a freeholder. So much for elections and back to our family story.

A William Treverton appearing before a hearing in August of 1774 told John Williams and Robert Bateman that he had worked as a servant for a number of people in the parishes of St. Minver, St. Ervan and Padstow. Included was Joseph Trevethan who he had worked for for three quarters of a year before he moved on to work for Mr Bennet of Lostwithiel.

When Joseph died in 1792 he was buried in the St. Merryn church yard and ten years later his widow Mary (nee Ivey) made her will leaving to her eldest son, Joseph (1753-1832), the sum of fifty pounds to be paid to him one year after her death. She also left to the children of her eldest daughter, Elizabeth; Samuel, Jonathan, Elizabeth, Joseph and John Bennett the sum of twenty pounds each to be paid to them when they turned twenty one. Her two youngest daughters Joanna and Jenny were left all her remaining goods and chattels. Mary died a year later and was put to rest alongside her husband.

Sadly this will is one of only two for our Trevethan family still in existence as all the wills for the St. Merryn area were stored at the records office in Devon which was destroyed by bombing during the Second World War. I have a collection of many other Trevethan wills but they all relate to Trevethans from other parts of Cornwall. The other remaining will is for Mary's daughter Joanna.
Joanna Trevethan, 1760-1806, Padstow.

Joanna was to die in Padstow just two years later at the young age of forty six and is buried in the St. Merryn church yard along side her parents. She left her brother Joseph (1753-1832) fifty pounds and twenty pounds each to his six children. Their Bennett cousins also received twenty pounds each along with Joanna's own cousin Mary Gill. Although she had remained a spinster all her life she had a male friend by the name of Edmund Hinter who received two hundred pounds! Betty Pope her servant was to receive ten pounds and her nieces Elizabeth Bennett and Martha Trevethan collected all her clothes. What remained went to sister Jenny Williams and her nephew Samuel Trevethan Bennett. Joanna is also buried in the family plot alongside her parents.

Samuel Trevethan, born 1755, Trevone.

One of Joanna's two brothers, Samuel born 1755, owned a property at Trevone a small village a little over two and a half miles west of Padstow. He lived to be a very old man and at the age of ninety two sold this property. Interestingly a great number of documents including a plan of the house and garden, and the sale document (see opposite) are still held today by one of his descendants Barry Trevethan of Devon. I am very lucky also to have the original sale document of this property at an earlier time from Nancy to Francis Docton. This document, which is in excellent order, is on heavy parchment, dated the 21st of May 1785 and is complete with three red wax seals and the signatures of the sellers.

Samuel Trevethan, born 1790, Padstow.

Samuel's nephew, also Samuel Trevethan was the eldest son of Joseph 1753-1832 and Ann Trevethan (nee Brewer) . He was the second eldest in the family with an elder sister Martha and one younger sister Nancy and three younger brothers Thomas, Joseph and John. Samuel was born at Padstow on the seventh of March 1790 and in years to come was to be an upholsterer by trade.

Samuel had as a friend a master-mariner from Padstow by the name of James Cock who when he died in 1829 made Samuel the trustee of his cousin's estate the Manor of Trefreake.

Samuel's grandfather also Joseph Trevethan 1717-1793 who lived in Padstow owned land in the small village of Towan a little under half a mile west of St. Merryn (see map). There was fifteen and a quarter acres mainly in arable land in the village but also some in the adjacent Towan Veals (1). Included in the village was an acre of land with a cottage and garden, a very small piece of land with another cottage and orchard, and yet another garden of over an acre.

By February of 1841 and at the age of fifty one Samuel had inherited this land and buildings and had it leased to his cousin John Bennett for one pound, fifteen shillings and eight pence per annum. John also had to pay sixteen shillings and nine pence to the vicar of St. Merryn. It had earlier been let to Samuel's brother John Trevethan. The 1844-45 list of electors shows John Bennett as being a land occupier of Towan Estate and Trewillen.

This land had been in the family for a very long time, the lease of which passed from Walter Peter to Richard Trevethuan in 1650. The next occupier was Nicholas and Elizabeth Trevethuan who rented the land to their son Thomas for one shilling and one harvest journey a year. So 200 years later the Trevethans still had an interest in Towan.

The out of town list of electors for 1844-45 lists Samuel Trevethan as the owner of freehold land and house and land in St. Merryn. He was however living at No 1 Leigh Street, Burton Crescent, London. Samuel was an upholsterer and had a problem with his apprentice George Frederick Brown which ended up in a court case at the Old Bailey on the 9th of April, 1829. George, who was only 19, was charged with deception and fraud after going to Mr. Watson's Holborn Hill, London linen and drapery shop and purchasing goods for himself but saying they were for his employer. Samuel Trevethan had been a customer for some time and often sent his apprentice to collect goods so that Mr. Watson's shopman James Cayhill gave him one piece of furniture pattern, and two others totalling 15s. 10d. George call at the shop on another three occasions and took away more material totalling 1p. 17s. 7p. Samuels shopman John Moyle and worker Richard Langstaff both gave evidence that they had not sent the apprentice for the material. George Brown was found guilty and transported.

A little later Samuel lived at 1 Leigh Street, St. Pancras, Middlesex County but by December of 1847 at the age of fifty seven was widowed and lived at Gloucester Place, Camden Town in the same County. He decided to sell his properties in Towan for ten shillings to John Gregson a gentleman from the City of London. The property's current tenant was his cousin's wife the widow of John Bennett. The sale included all houses, outhouses, edifices, buildings, barns, stables, yards, gardens, orchards, closes, trees, woods, underwoods and the ground and soil thereof, feedings, commons, common of pasture and of urbary and all other commonable rights, mines, minerals, quarries, hedges, ditches, fences, mounds, ways, paths, passages, waters, watercourses, privileges, easements, profits, commodities, advantages, emoluments and appertenances whatsoever. It seems he must have almost sold his soul!

Samuel's great great nephew Barry Trevethan, who lives in Devon, told me that as a very small boy he can remember his grandfather telling him that his father had told him that an earlier relation in London had trouble with gambling debts. I wonder whether the sale price of the above property was in some way a payment of such debts?

John Trevethan, 1806 - 1887, Bere Ferrers, Devon.

Samuel's brother, John Trevethan 1806-1887 was the youngest of the family of Joseph and Ann Trevethan and was born at St. Merryn on the 11th of March 1806.
Trevethan Family Bible

John did not marry until the age of twenty eight when he married a local girl of the same age, Fanny Tremaine, at their parish church. Their first child was a daughter born on the 2nd of November 1835 and named Fanny after her mother. Next came another daughter Ellen Jane born on the 30th of May 1837 and both were christened at St. Ervan a neighbouring parish south of St. Merryn. By the time the next child we know about was born, the family had moved their farm and animals lock stock and barrel to 238 acre Penbugle Farm, owned by John Glencross, which is situated just outside Bodmin a little further east (see map). Joseph was born on the farm in 1841 and the only other child we know about was his younger sister Mary Louisa who was born at Bere Ferrers in 1948 after their next move across the county border into Devon in 1846.

The family spent many years in Bere Ferrers farming Bere Barton Farm and Stone Farm which was handed down from father to sons Arthur 1878-1947 and Joseph junior 1876-1962. Both sons farmed the property until their deaths in 1947 and 1962 respectively. Joseph senior was the chairman of the local council for many years while Joseph junior was a much beloved person in the community and church warden for over twenty years. His grandfather John Trevethan related the following story about the Press Gang. The farmer before old Joe used to lay out all his labourers' boots at the foot of the stairs every night so when the Press Gang came up from Devonport looking for likely seamen, they would see all the boots and would be afraid there were too many for them to handle and thus clear off.

Another interesting story about this family was given to me but regrettably I do not have the title of the book or the date of the event described below. The book was about a great blizzard late in the 19th century and from the chapter about "Some Strange Experiences" we find .........

For many years to come residents of the Western Counties will have tales to relate of marvelous incidents involving both great and small consequences, that occurred in connection with this memorable blizzard. An experience of this kind as curious as any, was that of Mr. J. Trant, of Redlap, Stoke Fleming who dug a lamb out of a snow drift, where it had lain buried for sixteen days. To quote the words of the informant , "the little creature seemed none the worse for its long imprisonment, but began to graze as soon as it was released.

Mr. Trevethan of Beer Barton Farm, Beerferris, also met with some instances of this kind. After he had succeeded in releasing his lambs, of which he had missed a large number, he found them generally weak, and rather drowsy, but they at once bleated for their mothers, and their call being answered, they trotted off in the direction from which the call came. A bottle of gin was kept on hand for the resuscitation of the recovered creatures, and its efficacy in imparting the needed warmth is highly spoken of.

Mr Trevethan's shepherd was making for his cottage on Monday evening carrying with him a basket of provisions which he had been to the village to purchase. In attempting to get over a gate, within a short distance of some outhouses that stood between him and his cottage, he was separated from his basket by a violent gust of wind. Picking himself up, he reached his home in safety, and his basket was found after a few days empty. In the course of the following week, while clearing up his garden, he discovered, under a few feet of snow, a package of tea, which had formed part of the Monday's stock of provisions, lost from his basket. The package which was unbroken, and in good condition, had evidently proceeded him to his home more than a week before.

Bere Ferrers is a picturesque parish set between the rivers Tamar and Tavy being almost fully surrounded by water. Bere Ferrers is indeed an ancient place being mentioned in the Doomsday Book, though under a different name, Birlanda. Mention of the mouth of the river Tamer is even made in a Geography written by Ptolemy in 150 A. D. The word Bere is Celtic for peninsular or spit of land which is exactly what the parish is. Ferrers on the other hand is named after the Ferrers family, who in the reign of Henry II became Lords of the Manor. The parish records show the marriage of of the grandson of Sir Francis Drake in 1665. Several of the farms go back to Saxon days with names such as the Barton, Rumleigh, Gawton, Whitsam and Gnatham - all these farms end with a Saxon word. The Barton is mentioned in the Doomsday Book, 1086 and along with other farms paid a special tax to Edward III.

Bere Barton itself was a magnificent house and had two wings and massive numbers of outbuildings. The Barton was the Manor House, and after the church is the oldest building in the parish. In 1337 "Sir William de Ferrers had a licence from the king to castellate the manor House". The lower half of the manor house still remains. Before the Bible Christen Chapel was dedicated in June of 1868 the members of the Methodist Church met for worship in the kitchen of the Barton; the farmers were John Williams and Joe Trevethan.

The completion of the South Western Railway in 1890 borough great changes to life in Bere Ferrers with travel by river declining as more goods and passengers chose to travel by steam train. On the 2nd of June 1890 the line was officially opened and the first passengers were Septimus Jackson, Joe Trevethan, Nelson Brighton and Daniel Ward - all well known characters in the parish.

Much of the history of this interesting line of our Trevethan family is recorded in a very large and impressive family bible that came into the family's keeping after the marriage of Joseph Trevethan 1841-1921 to Mary Jane Bragg in 1868. The bible which originated in the Bragg family, is about eighteen inches long, twelve inches wide and five inches deep. It seems likely that when this family emigrated to America in 1842 this magnificent bible was just too large and heavy to take with them.

Of special interest to New Zealanders, that made my blood run cold when we visited the Bere Ferrers Church in 1994, is a brass tablet and New Zealand flag on the north wall. It is a memorial to ten New Zealand soldiers who during World War I were journeying to join their comrades on the Salisbury Plain when they alighted from their train at Bere Ferrers station on the wrong side and were all killed by a passing train.

Click the links below to view the family trees.
| | | | | |
| --- | --- | --- | --- | --- |
| | | | | |
| Tree 35 | Tree 107 | Tree 108 | Tree 109 | |