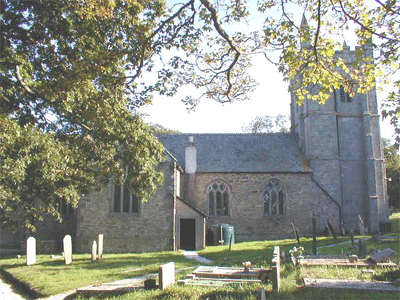 Perranzabuloe Church
---
North Cornwall
---
Peranzabuloe from the Domesday Book

Lanpiran: Held by the Canons of St. Pirans; before 1066 it was free. 3 hides. Land for 8 ploughs. 4 villagers, 8 smallholders, 2 slaves. Pasture; 8 cattle; 30 sheep. Value 12s; before, 40s. Berner holds land here from the Count of Mortain, who has taken away all stock from another hide, which Odo holds from St. Pirans.

Perranzabuloe Parish

Perranzabuloe (Cornish: Pyran yn Treth) is a coastal civil parish and a hamlet in Cornwall. The hamlet (containing the parish church) is situated just over a mile (2 km) south of the principal settlement of the parish, Perranporth; the hamlet is also seven miles (11 km) south-southwest of Newquay. Other settlements in the parish include Perranzabuloe, Goonhavern, Mount and Callestrick.

Perranzabuloe parish is bordered to the west by the Atlantic coast and St Agnes parish, to the north by Cubert parish, to the east by St Newlyn Eastand St Allen parishes and to the south by Kenwyn parish. The parish population was 5,382 in the 2001 census.

The name of the parish derives from the medieval Latin Perranus in Sabulomeaning Piran in the sand. It refers to Saint Piran (the patron saint of Cornwall) who founded an oratory church in the seventh century near the coast north of Perranporth.

In medieval times the parish of Perranzabuloe was a peculiar of Exeter Cathedral. Perranzabuloe at that time exercised ecclesiastic control of St Agnes: the latter's church was a chapelry of Perranzabuloe. In 1846 St Agnes became a separate ecclesiastical parish.

Family Lore

Most families seem to have a lot of "lore" attached to them which is passed down from generation to generation. No doubt a bit is added from time to time so that the authenticity of the tale is often hard to find.

In the case of the Perranzabuloe Trevethan family, tradition has us believe that they were kicked out of Wales in about 900 A. D. Later the Daughter of King Henry VIII, Queen Mary I who was known as "Bloody Mary" is said to have dispossessed the family of its Manorial Rights. Mary was a devout Roman Catholic and tried to bring England back into the fold of the Roman Catholic Church. During her reign she had at least 300 people burned at the stake and introduced severe laws against heresy or disbelief in church doctrine. The Trevethan family's Manorial Rights were said to be removed because the family were supporters of her Protestant sister Elizabeth. Elizabeth was later to become Queen Elizabeth the first on the death of her sister in 1558. Unlike her sister Mary, who only reigned for five years, Queen Elizabeth was on the British throne for forty five years till 1603. During this time the family had a Protestant Manor north east of Falmouth on the south coast of Cornwall. The Falmouth tithe map of 26 April 1841 and the tithe apportionment of 1 April 1842 show that this land was owned at that time by Lord Wodehouse who later became Earl Kimberley. See the map in chapter 14 on page 299 which is a copy of a six inch ordnance survey map of 1909 showing Trevethan. Today there is still a road called Trevethan in this city.

The family then scattered and re-appeared at St Merryn, Cawsands and Gunnislake. Were those who moved to the St Merryn area on the north coast of Cornwall the beginning of our New Zealand branch of the family who lived on a farm at Porthcothan which is today known as Trevethan. They were staunch church people and attended the St Merryn Parish church where William Trevethvan and his son Thomas were both church wardens in the 1600's. Apparently later some members of this family left the St Merryn district just one jump ahead of the Preventative Men! (Customs!) - settling at Perranzabuloe and Cawsands.

At the time Captain Cook discovered Australia (1770) two of the Trevethan brothers John and Thomas left the Gunnislake district. Thomas went to live in the Perranzabuloe Parish and thus starting another branch of our family. So far there is no trace of John.

About 1870, many of the descendants of Thomas Trevethan left Perranzabuloe and went to Durham to mine coal, the mines in Cornwall being in recession. The avowed intent of most of the males was to make enough money to buy a passage for them and their families to the New World. The Perranzabuloe Trevethans have therefore become scattered around the world. Thomas's great grand children Albert and William both emigrating to Pensylvannia in the United States and their cousin Thomas, whose nick name was "Neighbour", going to Australia. Albert and Williams younger brother, John died in a mining accident just before his 16th Birthday.

Another interesting family story concerns an ancestor, who for obvious reasons was known as Mutton Head, was hanged for sheep stealing.

John W Trevethan, Born 1840.

No baptism records can be found in Cornwall for John Trevethan the son of Thomas and his wife Rachel Williams who orginated from Padstow. He was however born in 1840 and travelled to America in the first year of his wife with his parents. It is possible that John was baptised either at the port of embarkation, on the ship, or later on arrival in the United States.

It is also important to note that A L Sawyer in his book History of Northern Michigan states that four children arrived in Quebec with the parents. Could therefore the John that married Ceclista Dowell and died in 1883 be from some other branch, this John having died before the family arrived in America? Another clue to this is that other records show him born in 1831 when the 1841 census shows him as 6 months old! Do we have two different Johns here?
Mathew Trevethan, born 1817 - 1875.

Mathew Trevethan the son of John Trevethan and his wife Sarah Holman was born at Rose, Perranzabuloe on the 20th of September 1817. Nothing is known of his early life but at the age of 23 he married Jane Holman of Holman's Croft, Perranzabuloe at the parish church on the 22nd of Befruary 1840. They had nine children between 1841 and 1864, six boys and three girls.

A miner all his life, he was mainly employed in Cornwall. However, for one period, he moved to the iron mines in the Pyrenees. The late 1860's to early 1870's not offering any security in Cornwall, the younger members of his family were attracted by the offer of higher wages in the coal mines of Durham to which they all moved.

It has been handed down that after the younger members had left Perranzabuloe and become established in Durham, Mathew bragged to his neighbours that "he was joining his family to ride in a carriage", and once Holman's Croft was sold, (the property of his wife Jane) they too moved to Durham. Within a year, Mathew had his wish, he rode in a carriage, which unfortunately was a hearse!

Whether, wittingly or unwittingly, the family had been enticed to Durham as strike breakers, thus, it is no great surprise to learn that before long all save Mathew and John Mark (who had died) and Elizabeth Ann (who had married) quit County Durham. Frederick returned to Cornwall, Ezeichel Holman and Elijah moved to South Wales where they continued to mine coal and the two younger sons Albert and William emigrated to the United States. They were last heard of in Pennsylvannia.

New Zealand

While there are no people by the name of Trevethan from the Perranzabuloe line in New Zealand, Fanny Trevethan (aged 26), the daughter of James and Jeannie Trevethan emigrated to New Zealand in 1871 along with her husband Edwin Bray and their two surviving children Ellen aged 5 and Alfred who had not long been born. Two of their earlier children another Alfred and Mary had both died in infancy. They settled in Thames in the North Island.

Just a Note

The Perranzabuloe Parish records between 1792 and 1801 have been completely distroyed due to water damage and thus make it difficult to connect some of the families.
| | | |
| --- | --- | --- |
| Fanny Trevethan and her husband Edwin Bray ca. 1865 | Elizabeth Trevethan (sister of Fanny) and her husband James Nicholls | Elizabeth Trevethan & James Nicholls with children Joseph James, Jolla and John Henry |
| | | |
Click the links below to view the family trees.
| | | | | |
| --- | --- | --- | --- | --- |
| | | | | |
| Tree 20 | Tree 36 | Tree 39 | Tree 168 | |