Cardinham woods
---
Central Cornwall
---
This page is still under construction please call again
Glynne of Glynne Manor
You have read of the advantage marriage of John Trevithen to Margery Glynn back in the 1500's and the fact that her brother lived in the St. Merryn parish, the home ground of the Trevethan family. It is thought that this may well be how John and Margery happened to meet as the Glynn family resided in Cardinham parish a short distance east of St. Merryn.
The Glynne family was a powerful and wealthy one, owning Glynne manor, two and a half miles south of Cardinham and a little to the east of Bodmin. Seems the family first lived at Glynne from at least 1370.
In the 1400's there was a period when the feud between the Courtenays, Earls of Devon, and the Bonvilles reached its climax over a dispute about the stewardship of the Duchy of Cornwall. In 1455 the Earl even attacking Exeter Cathedral with his retainers. These retainers, little private armies in the pay of the nobility and gentry, were a legacy of the French war and a curse of the time, and it was to be one of Henry VII's first acts to abolish them. At a level lower was the feud between Thomas Clemens and John Glyn of Morval over the deputy-stewardship of the Duchy. The story is one of unbelievable ferocity and lawlessness, culminating early one Saturday in August when Clemens's men lay in wait for Glyn and, 'at four o'clock in the morning horribly slew and murdered him, clove his head in four parts and gave him ten dead wounds in his body, and when he was dead cut off one of his legs, and one of his arms and his head from his body to make him
sure'(1). It is a measure of the anarchy of the time that although numerous warrants were issued for the arrest of Clemens, he was still at large in 1476 when he is last heard of.
The first of the Glynne family of interest to us is Nicholas who was born ca 1513 and inherited Glynne manor from his father Thomas. Nicholas married three times firstly to Constance Brian who died without giving birth to any children. His second wife was Elizabeth Talkern and their first son William was born in 1534. His brothers and sisters were Nicholas, Mary and of interest to us Margery who went on to marry John Trevethwan.
Nicholas senior was a man of some substance and it seems that he held the manor of Glynn on lease from the Courteneys family. By 1558 he was assessed to have lands in Cardinham valued at seven pounds which by the time of his death had risen to ten pounds. At that moment in time he owned more than thirty properties including the moiety(2) of the Manor of Treire in Lanreath, the Manor of Manely in St. Vepe, one messuage(3) and forty acres of land in Cardinham called Glyn, one messuage in Brodoke called Polwater, and one messuage called Penbugell which he gave to his son Nicholas. The mention of Penbugell is interesting as some three hundred years later John Trevethan was to lease this farm from a John Glencross.
In 1572 for "various considerations specially moving me" Nicholas Glyn had prepared in duplicate a special document conveying his varies amounts of land to a group of family and friends who would hold it for his benefit during the remainder of his lifetime, and pass it on his death in accordance with his instructions. This group of people who in effect were trustees of his estate consisted of Nicholas Carmynowe (his brother John's father-in-law), Robert Trencreke (his brother John's daughter-in-law's father) and William Courtenye of Deviock, Esquires, John Crewes (father of is daughter-in-law), Thomas Trevythuan (perhaps an uncle of John Trevithan) and John Glyn of Boyton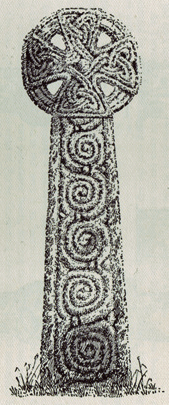 Cardinham Cross

(his brother), Gentlemen. Perhaps this document was prepared as a result of Nicholas not being of good health. Until 1537 or thereabouts it was the only general method of making a will of land. Wills of this period commonly come in two parts: one, often in Latin, consisting of instructions about money, animals, jewellery and so on, and the other in English, with instructions about the house and fields.

The fact that Thomas Trevythuan was appointed along with some other rich and inferential men shows that at this time the Trevethan's were a family of some substance.

When Nicholas died in October of 1580 he left a most interesting will. His, by this time third wife Johanna, was to inherit forty pounds, a vast sum of money in those days. Also she was to have his second best gelding, two cows and ten ewes along with grassing for them at Glynne as long as she was willing to dwell at Glynne.

Nicholas must have been very fond of his daughter Margery's children for her eldest son Robert Trevethvane from St. Ervan was given twenty pounds, while his brother Sampson got forty shillings and brothers, William and John twenty shillings each.

Each of his godchildren were left one sheep as were each of his household servants. His younger son Nicholas received his fox fur gown and his other daughter Mary Harry, two oxen, two cows, eight ewes and four wethers.

The large holding of land and tenements that Nicholas had in Crinacott, Pyworthy, Black Torrington, Chilla and Chipping Torrington in the county of Devon were all left to his younger son Nicholas Glynne.

The manor of Glynne and all his remaining estate passed to his heir and eldest son William Glynne, the brother of our Margaret Glyn, who continued to build the family assets by acquiring of one messuage with 200 acres of land in Glyn, a messuage with 140 acres in Kingswood Hill and other places in Cardingham. His son was to become the Sheriff of Cornwall in 1620.

Three months after Nicholas Glyn died, an Inquisition Post Mortem of his estates was held and from this most amazing document we find out just how rich and powerful he had been. For he owned parcels of land with many messuages and tenements scattered all over north east Cornwall and further west even into Devon . He held land In at least twelve parishes in Cornwall which amounted to at least 1200 acres and many more pieces the size of which is not known. Much of the land is described as pastures, meadow or gorse and heath but there were also some woodlands.

An Inquisition Post Mortem was the equivalent of today's estate or death duties. An heir could not enter upon his inheritance until he had paid certain dues to the Crown, the feudal theory being that all belonged to the King and an estate reverted to the Crown on the tenant's death. A tax called a "relief", then became due to the King and the heir had to pay this before he could take possession of the property; he also had to pay homage and only after both had been done could he receive of his inheritance. On the death of a tenant-in-chief, the royal officer in the county, known as the escheator, received a writ which ordered him to empanel a jury to ascertain: the lands held by the late tenant, the rents or services by which they were held, the names and age of the heir. If there was no heir, the land escheated (reverted) to the Crown; if the next heir was under age the Crown claimed rights of wardship over the lands and the heir until he came of age. The returns were made upon oath. All this finished in 1660 when feudal tenures were abolished.

Nicholas arranged that on his death the estates were to go to his sons in "fee tail"; that is, his sons were to have the estates for there life time, and the estates were to then go to his son's actual descendants according to the rules then in force for the descent of land on death when the owner did not make a will. Basically, this was to the owner's eldest son, or failing that to the daughters in equal shares, down through all generations. If the son had no children, or his descendants died out, the estates were to go to the heirs of Nicholas. The effect of this arrangement was to keep the estates in the family of his son for as long as possible, and to make it practically impossible for his son or his descendants to sell or mortgage the property.

As such an arrangement made it exceedingly difficult for later generations to make family settlements of this kind to suit their own circumstances, a way had been invented about a hundred years before this of turning "fee tail" into "fee simple" or freehold by means of a dummy lawsuit known as "suffering a common recovery".

At that time, to complete the passing of title to land, it was necessary to have not only a deed but also "livery of seisin", which was performed traditionally by going personally onto the land and handing over a piece of turf, so that the neighbours could see the new owner symbolically taking possession.

But not only were the members of Nicholas's family greatly interested in his estate at the time of his death but so was the Exchequer, resulting in a writ being issued for an inquiry to be held at Bodmin on the 3rd of January 1581. For at that time, at least in theory, all land in England was held from a feudal superior, and there might be a considerable hierarchy of owners between the person actually in possession and the King or Queen as ultimate feudal lord. In practise, most of the intermediate owners had dropped out. At that time the feudal superiors had rights to payments when the land changed hands on the death of the present owner, and to rights of wardship if the heir was not of full age. This meant they were able to take most of the income from the land until the heir reached the age of twenty one, and then extort a considerable fee for letting the heir have possession. Thus the crown had a big interest in the situation when a landowner died, and Henry VIII and Elizabeth I exploited this for all they were worth.

So it was a powerful family that John Trevithven married into in the mid 1500's.

Trevithan's of Cardinham

The Trevithan family have been found to have also resided in Cardinham parish around the same time as Nicholas Glynne. Robert Trevathan died in 1620 in Cardinham just seven years after Margery's brother William Glynn who died in 1613. Presumably Robert Trevathan and Margery's husband John Trevithan were related if not brothers. Taking the average span of a generation bothers Robert and John would have most likely have been born around 1550. But this is not the first mention of the Trevethan family in Cardinham for Master Robert Trevethan was an Incumbent of Cardynham Church in 1473 and Sir John Trevuthyan also for a period between 1473 and 1517.

Robert's will is some what confusing in places, and does not entirely make sense but is an interesting in sight to life at that time. A month before his death on the 17th of March 1620/1 being sick of body Robert Trevathan, yeoman set out what he wanted to happen to his estate of a little over seventeen pounds. Few relationships can be established from the will but it would seem to me that godchildren mentioned in the will are likely to be his grandchildren and the larger sums of money left to Richard, Robert and Joan would indicate that these were three of his children. His wife Joan was the executor of his will.

Of his fifteen sheep, young Robert Billinge and Thomas Henwood each were left a ewe worth three shillings each while Hugh Billinge was left his young mare valued at around twenty six shillings. Robert and Joan lived a simple life off the land and had few items in their house. Just a cupboard, two chests, a table and a bedstead. Their livestock other than the sheep, were two heifers, three steers and three little pigs but they also had corn in the ground worth fifty shillings and a smaller amount in the barn.

Joan and Robert's children are difficult to piece together with any certainty but it seems likely there were two boys and seven girls. Their eldest son Richard was most likely born in the late 1500's, married Mary and produced a son Robert and daughter Jane before dying while still a young man three years after his father in 1623. He left six pounds, thirteen shillings and four pence each to his two children. Like his parents Richard and Mary lived a simple life on the land producing wheat, barley and oats but it seems that he was also a weaver for at the time of his death he had a pair of looms and furniture belonging to them worth almost a third of all his total belongings.

The Cardinham parish church has on the wall a list of its rectors going back 500 years which includes Robert Trevethan on the 14th of April 1473 and a question mark for Sir John Trevuthyan following Robert but before 1517. This is the earliest record of the Trevethans at Cardinham.

Click the links below to view the family trees.
| | | | | |
| --- | --- | --- | --- | --- |
| | | | | |
| Tree 119 | Tree 161 | Tree 163 | Tree 164 | |