---
North West Cornwall
---
The New Zealand Trevathan family are all descendants from the ancient Trevethuan family of Porthcothan which over a period of six centuries spread east wards from St. Eval Parish over the neighbouring parishes of St. Merryn, Padstow, St. Issey and St. Breock.

Porthcothan Bay
Porthcothan is a small settlement overlooking Porthcothan Bay two miles south west of St. Merryn on the north Cornish coast and the hill to the south of the town is known as Trevethan hill on which can be found Trevethan farm. How this farm came to have the name Trevethan is not known, but is one of the two farms at Porthcothan, and probable the earliest settlement of our Trevethan family and the place from which they took their name. Porthcothan was the seat of the Trevethuan or Trevethan family in 1695. Trevethan is in St.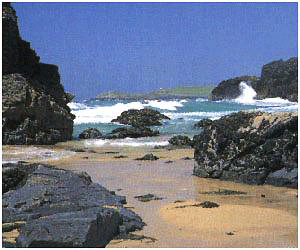 Porthcothan Beach
Eval parish, but as it is on the parish boundary, and the rest of the hamlet of Porthcothan on the other side of the stream is in St. Merryn, it is sometimes referred to as being in the latter parish while the other farm, Porthcothan farm is in the parish of St. Merryn. I have tended in the past to assume that when Trevethans are described as being "of Porthcothan", they were actually living at Trevethan. I now believe that this may not necessarily have been so.
Although Trevethan is so close to Porthcothan, from looking more closely at the evidence, I now think it most unlikely that anyone who lived in St. Eval parish would have been described as "of St. Merryn", or vice versa - these things mattered much more in years gone by, for all sorts of official matters such as rates and taxes. There is a large farmhouse or small manor house at Porthcothan, on the St. Merryn side, and, from evidence from various sources, it seems that one branch of the Trevethan family lived there in the 16th. and 17th. centuries (the present Porthcothan House is a large stone-built house of modern appearance, but has massive stone chimney breasts inside which could be 17th. century, so it looks as though the modern house incorporates parts of the older house). The Trevethans from Porthcothan attended the St. Merryn church where a number of items of great interest to our family can be located but more of this later.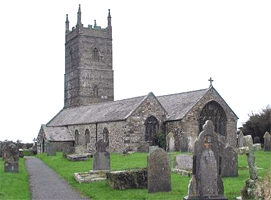 St Eval Church
Set in the midist of the disused runways of RAF St Eval, an important costal command airfield from the last World War stand the 13th century St Eval church which can be seen from miles around. Its magnificant 60 foot tower was constructed in the summer of 1727 after the previous tower fell into disrepair in the mid 1600's. The church was enlarged in the mid 1500's and still has many medieval parts including an elaborately carved screen. One of the windows on the north wall is from Norman times and at the rear of the church can be found three of the original pews.
St Ervan Parish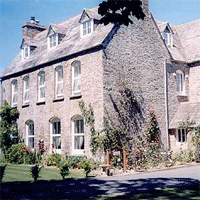 St Ervan Manor
Tucked away in the depths of the Cornish countryside can be found the 13th and 14th century St Ervan's church with its Victorian Rectory and School-house. Down the lane from the church is a mill known to date back to 1276 and has a christening well. This church which was supported by the Arundell family who as early as 1240 lived at the manor of Trembleath. The orginal tower was built in the 14th century but reduced in height from 50 feet by explosives in the 1880's to its present hight of 24 feet. There is a medieval bell standing in the tower which was cast in the reign of Henry VI and a number of slate and marble memorials on the walls.
Meanwhile back on Trevethan farm can be seen a very large two storeyed house known as Trevethan House which was built in 1870 by Copplestone-Cross, who owned large estates in Cornwall. Mr. Rowe, who lives in the converted barn at the back of the property, has in his possession a large map showing all Copplestone Cross's properties. This is dated 1855, before the big house was built, and along with the 1842 Tithe Map of St. Eval parish show that the earlier farmhouse was in the position occupied by the farm cottages. It is difficult to tell the age of these charming stone cottages, as parts have been substantially rebuilt, but it seems likely that some parts of them at least are several hundred years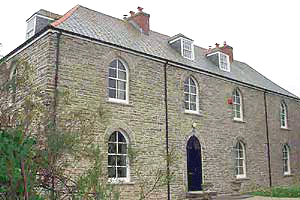 Trevethan House
old. On the 1842 map the house had the shape of a stumpy "L" but by the time of the Ordnance Survey map of 1881 the house had grown to form a longer "L"; it looks as though a whole new front part has been added, to the west and north. It can therefore be concluded that the present cottages formed the original farmhouse, which was divided into cottages when the new house was built.
A little book called St. Eval - Portrait of a Parish, by T.O. Darke, published in 1991, says;
"Copplestone Cross, the youngest and last of his family (who lived at Trethewell) died an old man at Porthcothan Mill. He built the pack horse bridge over the river and began building the northern end of Trevethan House in 1850... In 1870 John Andrew... bought the unfinished house from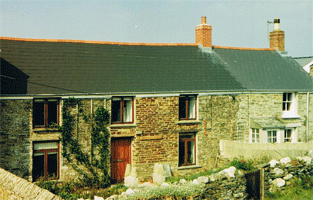 Trevethan Farm Cottages - original farm house
the Trustees."
The 1842 Tithe Map shows that on the other side of the road there were several buildings where today only foundations remain. It is possibility that some at least of these buildings were occupied but it seems much more likely that they were agricultural buildings. If they were houses, from their size they can only have been tiny cottages, and there is no reason to suppose that any of them was ever the main Trevethan House, which for much of its history was occupied by people of some substance.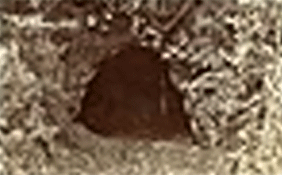 Entrance to Secret Tunnel, Porthcothan Valley c. 1910
The 1842 Tithe Map also shows the 95 acres extent of the land that formed Trevethan Farm. Several field-names on this map include the name "Vuga", (nos. 96, 99 and 103); this is believed to be a form of the word fogou, the Cornish word for cave - although described in this context by some observers as: "Seemingly a natural cave, yet showing tool marks. It does not conform to the archaeological definition of a fogou or requirements of a hull (an underground chamber for food storage)." There is however other evidence of its former usage. Fogous are enigmatic underground structures, of uncertain date and use, usually consisting of stone-lined and roofed passages and chambers whose ultimate purpose remains unknown. They are prehistoric and a flint axe-head on display in The Royal Cornwall Museum, Truro, in a exhibition called "Flint;" can be found a specimen of grey flint, about 5 in. long and about 2 in. wide; it is captioned "Long Vugha or Long Cave St. Eval," (implying its origin is from Trevethan farm).
The first mention of this underground passage was in 1754 when Dr. Borlase, at page 292 of his Antiquities Monumental and Historical of the County of Cornwall, where he described the site as a "Vugha." Richard Polwhele, writing in 1803, in The History of Cornwall, p.128, Volume I, said, "In the Parish of St. Eval, near Padstow, there is a cave called the Fogou. To this, probably, the natives resorted, as a place of concealment for their movable goods, or provisions; exposed as they were to incursions from Ireland."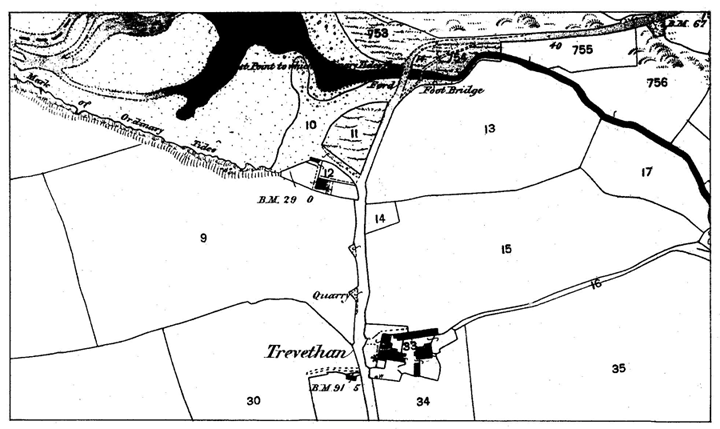 Trevethan, Porthcothan near St Merryn, Cornwall - 1881
Kelly's Directory of Cornwall, 1889, pp. 982-3, says:-
"St. Eval .... The far-famed Bedruthan Steps, consisting of several distinct tiers of rocks, rising perpendicularly from the sea, are in this parish; the 'Voga,' or 'Fogou,' is a subterranean chamber or cavern, within a triple entrenchment, in a secluded valley near Porthcothan, on the estate called 'Trewoofe' or 'Troove'; the cavern is 36 feet in length and about 6 feet high, the breadth being about 5 feet; the sides are lined with rough stones, simply piled up, and the roof consists of stone slabs; from this chamber a passage leads to another similarly constructed: the cave is said to have on one occasion afforded shelter to a party of Royalists when pursued by the troopers of Sir Thomas Fairfax: There are also several tumuli, besides an ancient British encampment called 'Red Cliff Castle.' "
Other descriptions give dimensions of the cave entrance as "very small - about three feet high and four feet wide; but within it expands to about eight feet high and ten feet wide. Its length is about fifty feet." (W. Edwards Michell, in a paper titled Antiquarian Remains in the Parishes of St.. Merryn and St.. Eval, p.64 of the Journal of the Royal Institution of Cornwall, Part 4, Volume I, 1864-5.) Michell considered this to be the most interesting antiquarian remains in that part of Cornwall.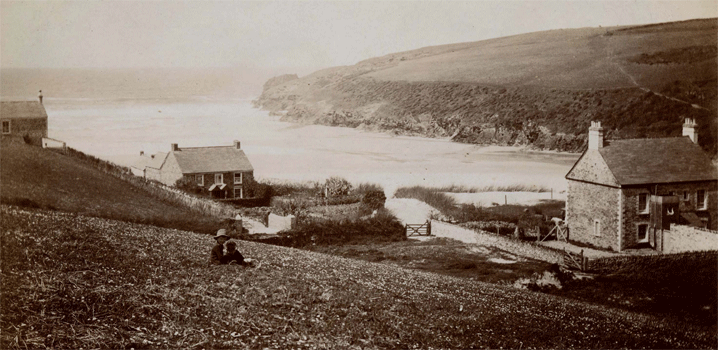 Porthcothan From The Meadow - from Malc McCarthy's collection
The Sites and Monuments Record gives the grid reference as 86527134 (in my researchers estimation this is the correct eight-figure map reference; the one given below is not so accurate) and notes that it extends into the hillside in Porthcothan Valley "and is probably a natural cave." (CSSMR No. 21806.) Ian McNeil Cooke, in his book Mother and Sun; The Cornish Fogou, notes in Appendix III, under Fogous listed by H. O'N. Hencken in 1932:- "St. Eval: Porthcothan ... the Vugha, said by Dr. Borlase to be a fogou. According to Mr. Stanley Opie, who has succeeded in finding the spot, it is an unwalled tunnel of doubtful age." It is described as being some five hundred and sixty yards (511 metres) south-east of Porthcothan Mill.
Peter Sheppard, writing in the Journal of Cornish Archaeology, No 17, 1978, p.116, lists under St. Eval, "? Fogou at 86027140," with "remains extant" and field names of "Great Vugall (Tithe Apportionment 101a, 103), and nearby" Higher Lower Vogall (Tithe Apportionment 155-6). "Seemingly a natural cave, yet showing tool marks."
Charles Henderson, writing on 28th. December 1928, in the Western Morning News and Mercury, in an article called "Secret Passages: Romantic hiding places in fact and legend, "considered the tunnel to have "certainly" been constructed by smugglers." Elaborating on this theme, the Reverend Sabine Baring-Gould wrote in 1899: "There are around the coast a great number of what are locally called Vougghas, or Fogous (Welsh Ogofau,) caves that were artificially constructed for the stowing away of 'run' goods ... ... At one of the wildest and most rugged points of a singularly wild and rugged coast, that of the north of Cornwall, are two tiny bays, Porth Cothan and Porth Mear, in the parishes of St. Merryn and St. Eval .... At Porth Cothan the cliffs fall away and form a lap of shore, into which flows a little stream, that loses itself in the shifting sands. A manor-house, [presumably the Trevethans, of Porthcothan - but it was never a manor in its own right - it was sold out of the Manor of Treuthgans or Treworgan in Cubert to Nicholas Trevethan 25 March 1644] a mill, a farmhouse or two are all the dwellings near Porth Cothan, and of highways there is none for many miles, the nearest being that from Wadebridge to St. Columb. About a mile up the glen that forms the channel through which the stream flows into Porth Cothan, is a tiny lateral combe, the steep sides covered with heather and dense clumps and patches of furze. Rather more than half-way down the steep slope of the hill is a hole just large enough to admit of a man entering in a stooping posture. To be strictly accurate, the height is 3ft. 6in. and the width 3ft. But once within, the cave is found to be loftier, and runs for 50 feet due west, the height varying from 7ft.6in. to 8ft.6in., and the width expanding to 8ft.3in.
Immediately within the entrance may be observed notches cut in the rock, into which a beam might be thrust to close the mouth of the cave, which was then filled in with earth and bramble bushes drawn over it, when it would require a very experienced eye to discover it. As it was, though the mouth was open, my guide was in fault and unable to find it and it was by accident only that I lit upon it.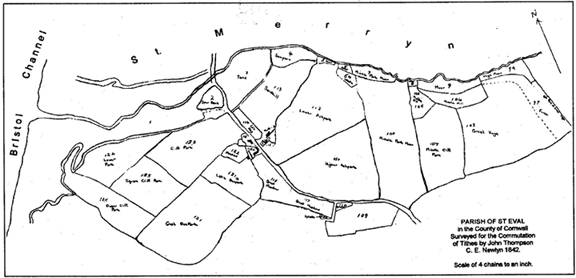 Trevethan Farm, Porthcothan
At 7 feet from the entrance a lateral gallery branches off to the right, extending at present but 17 feet, and of that a portion of the roof has fallen in. This gallery was much lower than the main one, not being higher than 3 feet, but probably in a portion now choked it rose, at all events in places, to a greater height. This side gallery never served for the storage of smuggled goods. It was a passage that originally was carried as far as the little cluster of cottages at Trevethan, whence, so it is said, another passage communicated with the sands of Porth Mear. The opening of the underground way is said to have been in a well at Trevethan. But the whole is now choked up. The tunnel was not carried in a straight line. It branched out of the trunk at an acute angle, and was carried in a sweep through the rocks with holes at intervals for the admission of light and air. The total length must have been nearly 3500 feet. The passage can in places be just traced by the falling in of the ground above, but it cannot be pursued within. At the beginning of this century this smugglers' cave was in use. [This account was first published in 1899.]
There is still living an old woman who can give information relative to the use of this cave.
'Well, Genefer, did you ever see smugglers who employed the Vouggha?'
Vouggha, as already stated, is the old Cornish word for cave. 'Well, no, sir. I can't say that; but my father did. He minded well the time when the Vouggha was filed with casks of spirits right chuck-full.'
'But how were they got there?'
'That was easy enough. The boats ran their loads into Porth Cothan, or, if the preventative men were on the watch, into Porth Mear, which is hidden by the Island of Trescore, drawn like a screen in front. They then rolled the kegs, or carried 'em, to the mouth of the Vouggha or to Trevemedar, [a farmhouse about half-a-mile south of Trevethan] it did not matter which, and they rolled 'em into the big cave, and then stopped the mouth up. They could go and get a keg whenever they liked by the little passage that has its mouth in the garden.'
'Did the preventative men never find out this place?'
'Never, sir, never. How could they? Who'd be that wicked to tell them? and they wasn't clever enough to find it themselves. Besides, it would take a deal of cleverness to find the mouth of the Vouggha when closed with clats of turf and drawn over with brambles; and that in the garden could be covered in five minutes - easy.' After a pause the old woman said, 'Ah! it's a pity I be so old and feeble, or I could show you another as I knows of, and, I reckon, no one else. But my father he had the secret. Oh, dear! oh, dear! what is the world coming to - for education and all kinds o' wickedness? Sure, there's no smuggling now, and poor folks ha'n't got the means o' bettering themselves like proper Christians.' " [Reference:- A Book Of The West; Cornwall by S. Baring-Gould, pp. 278-281, First pub. by Methuen and Go. 1899; reissued in G.B. by Wildwood House Ltd. 1981.]
In 1932, H. O'N. Hencken, in The Archaeology of Cornwall and Scilly, p. 152, said that like the fogou at Boleigh in St. Buryan the St. Eval fogou was supposed to have been used as a shelter by Royalists escaping from Fairfax during the Civil War. We may therefore speculate exactly when this fogou was so used and by whom.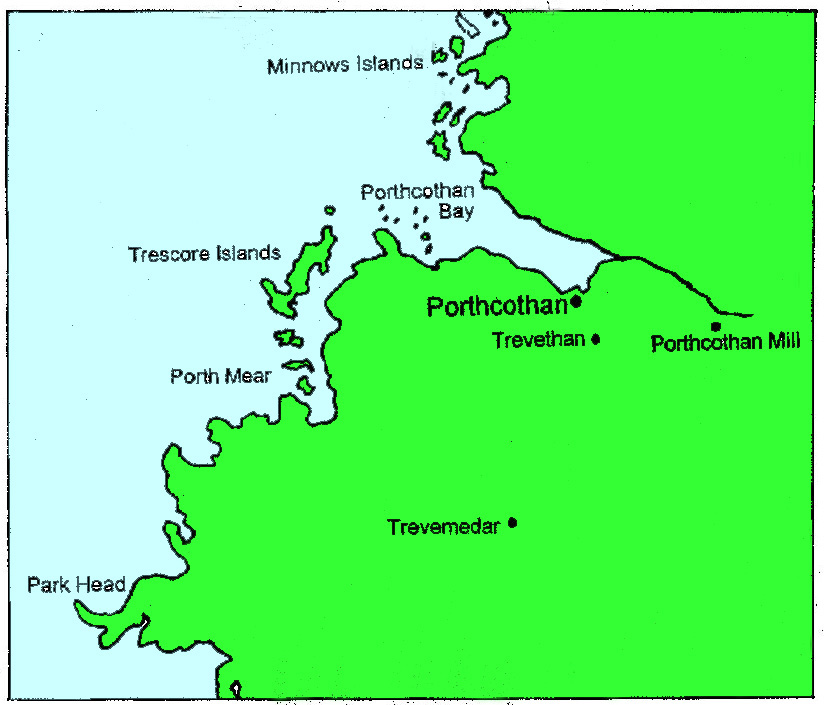 Location of Trevethan Farm at Porthcothan, Cornwall
Sir Thomas Fairfax was appointed general of the Parliamentarian New Model Army , which would replace all their previous armies, in early 1645; Fairfax had fought the Spanish in the Low Countries in 1629-31 and commanded a troop of horse in the Bishops' War. Although beaten at Seacroft Moor and Adwalton Moor earlier in the Civil War, in 1643, he had also aided the victories at Winceby and Marston Moor, and, as neither a peer nor an MP, he was a natural choice for command. Fairfax, unlike his predecessors and opponents, was allowed to appoint his own officers - a notable advantage - and for his lieutenant-general he had chosen a Huntingdonshire gentleman and MP for Cambridge in the Long Parliament, a man totally without military experience until he raised a troop of horse in 1642, one Oliver Cromwell.
Relevant to the unfolding events at Porthcothan, Fairfax marched on Cornwall, which was mainly Royalist in allegiance, by crossing the Tamar river on the 24th of February 1646, where he brushed aside Lord Hopton's horse for the King at Stratton. He reached Launceston on the 25th of February, and Bodmin on the 2nd of March. His strategy was to secure all bridges as he advanced to prevent the Royalists from breaking back past him. The news of Fairfax's advance moved the King's council to advise him to seek safety in the Scilly Isles, for which Charles embarked on the 2nd of March. Parliamentary Cornishman Hugh Peters, zealous chaplain to the train of artillery, meanwhile arrived in Bodmin with commissioners appointed to negotiate the surrender of Mount Edgecumbe. This gave Fairfax the opportunity to spread still further alarm and despondency throughout Cornwall by distributing news, found in letters taken in a ship at Padstow, that six thousand Irish were awaiting transport to England and four thousand more were to follow shortly. Exploiting this information, Peters announced the imminence of the Irish invasion at a general meeting held at Bodmin on the 6th of March, further depressing Royalist morale and standing in the county. Fairfax offered Hopton terms: officers and men would be free to go abroad, if they chose, and troopers would receive twenty shillings apiece if they handed in their horse and arms; Fairfax also proposed using his own good offices with Parliament to plead on Hopton's behalf. While waiting for Hopton's answer, Fairfax beat up the Royalist quarters at St. Columb, and as Hopton stalled for time, advanced to Tregony. Hopton finally conceded that the war was lost on the 9th of March, and asking for terms, named Tresillian Bridge, just to the east of Truro, as the rendezvous. Terms were agreed there on the 12th of March and surrender occurred on the 15th. This signalled the end for Cornwall and Major Hannibal Bonython, Commander of St. Mawes Castle, offered its surrender on the 16th of March, 1646, and the disbandment of the residue of the King's last army proceeded across the county. These tumultuous events in Cornwall must have precipitated panic in the local populace; what more natural than that a party of Royalists should seek shelter from a pursuing troop of Fairfax's men in the haven of Porthcothan's fogou? The date must have been around the 2nd of March, 1646, when Fairfax arrived in Bodmin and the King left for Scilly; the taking of the ship at Padstow would have been contested by local men - who may have been those who sought the safety of Porthcothan fogou. Those with intimate knowledge of its whereabouts of course were likely to be members of the Trevethan family living at Trevethan and Porthcothan, since access to both ends was obtained from their land; the Protestation Returns, 1641, list four family members at Trevethan:- Thomas and Thomas junior, Remphry, and Christopher, whilst Nicholas Trevethan had bought Porthcothan out of the Manor of Treworgans in Cubert, having previously been its tenant, on the 25th of March 1644. Any or all of these and their friends would have had access - and probable cause - to resort to the sanctuary of the fogou in the dark days of March 1646.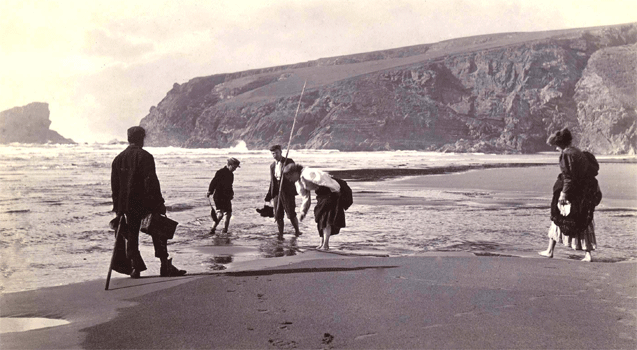 Skimpers at Porthcothan Beach - photo from Malc McCarthy's collection
The entrance to this fogou is on land which at the time of the Tithe Apportionment, in 1841, certainly belonged to Trevethan in St. Eval parish. Its whole length then ran under Trevethan land to its other end at the well by the farmhouse. Additionally there appears to have been a branch, which according to Baring-Gould's informant in 1899, given above, communicated "the little cluster of cottages at Trevethan ... with the sands of Porth Mear." Perhaps the most fascinating nugget in Baring-Gould's account is that "The opening of the underground way is said to have been in a well at Trevethan. But the whole is now choked up." You will find the well quite easily on the 1881 map of Trevethan, Porthcothan at the label W. (for well) just south of the house at Trevethan. If you then look at the smaller scale version of the same map showing the complete farm you can lay a ruler between the well and the Fogou to trace its course - bearing in mind that it seems not to have been carried in a straight line. In my researchers experience this information, if it is correct, is unique; we know of no other fogou or reputed tunnel of which both ends are so precisely located - and additionally this one appears to have a branch-line! All most intriguing and certainly romantic.
Other than the map mentioned earlier that Mr. Rowe of Trevethan farm has, he also has in his possession a book of Workmen's Accounts from the early nineteenth century; this includes the entry, dated 1824;
"Let Towan field to John Trevethan for 3 years at 1/11d. per year."
In the Cornwall Record Office can be found several deeds and leases relating to Trevethan. The first of these, dated 1450, shows that a Ralph Trevethan held land in Trevethan at the time of his death and that his possible grandson sold 51 acres in Trevethan in 1458. These are the earliest written record so far found of the Trevethans actually occupying Trevethan (though not, as we shall see, the earliest record of their presence in the parish.) Another record of 1584 written in Latin, is a Final Concord, confirming that John Trevethan and Richard West have transferred to Richard Hockyn and his wife Margery and Thomas Trevithvan gentleman 14 acres of pasture ... etc. called Trevithvan in St. Evall. It is interesting to note that Thomas was referred to as a "gentleman" at this early date; also that John was not a gentleman, so there were Trevethan families of different status coexisting in the parish.
In fact two hundred years later some members of the family who were some what less fortunate are mentioned in the poor records of the St. Merryn parish.
The church wardens were the overseers of the poor of the parish, making grants and paying ever day expenses as necessary. A number of wills of more well off "gentlemen" Trevethans left sums of money to the church wardens for help with their work with the poor. Special rates were also collected for this propose and in 1796 Peter and William Trevethan are shown as tenants at Roskeen and making payments for the poor.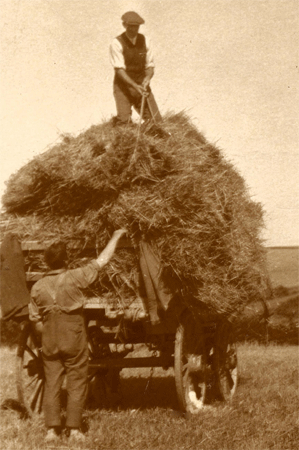 Hay Wagin at Polmark - from Malc McCarthy's
collection
When John Trevethan died in the early 1800's the church wardens paid for the cost of his funeral and burial expenses which make most interesting reading;
Paid the Buring (sic) Charges for John Trevethan
Paid the Minister 1/6d
Paid the Clerk 6d
Paid the Sexton 2/0s
Paid Henry Brenton for the coffin 18/0
Paid for the Shovel 4/6
Paid for the Setting Forth 5/0
Paid the Affidavi (sic) 1/0
Paid for three Pints of Liqueur 6/0
Paid for Candles 3d
Paid for a pound of Sore (sic) 10d
Paid for a Quarter of tea 9d
John had received a bit of help over a period of time for in October of 1805 a rug had been purchased for 8/0s, his shoes repaired costing 2d and later his hat repaired costing the same amount of 2d. Still a later entry shows seven yards of canvas at 17d a yard being purchased for John costing 9/11d plus another 10/11d for making but what into is not mentioned. At that time his kinsman Joseph Trevethan was one of the church wardens attending to his needs.
Other entries of interest to us are;
Paid Honour Trevethan's bill for Jas Adams 5s 10d
6 September 1798 Paid Ann Trevethan for attending John Bragg half year 5/6d
1799 Paid Ann Trevethan for tending John Bragg one year 11/-
18 October 1809 Paid Ann Trevethan for making M Eplett's ground 6d
1812 Paid James Champion for repairing Ann Trevethan's lose door 4d.
The next document relating to Trevethan is dated 1662, and is a pre-nuptial settlement between John Liverton of St. Merryn, yeoman(1), Henry Maye of St. Evall, Martin Liverton, and William Trevethan, who has the memorial in St. Merryn Church (mentioned later), of St. Merryn gent. See family tree on page 191. The document is endorsed on the reverse side;
"Sealed and delivered unto John Liverton, Martin Liverton, Wm Trevethan by Henry Maye in the presence of us Henry Hobbart[?], Nicholas Trevythvan, The sign of Richard Brewer."
The Levertons were a prominent local family at this period; they intermarried with the Trevethans several times. They did not, however, have "gent" status; and Henry Maye, whose daughter was marrying Martin Leverton, could not sign his own name.
The other documents are of less interest, as they do not name members of the Trevethan family . A brief summary:-
7 Feb 1612 Bond in 140 pounds. James Rillton rector of St. Breock clerk and his wife Isabella and son John to John Eveling of St. Eval husbandman. John Evelin to occupy lands at Trevethan.
1 Jan 1662 Lease for 99 years. John Leverton of St. Merryn yeo to his son Martin Leverton tenement at Trevethan.
29 Sep 1729 Bargain and sale; Henry Leverton of St. Ervan yeoman, to Rev. John Tregenna, rector of St. Mawgan in Pydar, Clerk, & Rev. John Day jun. of St. Ervan clerk, moiety [part] of Trevethan.
The Trevethans' "gentleman" status(2), continued through several generations, and it seemed reasonable that, as they were some of the most prominent people in the area at this period (as shown by the fact that they had a coat of arms), it really ought to be possible to find out more about them. And this is where a major breakthrough was made; it is rather complicated, and will take some explanation.
To begin with; in the 16th. and early 17th. centuries, the College of Arms or Heralds' College in London was responsible for periodic visits to parts of the country to establish if coats of arms were being used incorrectly or without permission. To do this they drew up pedigrees of the most prominent families. In the case of Cornwall they made visits in 1530, 1573, and 1620; their pedigrees were amended and updated in 1887 by Lieut-Col. J. L. Vivian, and are published in a volume known for convenience as Vivian's Visitations. A search of this volume found the pedigree of a Trevithven family - but they are described as "Trevithven of St. Mellion", and St. Mellion is right over the other side of the county, in south-east Cornwall, miles from anywhere near our ancestors are known to have lived. However, the family tree showed the apparent coincidence of the names Robert, Pascowe, and Thomas the same names I had already found in the 1569 Muster Roll for St. Eval parish. And secondly, the fact that this Robert is said to be "of St. Ervan" - which is the next parish to St. Eval.
A search of the records of St. Mellion parish found absolutely no evidence of any Trevithvens ever having lived there. But, a search of the Padstow Court Leet records found the crucial item;
8 Eliz [1566] Padstow Court Leet April.
Death of John Trevythvan one of the heirs of Roche who held of the Queen 1/2 an acre Cornish(1) in Tretor outside the borough. Relief 6/3. Also 1/2 a ferling 183/4d. Thomas Trevythvan is his son and heir - of full age. The sd [said] heir holds one garden and toft(2) in the Borough in the Strete. Rent 6d. Relief 12d. secund, consult' burgi. Also with Robert Marck in Gwarthendr' 1 ferling. Rent 11/4d Relief 21/2d.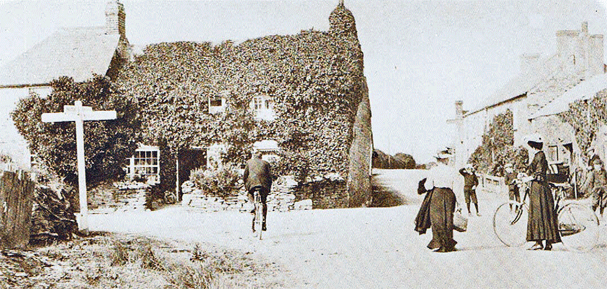 St Merryn Village 1900
This proves beyond a shadow of a doubt that the John Trevythvan who held property in the Padstow area, and who lived in St. Merryn parish (who is found there, for example, in the list of names for the 1522 Subsidy and Loan, as having property valued at 5 pounds plus) is the same John who is shown on the Heralds' tree as John Trevithven of St. Mullins - there simply could not have been two men with identical names who were both heirs of Roche. So the Heralds got it wrong (not, apparently, all that unusual - they came from London to talk to people whose first language wasn't even English, they didn't know the area, and one parish name must have sounded much like another to them) - it was not St. Mellion (or St. Mullins), but St. Merryn, and the people in this pedigree are our ancestors. This opens up all sorts of exciting possibilities. First, although the tree is frustratingly short of dates, it takes our family back several generations. With John's death found elsewhere to have been in 1566, we might suppose his father to have died 30 years before him (the average span of a generation), and therefore to have been born some time before 1500. Second, we find that the Trevithvens married into some very interesting families, from whom we are therefore also descended. Both the Roches and the Glynns can be traced back several more generations - the Glynn tree goes back to 1327, and the Roches are known to have been at Roche (near St. Austell) by 1189, where they were a family of considerable consequence - also known as Treroach (Cornish), de la Roche (Norman French), de Rupe (Latin), and Trecarrick or Tregarrick (Cornish again.)
This discovery makes it possible to draw up a theory of the origins and early days of the Trevethan family. The Trevethans were people of reasonable substance, probably farmers (there is a record of medieval field systems surviving at Trevethan.) The house seems never to have been a manor house, but may have had certain manorial rights, according to Mr. Darke;
"Although one assumes that any manorial rights would belong to Trethewell [the principal manor of St. Eval], there were manorial rights in the form of chief rents, collected every year by the Andrews of Trevethan [John Andrew bought Trevethan 1870; his son Tremain lived there until his death in 1932.] How these rights were acquired is not known. The cottages at Trevethan are quite old, but Trevethan House only dates back to the late mid [sic] 19th. century, and there is no history as far as we know of any ancient manor being sited there. The chief rents were collected from farmers until the 1930s when they were sold."
In the late 1400's or early 1500's, a member of the family, John Trevithven, made a very advantageous marriage, to Margaret, daughter and co-heir of William Roche (see family tree on page 197). As we have seen, the Roches were a wealthy and prominent family - in 1522-6, Margaret's grandfather, John Roche of Lezant, was listed as one of the wealthiest men in Cornwall, with goods valued at over 40 pounds, and her grandmother, Katherine Page, was heiress to another substantial family. One of the properties long in the possession of the Roches which presumably Margaret brought to her marriage, was Porthcothan as revealed by a document in Henderson's Calendars;
Robert de la Roche, Knight releases to Sir William de Bodrugan his right in... etc. etc... Pordgohoythan. Sunday before St. Dunstan 2 El [1295].
Thus John and Margaret settled at Porthcothan, and their heirs bore the title "gentleman" and were described as "of St. Merryn." In 1522, as we have seen, John's property was assessed as 5 pounds plus; by 1540, John Trevethan (whether this is father or son we have no way of telling, though I think it possible that John I had died by 1538 when the Padstow Curia Legalis includes "Her' Jonis Trevythven" - the heirs of John) was assessed at 20 pound. This fourfold increase could have come through John II's marriage, another very advantageous one, to Margaret or Margery Glynn (see family tree on page 195), but more about that in the chapter on the Trevathans of Cardinham. You will notice from the Glynn tree that Margaret's brother Nicholas Glynn lived a St. Merryn; perhaps this is how she came to marry John.
We know that John II & Margaret had eight children (at least), from Vivian; the pedigree says Robert was the first son, and leaves Thomas unnumbered, but the Court Leet 1566 already quoted gives Thomas as the heir, and I think this is correct, as Thomas quite clearly inherited Porthcothan. Probably he was not mentioned in his grandfather's will because, as the heir, he was already well provided for. We think this Thomas must be the one who appears in the Court Leet of 1533 in Henderson;
Padstow Court Leet 24 Apr. 25 Hen. VIII [1533]
Death of Robert Gybbes who held of the Lord as toft or garden in the Burgus etc since the last Court. Relief 12d. Johanna wife of Thos Trevethvan is his next heir and did fealty and gave as recognition 6d.
We know that Nicholas had a wife Elizabeth and son John from reference in Henderson.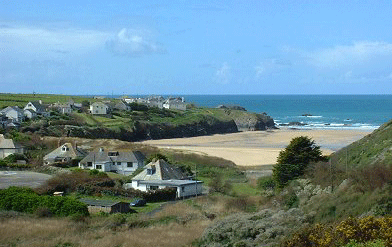 Houses at Porthcothan Bay, Cornwall
If confirmation is needed that these Trevithvens were seated at Porthcothan in St. Merryn, I now offer the following argument, first tracing the manor to which Porthcothan belonged:-
An Inquisition Post Mortem held on 18th. April, 1545, at Helston, found that before his death, Sir John Chamond Knt., had conveyed by charter, dated at Treworgans Manor in Cubert, to Richard Grenfeld Knt., and others the Manor of Treworgans, including his lands in Porthcothan at St. Eval; this was a legal device for passing on Chamond's estate to his second son and heir, Richard Chamond, and his wife Margaret; Porthcothan was held by them of the Bishop of Exeter as of Pawton Manor (St. Breock); we know that Pawton Manor in turn was held from the Bishop of Exeter by Sir Andrew Dudley Kt., for on lst July 1551 confirmation was given "by the Dean and Chapter of Exeter to Sir Andrew Dudley Kt., of the Manors of PAWTON (St.. Breock) IDE (St. Breock, St. Issey and St. Merryn) & TREFOS (St. Merryn) [Pawton Ide and Trevose] and 200 messuages 100 cottages ... 30 pounds rent in Pawton Ide ... Trevythvan [Padstow] Porghcothan [St. Eval] ... Trevythvyn [Padstow] ... Trewethen [St. Eval]." (Charles Henderson's Calendars Vol.18, pp. 78-9.) This sub-infeudation of manorial holdings, where manors were held as sub-manors of head manors was quite the norm at the time, and explains why in 1561, a rental of the Manor of Pawton-Trevose listed among its free tenants:-
"at ARLYN:... John Trevythven and Rawlin Teak half acre once Augar Amydes and Jo Eyre de Tukker and after Willm- Roche ...
at TREVEMEDER: ... Stephen Trevythven 1 ferling quand [once] John Tyeke and after Pascow Trethias ...
at TREVETHVEN: John Trevethven one and a half acres once John Oppy, then Ralph Trevithven ...
at PORKEHOTHAN: ... Rawlin Teake and John Trevythvan 1 acre Cornish once Matilda de Trevemeder then John de Roche then John Roche de Landue, them Wm. Roche 10d for 1 sheep ld aid quarter d for a sixth part of 1 Clyffe half d a & m.
Rawlin Teake and John Trevythvan hold the Millpool there with the Multure [a toll of grain or flour paid to the miller] once held at will by the tenants, once John de La Roche, after John Roche de Landue and then Wm. Roche.
at CRUCKNEVES als CRUCNEVES: Rawlin Teake and John Trevithven 3 acres Cornish once John de La Roche then John Roche of Landue and Wm. Roche." (ibid .135-7)
The importance of these entries is that firstly Trevethan family members are shown to hold land and sheep in Harlyn about a mile north west of St. Merryn (Arlyn,) Trevemeder (Trevemedar - the farm just south of Trevethan,) Trevethan, Porthcothan, Porthcothan Mill, and Cruckneves (possibly Crugmeer north-west of Padstow or Carnevas in St. Merryn) but most importantly they almost invariably held them in succession from Roches (see page 197) - John de la Roche, John Roche de Landue, and William Roche. It was William Roche's daughter and co-heir, Margaret, we may recall, who married John Trevithven - probably in the late fifteenth century, judging by the date of death of their offspring John (1566) who married Margaret Glyn. The first John is first mentioned as living in the parish of St. Merryn in the 1522 Subsidy and Loan, when he was evidently a person of some substance, who would have had a substantial house. It was probably his son John who, along with his cousin Rawlin Teake, was recorded holding the Millpool and Multure (a source of considerable income) at Porthcothan Mill in 1561, providing clear confirmation of the line of Trevithvans, heirs of Roche, holding Porthcothan; these are contemporary with the Trevethvens at Trevethven and point to a definite linkage of the Trevythvans at Porthcothan and the Trevethvens at Trevethven before 1561 - which is consistent with the marriage in this period of John Trevithven to Margaret Roche recorded by the Heralds' Visitation .
Other early references held at the Cornwall Records Office include:-
Book containing Rentals of the Manor of Launcells 1636.
The Manor of Treughans 1636
Portcothan Nic Trevethan Eliz ux [wife] & John their son.
It was Nicholas who bought the freehold of Porthcothan from the manor as seen in Henderson;
Manerium de Treuthgans [Treworgan in Cubert]. A rental made 25 Mar 1644.
Nichs Trevethan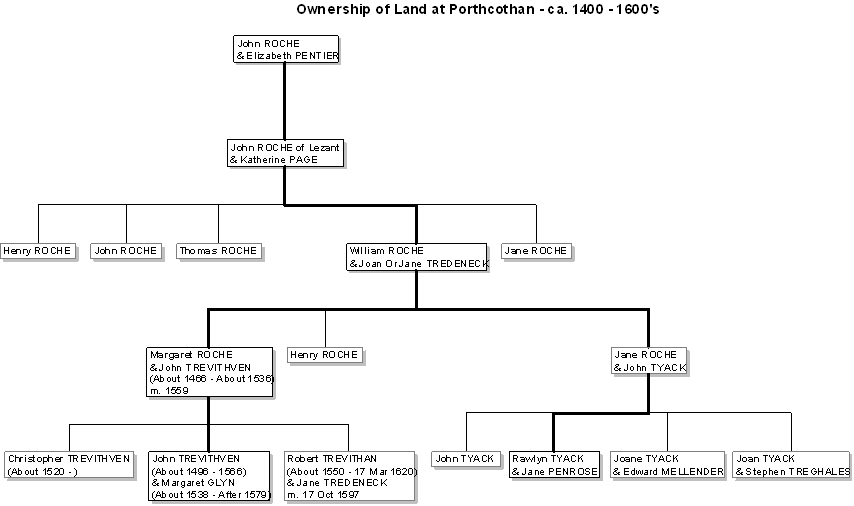 Porthcothan - this is sold away from the manor unto the tenant thereof. Sold 13/4.
Nicholas gentleman, of Porthcothan, was definitely part of this branch of the family. Whether he was the father or grandfather of William, whose monument is in the St. Merryn church, we do not know. It is not clear when the family acquired its coat of arms; they cannot have had it when the Heralds visited - 1630 at the latest - or they would have noted it; but we know they had it by 1695 when William died.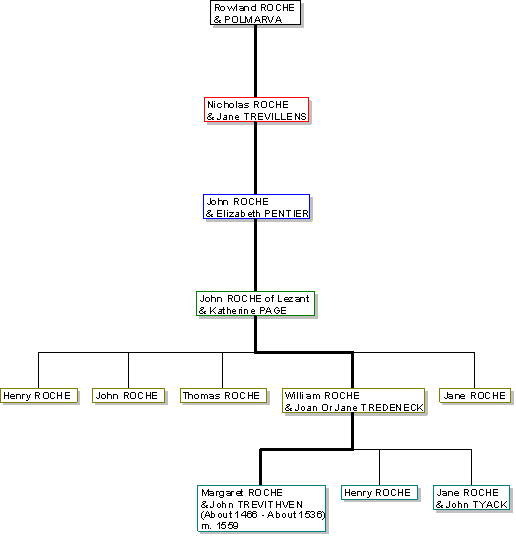 Meanwhile, at Trevethan, in St. Eval, the earliest member of the family of whom we have a mention is Sampson, named in the subsidy of 1525, when he had goods valued at 4 pounds, and was therefore rather less well off than John at Porthcothan. Whether he was the son or grandson of John II I do not know; I am inclined to think he was the former, and therefore the brother of Robert, who first appears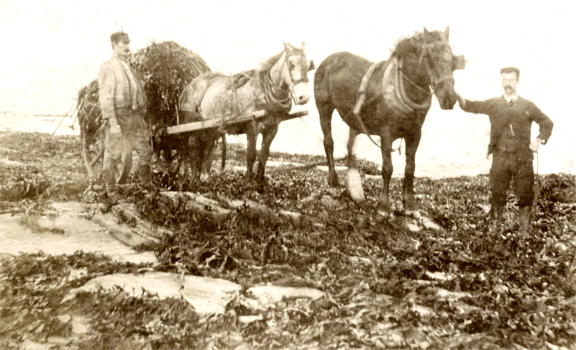 Seaweed Pickers at Porthcothan - photo from Malc McCarthy's collection
in the Subsidies of 1543, along with Sampson, John, and Benedict, who each had goods valued at 4 pounds. It is more difficult to work out the relationships between the St. Eval Trevethans.
In the St. Merryn church can be found a monument commemorating William Trevethuan of Porthcothan, who died in 1695; but there are earlier records still of Trevethans in this place. In the Records of the Manor of Trevose, 1561 (transcribed by Charles Henderson, the famous Cornish historian, in volume 18 of his Calendars, at page 149, in the Royal Institution of Cornwall, Truro), we find the following;
"Convencr Tenants
Trevythven Sampson Trevythven holds 1 tent like the other conventionary
(St.. Eval) Tenants of Pawton 8s.
Tregeneger Stephen Trevythven 3 tens or the whole vill(1) 50s.
Molend' Bladar(2) Tho. Trevythven now Stephen Trevythven 16s.
Also, at page 135, under "Manor of Pawton-Trevose; Free Tenants", also 1561;-
"Trevethven John Trevethven 1.5 acres....
Stephen Trevythven 1 ferling..."
And at page 137;-
"Porkehothan Rawlin Teake and John Trevythvan 1 acre Cornish...
Rawlin Teake and John Trevythvan hold the Millpool there with the Multure(3) once held at will by the tenants...
Cruckneves als Crucneves. Rawlin Teake and John Trevithven 3 ac.C."
Thomas Trevethan, ca. 1525 - 1619.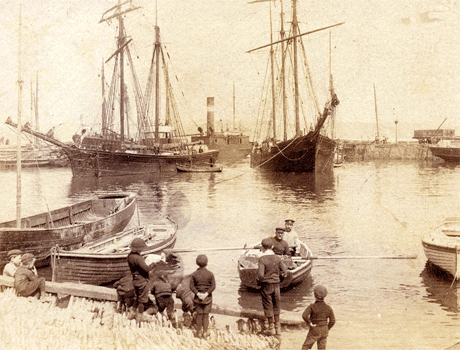 Padstow Harbour from Malc McCarthy's collection
Thomas Trevithven the eldist son of John and Margaret (nee Glyn) was born around 1525 and was to become a man of some substance. He married Joane Polkenhorne and lived at Padstow where they raised nine children. He inherited Porthcothan and by 1566 he owned a garden and a toft in the Bourgh in the Strete.
In 1533 Joane inherited from Robert Gybbes (possibly her grandfather on her mothers side) a toft and garden in Burges.
Thomas became involved in an affray one New Years Day in Padstow and latter on the 4th of May gave evidence at a hearing(4) to enquire as to what happened. John Dawson, yeoman who lived at St Chibz near Padstow came into town to visit his relatives. There was a procession taking place in which a Mr Calwoodley was taking part as he did every year. John Dawson exchanged words with Calwoodley's servant, one Jenkyn.
Later in the afternoon of the same day John Dawson was apparently walking up and down in front of Calwoodley's house, with certain other people, one of them apparently was Thomas Trevethan. There followed an affray, where sevant Jenkyn was injured.
Morice Dome, a gentleman of Padstow, aged 50 and over, claimed that this crowd were walking up and down in a menacing manner, armed with "swords and bucklers(5)" which John Dawson denied.
Thomas does not play a large part in the incident. He gave evidence at the hearing claiming he went home to supper when the incident began. He tesitfied in favour of John Dawson, denying menacing - "he had no weapon, but a dagger."
The outcome of the hearing is not recorded.
Thomas died at St Merryn on the 17th of October 1619 and was followed by Joane two and a half years latter.

Ship Wreck at St Ives.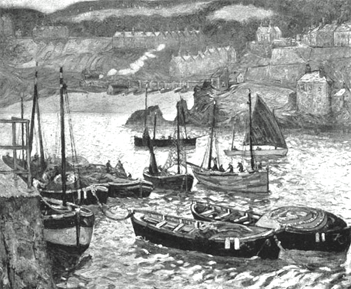 St Ives Fishing Boats
In 1545 two Norman ships on their way from Newfoundland, laden with fish, were caught in a severe storm off the northern coast of Cornwall and forced to seek shelter in St. Ives Bay. One can imagine the blustering, sunshine and squally showers. The wind whipping around the harbour. The crews anchored their boats; setting of to the shore on rafts, but so strong was the storm that many of the sailors drowned including eighteen on one raft alone.
St Ives at that time was much as it is now, with narrow streets, and even narrower alleyways between houses, the houses themselves tiny stone cottages almost piled on top of each other as they tumbled down the steep slopes to the harbour.
The pilchard fishing industry dominated the town, the harbour full of small boats, and the harbour area dominated by pilchard cellars and net lofts. In the pilchard cellars, the fishwives gutted, and cleaned the pilchards, and packed them in salt in barrels. It is hard to imagine, but everything must have smelt of fish, and their hands must have been red raw from the salt. But gallons of oil were a valuable by-product, pressed from the pilchards, and the women who did this part of the work were said to have wonderful complexions!
The stretch of coast near St Ives was infamous for drifting sand, which made it difficult to bring large boats into harbour. St Ives however managed to maintain a busy trade in shipping stone and tin, as well as the thousands of barrels of salted pilchards and tons of smoked herrings, or 'kippers'.
England and France were at war at that the time so the Frenchmen, from the two boats, who served forsook their ships for free passage back to their homeland. As soon as the weather improved the local men from St Ives rowed out to the two ships weighed anchor and bought them into the town's wharf. As soon as the ships were tied up most of the town's Gentlemen including Messes Godolphin of St. Aubyn, Reskymer, Mylyton, Vevyan and Trewynard with the help of the local men took the fish off both the ships and stored it in the cellars. Before they could complete the task Sir John Arundell's Bailiff, Harry Bree (1) and Mr. Penheleg who was with him went aboard the vessels, arresting both ships with the fish that still remained on board. They stayed aboard the ships for more than a week but in the end they were forced to leave by the local men and some others.
At this time Sir John Arundell was temporally staying at Mr. Roskarrock's house. Harry Bree and Mr. Penheleg hurried there and told Sir John how the people at St Ives had treated them. He immediately sent his commander to St Ives who summensed Thomas Jenkyns and John Stephens the rulers of the town to account for what had happened. They were both sentenced to a month in Launston Jail.
Shortly after Sir John's Commander arranged for three barques(2) from Padstow, under the command of Thomas Trevethan Gentleman, with his friends, servants and horses. Also a hundred of his gentlemen friends who had been warranted by King Harry 8th, yeoman and servants were dispatched by land. And so the boats from Padstow and the hundred men met at St Ives with Sir John Arundell's Bailiff Harry Bree and demanded the delivery of the two ships and all the fish.
Sir William Godolphin's second eldest son, Thomas (1) refused to surrender the fish whereupon the doors to all the cellars where the fish was stored were broken down, the fish seized and loaded upon the boats and taken to Padstow. There, some of the fish was used by Sir John who was Lord of the Franchise(2), while the remainder was given to his friends and servants.
As to the two ships, the smaller one of 50 tons was given to the men of St. Ives while the bigger one of 400 ton (3) Sir John told John Penheleg to sell it to the men of St. Ives. As a result of Sir John's actions a sitting of the Court of Franchises was arranged at the Vicarage of Lelant. It consisted of the Head Steward of the court, Robert Vevyan together with Justices of the Peace, Mr. Bear and Mr. Borlas. His council Mr. Harrye Sargeant represented Sir John while Mr. Swynton represented Lady Mount Joy (4) and the other gentlemen. The men of St Ives also had their counsel present.
The court found that Sir John Arundell, being the Lord of the Franchise, had the most right to the ships and goods and any other shipwrecks in the area.
1. Heir to his brother, Sir William (d. 1575), and father of Sir Francis (d. 1608).
2. Lord of the Franchise = A franchise is a royal privilege of the Crown's prerogative which, is granted to a subject. The owner of the right is not only authorised to do something but also has the right of preventing others from interfering. In this case the Crown privilege was granted to the Lord of the Manor to claim goods from shipwrecks along the shore line.
3. Probably miscopied for 100. According to Mr. A W H Pearsall of the National Maritime Museum "400 tons seems rather large for the period; by no means impossible, as ships of the size were in existence, but the ship would be extremely large one at that time, and fishing craft have never been among the largest at any period. 100 tons would be much more reasonable."
4. On behalf of the Manor of Ludgvan.
Thomas Trevethuan, ca. 1658 - 1710.
Thomas was a weaver by trade and lived at Trevorgus, three quarters of a mile south of St. Merryn with his wife Elizabeth and their eight children on a farthing of land which he leased from Squire Boskoune. He however also held the freehold for a number of other parcels of land around the district including further land at Trevorgus. His other lands were at Towan (more of this on the Joseph Trevethan page) and Halses Accure at Kerketh half a mile to the west
Thomas was likely to have been only in his forties when he died in 1702. Only his eldest daughter Sarah was married with his other children being aged between ten and twenty. The estate was valued at 257 pounds. His wife Elizabeth lived for a further ten years when the family home at Trevorgus passed to their eldest son Richard.
Thomas Trevithuan, ca. 1526 - 1596.

Little is known of this Thomas Trevithuan from St Eval, the parish beside St Merryn. What is of interest is that his will makes reference to a bequest to his son Paskowe of his best brasse panne because of the name of the Trevithuans suggesting that the Trevithuan coat of arms may have been on a brass plate that he wished his son to inherit. This is the earliest mention of our coat of arms.
Thomas was married to Margerye and had a daughter Elizabeth.

The Churches and Homes of this Trevethan Family.
Scattered all around the St. Merryn area, which is just a few square miles, is where this Trevethan family lived and died in the 15th, 16th., 17th., 18th., and 19th centuries. During a week in 1990 on a visit to Cornwall we visited every house, hamlet, farm and the local churches that are of interest to our family. So now let's travel around these properties and places of worship and read of the interesting stories they have to tell.
The Trevethuan Monument - St. Merryn Church. Top of Page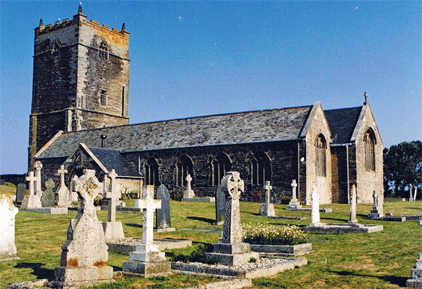 St Merryn Church
As you will see from the very early family trees our family lived in St. Merryn and St. Ervan before spreading to Padstow, St. Issey and St. Breock. St. Merryn is on the North Cornish coast only about a mile or so west of St. Issey, separated from it by the parish of Little Petherick. The present St. Merryn parish extends to 3798 acres and has five and a half miles of coastline. It includes some of the most dramatic cliffs and beautiful beaches in Cornwall which we greatly enjoyed walking along during our visit in 1990. On it's north side, the parish is bounded by the Lyn stream and parish of Padstow; on the west by the Atlantic Ocean. To the south, a mill stream divides it from St. Ervan. Most villages in Cornwall have a "Churchtown". St. Merryn is of the usual pattern, and includes the Church, church hall, vicarage, cottages and the Cornish Arms public house all build of stone and with slate roofs.
It was probably around 650AD that a missionary priest came to St. Merryn from Padstow, a cradle of the Christian faith in Cornwall. A place of worship was established at Constantine (where the ruined Chapel is still visible in the dunes), and later where the present church stands. An early reference describes St. Merryn as a Church of West Cornwall, under the Dean and Chapter of Exeter, known as "Sancte Merina in Pydar". This was in 1225, John de Withiel being the first vicar.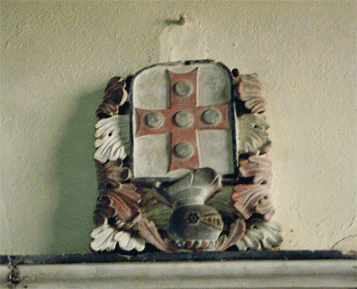 Trevethan Coat of Arms, upside down St Merryn Church
"Sancte Merina" - the saint's name being found also as Merryn, Meran and Marina - was born in the 7th century, in Bythinia. In 1338 the parish's dedication to St. Merryn was ratified by Rome, and received also a second dedication to Thomas a Becket of Canterbury.
It is the transcripts from this church that trace our family to the beginning of the written records. The bishops transcripts survive from 1616 but with a good number of years missing until after 1679 when they are complete. The earliest of them are written in Latin and show that the Trevethan's were closely associated with the St. Merryn church with William Trevethuan being a church warden in 1675 (see family tree on page 138) followed by his son in 1690.
The St. Merryn Church is of stone construction with a slate roof and is surrounded by a large green area containing the graves and headstones of many of the early settlers of the parish. The construction of the church was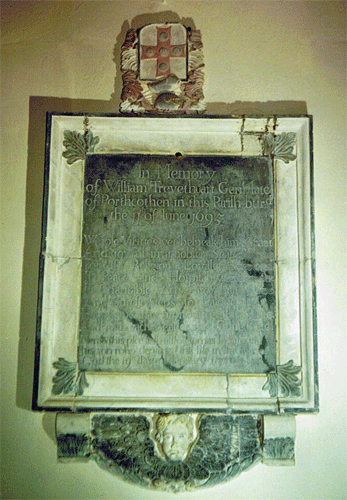 Trevethan Monument,
St Merryn, Cornwall
commenced in 1422, as an enlargement and rebuilding of an earlier church on the same site. The inside is rustic but well kept. Down the length of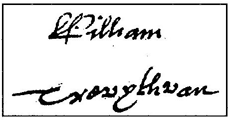 Signature of William Trevethuan
the church are a lovely set of seven Gothic arches and pillars of Cataclewes stone quarried from Trevose Head in St. Merryn parish. The wagon ceiling is most impressive with caved roof bosses and a carved timber wallplate on one side. Two beautiful stained glass windows throw an airy light on the interior. The church's stone bell tower looks rather stumpy but is tall enough to contains six bells which were originally cast in the church grounds but have more recently been recast.
The Trevethuan monument is to be found in St. Merryn Church, on the wall at the left-hand side of the chancel. It commemorates William Trevethuan, gent., of Porthcothan, who died in 1695, and his son Thomas, who died in 1710. William Trevethuan is the first person on our family tree who can be connected to our present day family. He lived at Porthcothen presumably on Trevethan farm. The monument is very large, surmounted by the Trevethan coat of arms, on a cross humettee five plates or bezants, and the inscription reads;
In Memory of

William Trevethuan Gent. late of Porthcothen in this Parish burd the 11th of June 1695.
Whose Virtues yet bespeak him Great And joyful in a nobler Seat For if Religion, Loyalty, If Peace and Hospitality, If Charitable Acts are best And surest Steps to Lasting Rest Happy we may pronaunce His State. And wish each Reader the Same Fate.

Nerae this plce lieth allso Thomas Trevithvan his son who departed this life in the fear of God the 19th day of January 1710.
It is of course interesting to note that William Trevethuan's name is spelt differently to the later generations of Trevethan Cornishman and of course our spelling of Trevathan. What is even of more interest to me was the fact that on the same monument William's son's family name is spell Trevithvan being yet another spelling variation.
In the same church, near the font, can be found a Sunday School List; the lower part of which lists all the pupils at St. Merryn Sunday School in 1825. John Trevethan is included. Also, on another wall, can be found from the archives of the House of Lords, a Protestation Letter dated 1642, Cornwall, St. Merryn, listing John Trevythan - Overseer, John Trevithran, Richard Trevethuan and Staynan Trevithvan.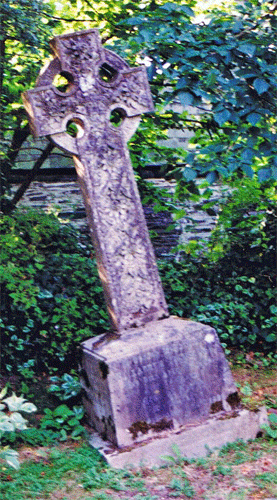 Grave of David and Elizabeth
Trevethan St Breock, Church Yard
The Trevethan Monument - St. Breock Church.
Nestled amongst bush and some fine old English trees in the Nansent valley (Holly Valley) just half a mile west from Wadebridge and three miles east from St. Issey is the old stone church and graveyard of St. Breoke. Built in 1259 and dedicated to St. Briocus one of the saints who came to Cornwall by way of Wales in the early part of the first century. The church that stands today was virtually rebuilt in 1677 because it had fallen into a state of disrepair. As you enter the church you are confronted by a 14th. century door of very heavy timbers and inside 13th and 14th century stained glass windows.
This church is of interest to our family as in the graveyard can be found the Trevethan Monument and grave of David and Elizabeth Trevethan the parents of the children that emigrated to New Zealand. The monument, which is situated at the back of the grave yard among some trees, is quite large with a Celtic cross on a stone base, and today has quite a lean to the left. The inscription reads;
He is Our Peace
In Loving Memory of
Elizabeth Trevethan
Who died April 5th. 1888
Aged 60 years.
Also David
her husband
Who Died August 24th 1892
Aged 64 years.
"Earth to earth and dust to dust"
Calmly now the words we say,
Leaving them to sleep in trust
Till the Resurrection-day,
Father in thy gracious keeping
Leave we now thy servants sleeping.
On the left-hand side is an inscription to the death of their son William, the brother of those that came to New Zealand. Up till now I have always wondered if William emigrated as well, but you can see that he stayed on in Cornwall but died before his parents at the relatively young age of thirty two years;
Also of,
William,
their Son
Who died April 29th 1887
Aged 32 years
On the right-hand side was an even more interesting inscription regarding one of their grandchildren, the son of their eldest child, Jane Sandry who had earlier married William Herd. This is the family that the now deceased George Morris of Wanaka in New Zealand could remember visiting in Cornwall when he was just a young boy;
Also of
Their Grandson
William Arthur
son of
W. & J. Herd
Who died January 19th. 1887
Aged 5 years
You can see therefore that this must have been a very sad period for David Trevethan, within a time span of a year he lost first his grand son, then his own son and finally his wife.
St. Petroc Minor Church - Little Petherick.
An interesting note from the Parish Register which makes your mind boggle.
1851 September 27 - Began to make the new entrance and with gunpowder, and hew out the rock which was applied to filling up the hill below. The parish assisted to make the improvements in the road.
This was written by the Vicar of the Parish! So as well as being responsible for the souls of his parishioners, he was also their local builder, come stone mason come quarryman into the bargain.
Little Petherick is a charming small parish only a stones throw from the picturesque village of St. Issey. In his article in the January 1982 issue of Cornish Life, Ivan Rabey says "Kept apart throughout the centuries by a typical Cornish hill winding its narrow way through a half-mile gradient of one in eight, the villages of St. Issey and Little Petherick have maintained their separate identities and individual characteristics. Both villages are set in wooded countryside and bestride the direct road between Padstow and Wadebridge; St. Issey at the top of the hill looks the older of the two. In the 12th Century it bore the name Egloscruk (the church on the tumulus) Little Petherick nestles cosily in the valley and has a very definite late 19th century look about it, probably because of the rather "English looking" church. This was greatly restored in 1858 by William Molesworth, Bart. Maybe one or other of these gentlemen were responsible for the "gunpowder" incident mentioned above! However, one way or another they have created a delightful little parish church in one of the quieter areas of Cornwall.
In the church yard can be found a number of Trevethan and Parson graves. No doubt the Parsons are related to John Docton Parson who came to New Zealand.
In the midist of the disused runways of RAF St Eval, an important costal command airfield from the last World War stand the 13th century St Eval church which can be seen from miles around. Its magnificant 60 foot tower was constructed in the summer of 1727 after the previous tower fell into disrepair in the mid 1600's. The church was enlarged in the mid 1500's and still has many medieval parts including an elaborately carved screen. One of the windows on the north wall is from Norman times and at the rear of the church can be found three of the orginal pews.
Tucked away in the depths of the Cornish countryside can be found the 13th and 14th century St Ervan's church with its Victorian Rectory and School-house. Down the lane from the church is a mill known to date back to 1276 and has a christening well. This church which was supported by the Arundell family who as early as 1240 lived at the manor of Trembleath. The orginal tower was built in the 14th century but reduced in height from 50 feet by explosives in the 1880's to its present hight of 24 feet. There is a medieval bell standing in the tower which was cast in the reign of Henry VI and a number of slate and marble memorials on the walls.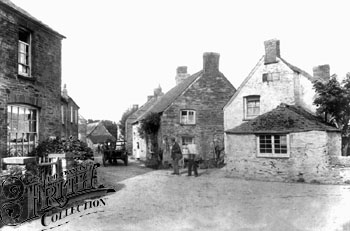 St Issey Village, Cornwall
St Issey, in the hundred and Deanery of Pydar, is situated about 3.5 miles south east of Padstow and about 5 miles north of St Columb. The parish is separated from the parish of Little Petherick by a stream tributary to the Camel, which is navigable to that place. St. Issey, in the 1830's was a parish of some 700 people. The principal hamlets of the parish, apart from Churchtown, are Tredinnick, Trenance and Trevance. The manor of Canalissey or Cannalidgee belonged for many years to the family of Coleshill. Halwyn, now called Old Town was formerly a manor on which was the magnificent seat of the Champernowns. The site of the barton, where are still to be seen (1814) ruins of the manor house and of a chapel, passed to three gentlernen who also possessed the manor of Tregenna which once belonged to the Arundells. There was also a manor at Trevorrick and an extensive manor of St Ide stretching into neighbouring parishes. Blable, now a farm, is probably the Blaybol which much earlier was the seat of a branch of the Arundells.
The village of St. Issey is set midway between the ancient market town of Wadebridge at the head of the estuary of the Camel River (a weekly market started in 1312) and the medieval seaport of Padstow. On digging the foundation for the present vicarage in 1832 copper and lead ores were found, but not in sufficient quantities to encourage further search. The village has therefore remained
St Issey Farmland
unspoiled. The village is surrounded on all sides by prime arable land, and no doubt provided most of the grain used in the tidal grist mills within the parish, on its northerly edge at Trevorrick Sea Mills near Benuick. The Sea Mills were a clever use of the natural flow and ebb of the tide in Little Petherick Creek, an inlet of the tidal Camel Estuary, whereby a large walled enclosure filled up with the incoming tide, to be slowly and controllably emptied with the ebb, to drive mill machinery to grind grain into flour.
The early photos of the area around St. Issey were provided by Vera Hammett of St. Issey (Daughter of Leslie & Winnie Trevethan; Leslie was the son of Charles and Emma Trevethan; Charles was the son of Zaccheus "Ky" Trevethan). These show aspects of life in the village in the late 19th. and early 20th. centuries, and are the oldest photographs available. Copies of these photographs may be seen around the walls of the Ring o'Bells public house in St. Issey.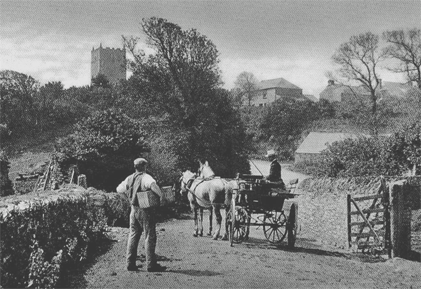 St. Merryn Area
The Ring o'Bells pub to me, was a traditional English hotel, rather small, with no more than thirty patrons at any one time. This interesting hotel where no doubt many of our forebears idled away many a pleasant hour, dates back at least to 1686, when a note of repair carried out is recorded, according to the present landlord. The name of the hotel was a common one for pubs close to churches and within earshot of the pealing bells. We spent an hour or two there every evening, during our visit, just soaking up the atmosphere, drinking Cornish lager and lemon or scrumpy(1) while we listened to the broad "Poldark" Cornish accent. Of course the pub serves evening meals and a visit to Cornwall would not have been complete without our sampling the genuine Cornish Pasties.
Not everybody frequented the Ring o'Bells, for Nonconformism affected St. Issey, no less than the rest of Cornwall, in the 19th. century, and produced its teetotal followers, called Rechabites. Gerald Carhart of the East End Garage in St. Issey told me that in former times whenever Parson (church) and Minister (Methodist) passed each other in the street, each would ignore the other and go to his own gate and look towards Padstow.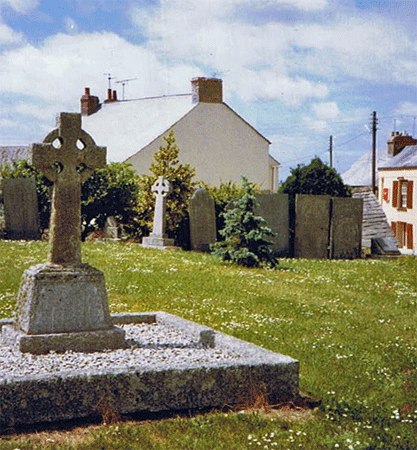 Trevethan Monument, St Issey Church Yard
The monuments in the St. Issey churchyard and the Church cemetery where of interest to me as in front of the church in a prominent place is the Trevethan cross which was erected by William Trevethan, who came home in 1924 from Australia, where he was a prison governor, in memory of his parents.. His parents were Thomas and Nancy Trevethan the uncle and aunty of the Trevethan brothers and sisters whom came to New Zealand and their family tree can be seen on page 239. This headstone shown in the photo below was shown to Joyce Trevathan of Wanaka by the then Vicar of St. Issey Vicarage Barry Kinsman when she visited the area in 1985 and now I too have been lucky enough to see it for myself. Barry is also a Trevethan descendant and has in his possession a considerable amount of research into the Trevethan connection with Padstow. The inscription on the stone reads;
In loving memory of Nancy Trevethan died 25th Jan 1898 aged 73 and father Thomas Trevethan died 25th Dec 1901 aged 75. Erected by their son William, also to all Trevethans resting here and in foreign parts
Also in the church grounds is a more modest headstone to Samuel and Mary Jane Trevethan who were also uncle and aunty to the brothers and sister who came to New Zealand. Samuel was an agricultural labourer in 1861 and lived at Trevance a small hamlet a few hundred yards east of St. Issey. The inscription on the head stone reads;
"In loving memory of Samuel Trevethan, died 18th December 1889, aged 68. Also Mary Jane his beloved wife, died 27th October 1910, aged 75. At Rest".
In St. Issey church can be found a Norman font with a round bowel enriched all over with stars and circles. Under an arched canopy watched over by two figures in the lady chapel is a 14th-century sculpture of Our Lord taken down from the cross, and on the fine reredos in the chancel is a canopy with about 20 figures of men and women covering five deep recesses, each with four arches rising to a vaulted roof. The reredos is made up of fragments of medieval stone.
On the hills above St. Issey are ancient graves and fortresses, and near a small inlet by the River Camel is the old manor house. Here was once a bridge linking the ruins of a medieval house with a dovecot covered with brambles.
Fall of the Church Tower - St. Issey.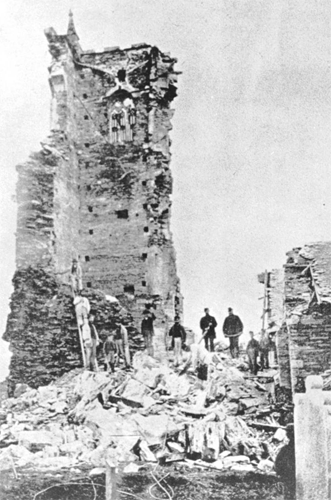 Fall of St Issey Church tower 1869, The large man
at the top right is Zaccheus Trevethan
From a newspaper cutting given to me in Cornwall we learnt of a disaster that stuck the village in 1869 that the Trevethans lived in, St. Issey village:-
"The tower of St. Issey Church, with its five bells, has been for some years past much out of the perpendicular, and in a very weak state. From time to time serious thoughts have been entertained of taking it down and rebuilding it, as many persons rightly considered its position to be very dangerous but beyond bracing and putting iron stays in the weak places, nothing was done. Notwithstanding the heavy rains and storms so prevalent of late, no unusual indications of danger have been observed, and on Sunday last Divine service was held in the Church as usual. On Monday morning, however about six o'clock, the tower parted, and about three-fourths with a tremendous crash fell to the foundation, leaving the other part standing with a pinnacle on it. A large quantity of the debris fell through the roof into the church, demolishing the gallery, and smashing the organ."
This is the oldest known photograph of St. Issey. The church tower fell on Monday 1st. February 1869, and must have created quite a sensation locally. The large man at top right of the photograph is Zaccheus Trevethan (known at the time as "Ky"; referred to now by his descendants as "Granfer Ky".), a common forebear of Vera Hammett who supplied the original, her cousin Paddy Barr who lives in Padstow, and those of us in New Zealand.
The lovely west doorway into the nave remains, and the work of a 14th-century sculptor, a fine stoup with an angel watch over the door.
A Scandalous Relationship - Trevear Farm.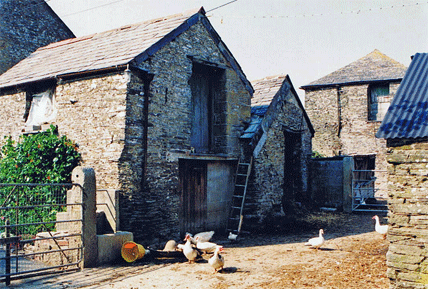 Barn at Trevear Farm near St Issey
A mile east of St Issey is Trevear Farm with lovely views of the surrounding rolling country side, which in the mid-nineteenth century was occupied by the Veall family, a well-known and well-respected local family. This was to be the scene of a scandalous relationship where Thomas Trevethan (1826 - 1901, the uncle of the brothers and sister who came to New Zealand) and the daughter of the house, Elizabeth, established a relationship. David, although married, used to creep in through the dairy window to be with her. I have been to this farm house and seen the window that gave Thomas entry to the cottage. This regular event was well known in St. Issey, and caused quite a scandal - to such an extent that several of Thomas's brothers later found it necessary to emigrate.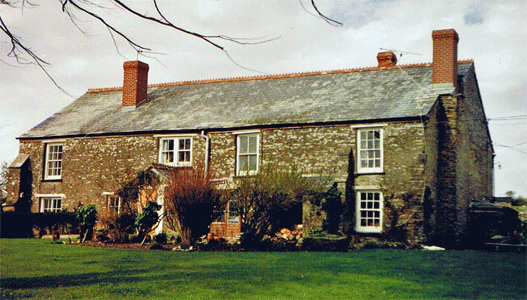 Trevear Farm House
Thomas later built a pair of houses in St. Issey village (now the East End Garage and adjoining house) - one for himself and his family, the other for Elizabeth Veall, with a connecting door between them. I have also seen the stair way to this door which has only very recently been walled in. It seems that Thomas was a carpenter as found attached to one of the roof timbers was a metal stencil reading "Thomas Trevathan (note the spelling) St. Minver" (The parish a couple of miles north across the Camel Estuary). Thomas's wife Nancy (nee Udy) stood by him throughout this scandal. Elizabeth Veall is buried in St. Issey churchyard - her tombstone is inscribed "She has done what she could". It was through this relationship that Trevear Farm came into the possession of the Trevethan family. Thomas's houses are now lived in by Gerald and Jean Carhart; Gerald is a descendent of the Trevethans.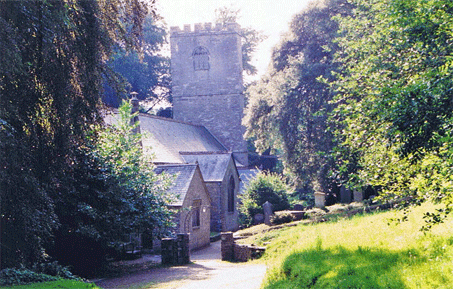 St Breock Church, Cornwall
Tregunna is the hamlet where David and Elizabeth Trevethan were living at the time of the 1861 Census. The hamlet consists of six houses, and it has not been possible to establish which of these was the Trevethan house. What is certain is that the house which I have always understood to be the Trevethan home, in Wadebridge is definitely not in Tregunna. We carefully examined all six houses, and none could possibly be that in the photograph, even allowing for modern alterations. My researchers spoke to a 94-year-old man, Marshall Blake, who now lives at Trevanson, but who moved to Tregunna in 1928 and spent most of his life there, and he does not recognize the house at all. He has assured them that no houses have been demolished in Tregunna in his lifetime; there is a ruined cottage, but it was ruined before 1928, and a barn that was once a house, but this was converted to a barn well before the 1940s. Thus the Trevethan home could be anywhere in the area.
I talked to Frank and Doris Wilce, who have lived at Tregunna Farm since 1943, and spent a pleasant hour or so sitting in the old house, which still has original slate floors, drinking cups of tea and talking about the old times in Cornwall. They had a storm in Cornwall in early 1990 which removed a number of roofs in the area and the Wilce's house lost some on its roof. They discovered at that time that the slates blown off the roof were the originals which had been fixed to the roof beams at that time with wooden pegs.
The Tithe Apportionment Schedule for the Parish of St. Breock in 1841 records that on the 13th of April that John Trevethan rented a house and garden from Thomas Arthur at Trevanson Wade for which he paid a rental of one shilling to the Vicar. This was a very small piece of land being only fourteen poles.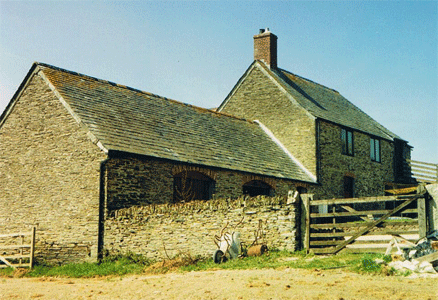 Trevethan Farm. Padstow
Trevethan farm is on the south boundary of the sea port of Padstow and commands magnificent views over the Camel estuary. It seems likely that Trevethan Farm was not named on the 1881 and 1907 Ordinance Survey maps because it had no farmhouse. The L-shaped building shown on these maps was a barn, which was only converted into the present farmhouse within the last ten years. The farm was part of the Prideaux estate - the Prideaux family being the main landowners in the area; they are still based at Prideaux Place in Padstow.
How Trevethan Farm got its name is not known, but the name clearly goes back some time, as it is named Higher Trevathan on my 1813 map.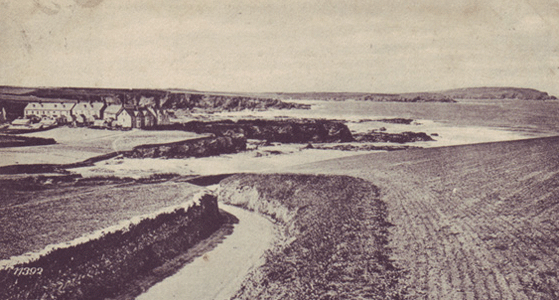 Trevone Bay , Padstow 1905
The Tithe Apportionment Schedule for the Parish of St. Merryn shows that in 1840 John Trevethan owned a house with a garden at Trevone on the coast in the parish of Padstow half way between the towms of Padstow and St. Merryn. John had this property rented to John Epps and Johanna Chapman for thirteen pence.
It is three and a half miles from Wadebridge to Trevathan Farm in the parish of St Minver, and although the distance is quite short this property is quite removed from the other Trevethan homes. Not that the Trevathan is spelt the same as our New Zealand spelling. How this farm came to have this name is not known but it is interesting to note Thomas Trevethan (1826 - 1901) was a carpenter and used a stencil with his name and St. Minver on it. Did he live on this farm at one time or was it his father Thomas Trevethan?
The present owners of the property, Henry and Shirley Symons, use the farm cottages for high class holiday accomodation but the farm itself is still farmed by the family. It has been in the ownership of the Symons family since 1850.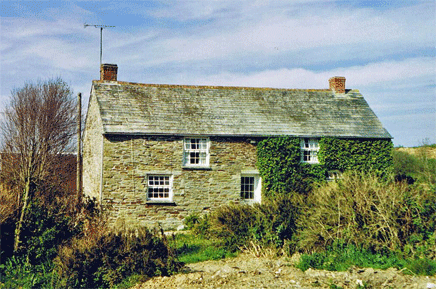 Trevance, near St Issey
According to the former Rector of St. Issey, Barry Kinsmen, it was the house in the picture of Trevance Farm, in the hamlet Trevance a few minutes walk from St. Issey, that Thomas Trevethan, an agricultural labourer, lived in 1841 with his wife Nancy and three youngest children. Thomas's grandson, another Thomas and the first Trevethan to come to New Zealand was latter born in this house in 1850. The house is now owned by Mary Geach.
New Barn
There are only two houses in the hamlet of New Barn, so it must have been in one of these that David and Elizabeth Trevethan lived in 1851, although it is not possible to know which one. Houses are shown in these positions on the Tithe Map of 1841, and, although heavily modernized, these houses appear to be sufficiently old to be the same buildings. One is now called New Barn, the other Trelissa; these are likely to be modern names.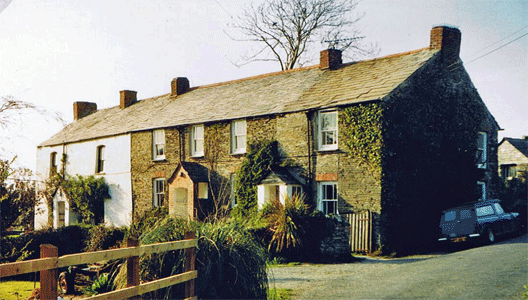 Lower Tredore
Less than half a mile north west of St. Issey can be found the hamlet of Lower Tredore which consists of a terrace of three cottages, evidently Trevethan, Porthcothan near St Merryn, Cornwall - 1881 built to house workers of Tredore Farm, at the top of the hill which faces the cottages. In one of these cottages, in 1861, Thomas and Nancy Trevethan's son John lived with his wife Jane and their family of three young children all under five years of age.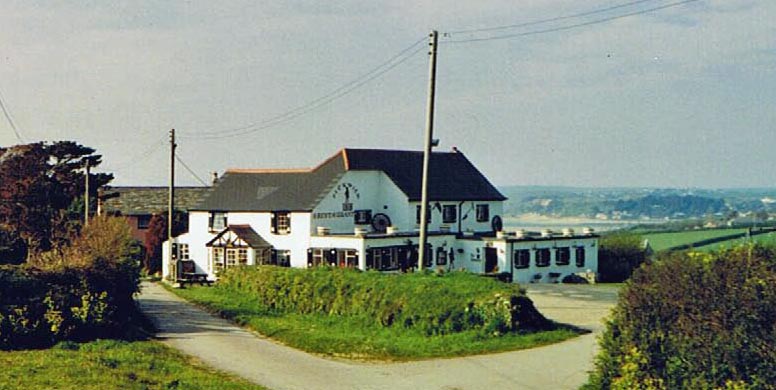 Burgois
Burgois.
At Burgois (pronounced Burgus), half a mile north of St. Issey there are several old houses and it is not now possible to know in which of them Samuel and Mary Trevethan or Thomas and Nancy Trevethan (see also Trevear Farm) lived in 1851. All have been extensively modernized; one has been greatly extended and is now the Pickwick Inn and Restaurant.


Tregorrick Sea Mills.
Samuel Trevethan, who lived at Benuick, may well have harvested grain that was ground at these sea mills. Vessels carrying the flour from the mills would constantly have sailed past his house.
At the large house at the eastern end of Sea Mills (formerly the mill owner's house) we were told a Trevethan (known affectionately as Granny Trevethan) had been a cook there some years ago. She was remembered particularly for the heaviness of her pastry!
Benuick. Top of Page
There is now only one house at Benuick, and this was built in the 1930s. However, in the garden is the site of a much older house, of which almost nothing remains. It must have been in this house that Samuel and Mary Trevethan and their family lived in 1861.

Porthilly - Rock.
Opposite Padstow on the River Camel is a place called Porthilly, a part of which is known as Rock. It is here that Samual Trevethan owned a boat shed which caused the Padstow Harbour Commissioners some concern at Samual's construction of a breakwater encroaching on the sea bed. The minutes of their meetings record:-
The Harbour Master reported an encroachment by building of Quay work by Mr Trevethan under high water mark at Rock. Ordered that the Clerk do call on him to remove it. Adjourned to Monday the 8th January at Wadebridge at 11 o'clock.
The next meeting of the Padstow Harbour Commissioners was held at the Moleworth Area, Wadebridge on the 8th of January 1849 when Samuels construction was again disscussed:-
The Clerk reported that he had written to Mr Samual Trevethan in referance to an alleged encroachment at Rock and that he had received from Mr Trevethan a letter dated 15 November in referance thereto and it being stated that the inclosure made by Mr Trevethan was land formlaterly encroached on by the sea.
The Harbour Master was ordered by the meeting to inspect this work and report back to the Commissioneers meeting which he duely did at an adjourned meeting of the Commisiioners held at the Office in Padstow on Monday the 12th of February 1849:-
Harbour Office February 12 1849.
The wall which Mr Trevethan has begun to build against the shore at Rock is in part upon ground which has recently been worked in the cliff for stone to make roads and partly where the soft ground has been fetted away by the sea. N V Martyn by a plan made a few years ago wherein that the cilff there full as far out as Mr Trevethan's wall. I W Davey.
Samuals problems with the Harbour Commissioneers is not mentioned again until another adjourned meeting of the Commissioneers held at the Mariners Rock on the first day of July 1850:-
That Mr Trevethan be permitted to inclose a portion of the beach at Rock over which the tidal waters at present flow lying between his boat shed and the projecting point of the wall of his grass plot being about thirty feet in length.
According to the Parish Tithe Apportionment Schedules for St Merryn on the 16th of February 1841 Samuel Trevethan owned a little over fourteen acres in Towan and Towan Veals which is a small settlement about half a mile north west of St Merryn. The land most of which was described as arable and the rest as gardens was occupied by John Bennett his cousin. The property had a cottage and garden which presumable John lived in. The rent payable for this land was 17s and 10p to the Vicar and one pound nineteen and six pence to Samuel Trevethan.
An early entry dated 26th of November 1650, given to me by Barry Kinsmen relates to a property at Towan, and would seem to be the same land.
Counterpart of a lease from said Walter Peter to Richard Trevethuan of a close of land in Towan Warka for 99 years determinable on the death of Elizabeth wike of the lessee Nicholas Trevethuan. Thomas Trevetnuan their sons under the yearly rent of one shilling and one harvest journey yearly 65 for the same.
Click the photo to have a look at these most interesting photos of early Cornwall from the collection of Malc McCarthy from Padstow.