---
There is little doubt that our surname Trevethan is of Celtic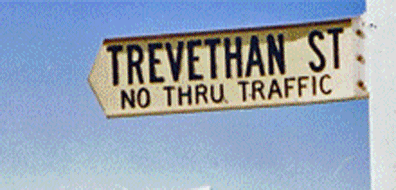 Trevethan Street Minnamurra and Toowoomba
Australia
origin, derived from tre-(b)vuthya meaning homestead in a meadow. The "b" is mutated to "v". Many villages in both Wales and Cornwall have the prefix 'Tre' - which in Welsh
means hamlet or homestead. There is in fact a village of Trevethin in Monmouthshire, Wales and three places in Cornwall known as Trevethan. In the parish of St. Eval can be found Trevethan which was spelt Trevethen in 1474, 1510 and 1549. Trevethen in Budock parish (Falmouth District), was spelt Trefudon in 1306, Trefuthon in 1325, Trefuthen in 1327, Tremuthon in 1342 and finally Trevethen in 1476. The other Trevethan is in Gwennap parish which was spelt Trefudon in 1302, Trefuthon in 1326, Trefuthyon in 1516 and Trefuthen in 1558. As you can see over the years they spelt as they felt.
Interestingly the spelling with an "f" is very rare but a family by the name of Trefethen is today living in the United States of America.
You have probably heard the old rhyme, known to Walter Scott:
By Tre-, Pol-, Pen-,
Ye may know most Cornish men.
This rhyme brings to mind such names as Tremayne, Polglase, Penrose.
In early times, when populations were small and relatively immobile, most people had only a single name, but as they became more mobile and their numbers increased, second names (surnames or family names) were adopted so that individuals could be distinguished from others of the same forename. With the growth of documentation in the later Middle Ages, such names became essential, and a person whose distinguishing name described his trade, his place of residence, his father's name, or some personal characteristic, passed that name on to his children, and the surname became hereditary. The process was a gradual one, beginning in the eleventh century.
A man named John hailing from the village of Trevethin might become known as John de Trevethin, Trevethin eventually becoming hereditary as a surname, the 'de' being discarded with the passage of time. Many Cornish names relate to the persons place of residence with well known prefixes of CAR or KER (fort or camp), TRE (homestead), POL (pool), PEN (head or end), ROS (Heath or promontory), LAN (enclosure, sometimes monastic) and BOS (dwelling).
Naturally, the spelling of such surnames varied according to the clerk who inscribed them on documents, and over succeeding generations a name might be altered out of all recognition through a series of misspellings by those who were semi-literate.
You will notice as you read this book that I spell our family name as Trevathan while referring to the family in New Zealand but as Trevethan while in Cornwall. The correct spelling of our name is Trevethan but it appears that the spelling changed upon the arrival of our forbears in New Zealand. The spelling used in Australia and the United States of America is Trevethan. While on spelling you will notice that in a number of places the spelling alters from time to time, as when a person was illiterate the spelling of their name was not consistent on their birth certificate and death certificate.
The Trevethan family name can be found in 19 parishes in Cornwall from Camborne in the west to Padstow and Tintagel in the north-east, and Calstock and St. Germans in the south-east. From 1600 to 1800 there were 160 Trevethan marriages (one every 15 months) in 39 parishes.
There are a number of other variations of names similar to ours in Cornwall and even in New Zealand but we are not related. Here are a few with their meanings:-
Trebarthen - Probably from tre-perthy: homestead with bushes. Place name Trebartha, North Hill.
Tregarthen - From tre-cardhen: Homestead with thicket or brake. Place name Tregarthen, Ludgvan. Found in west Cornwall.
Trevartha - From trev-Affa: Aff's homestead. Place name Trevartha, Menheniot (Trevaffa 1345).

Trevarthen, Trevarton, Treverton - From trev-Arthien (the old Welsh personal name which occurs in the ancient book of Llandaff): Arthien's homestead. The name is derived from Arth-gen = son of a bear (strong, brace, &c.) so say Gover but there is no confirmation of this in either of Nance's Cornish dictionaries. Place names Trevarthian St. Hilary (Marazion District) with medieval spellings of Trevarthyan in 1250, 1327 and 1359 and in 1269 Trevardian. In Newlyn East of Pydar parish can be found, Trevathen St. Kew (Trevarthean 1237).
The Trevarthens today are found in 13 parishes, with the most important concentration of about 40 in Camborne.
From 1600 to 1800 their marriages occurred in 23 parishes, 111 with a Trevarthen bridegroom or bride. Eighteen of these took place in Crowan church, 15 in Newlyn in Pydar church and 13 in Camborne church.
Rico Trewarthyan was taxed in the Paroch Sci Mich' de Monte (St. Michael's Mount parish) in 1327. In the same year Johne Trevarthyan of St. Hilary parish was taxed 3s. - a well to do villein.
Trevarton is certainly a dialectical corruption of Trevarthen. Before the Education Act of 1870, the Trevarthens were known as Trevartons to the illiterate.
The name Treverton has no place named after it and as the distribution of the surname is entirely different from that of Trevarthen it seems to have been an entirely different origin from Trevethan or Trevarthen. It would appear to have an entirely different origin from the other spellings.
Though the numbers of Trevertons is small, half of them are in the parishes of St. Kew, St. Mabyn and St. Minver (a parish beside the one our forbearers came from). A sprinkle of them moved to Redruth and Illogan which are both mining areas, and to St. Austell a china clay area, in the the 19th century. The best guess is that the final "ton" is an anglo-saxon ending to the Celtic name Trevers.
The Anglo-Saxon suffix "Ton" is the nearest parallel to the Cornish Celtic "Tre" and means a homestead.
In New Zealand we currently have people by the name of Trevethan who will almost certainly be related and from the Auckland area people by the name of Trevarthan who will not.