This page is still under construction. Please call again soon.
Just how or why the five of David and Elizabeth's family came to emigrate to New Zealand is unknown. Those who eventually left Cornwall for the Colonies were Thomas and his daughter Elizabeth Jane, his brother David with his wife Elizabeth Jane and their family of two children, and Thomas's sisters Emma, Maria and Mary. Emma's husband John Parsons also came. Some of the family were first in Australia and later moved on to New Zealand.
What was it like in Cornwall around the time that David and Elizabeth's children decided to leave home to seek a new future in far off New Zealand? Cornwall had been playing a major role in Britain's Industrial Revolution and had grown to be one of the major mining areas of the world. Most people think of Cornwall as being a major producer of tin, while in fact it was copper mining which prevailed in the nineteenth century, with tin only being extracted on a large scale after the demise of the Cornish copper industry in the late 1860's. Cornish mining, like all mining, was marked by widely fluctuating world prices, which resulted in periods of wealth and prosperity being followed all too often by depression and widespread unemployment. These changing mineral prices and overseas competition were responsible for this volatile state of affairs.
The other main industry in Cornwall was farming which also faced periods of great depression, with a number of years of failed crops. Although Cornwall had a number of areas well suited to farming, there were also a number of poorer areas of moorland which was marginal country for farming.
It is not surprising then, that with general poverty in the nineteenth century, emigration should have been in the minds of many young Cornish people. In the last two thirds of that century Cornwall lost more than a third of her young people to new countries around the world like New Zealand and Australia. The result was that from the years after 1840 the population of Cornwall was severely reduced.
Richard Trevethan, 1831 - 1905.
All of our New Zealand family have always understood that Thomas Trevethan was the first of the Trevethans to come to New Zealand. However in 1999 I received an amazing letter written in 1862 by Richard Trevethan while he was at the Weatherstones goldfields in New Zealand. Weatherstones is the next valley over from Gabrial's Gully, Otago where gold was first discovered in New Zealand and only a mile from Lawrence where I spent 17 years of my life poultry farming and beekeeping. So while our Thomas was the first of our family to come to New Zealand, Richard Trevethan was here some eight years earlier. He is not closely related to our family but more of his life and the text of this most interesting letter can be found on the page on Australia. He was not very impressed with New Zealand describing it as "a miserable place" and later returned to Australia.
William and Elizabeth Trevarthen.

Some thirty years earlier, William Trevarthen and his second wife Elizabeth (nee Blackwell) arrived at Port Nicholson, Auckland on the "Chelydra" on the seventeenth of June 1840 (or was it the "Bolton" on the nineteenth of November of the same year) both after a five month long voyage. I have information from two sources, both giving a different ship. When they arrived, William was forty one and Elizabeth was thirty four and one would have expected them at that age to have bought a large family with them, but they only had with them their three eldest children, Thomas aged eleven, Elizabeth aged six and Mary aged only four. William and his family had travelled up to London from St. Blazey, Cornwall where the 540 ton "Bolton" left Gravesend, London on the nineteenth of November 1839 with 232 passengers.
On their arrival in Auckland William went out to work on a Copper Mine on Kawau Island near Auckland. Ten years later on the third of January 1850, Elizabeth had one last son who they named William Henry Trevarthen. His father was killed by his own horse when young William was only ten years old. He later went on to be a carpenter and joiner.
William senior and Elizabeth's other three children had interesting careers. Thomas worked as an engineer and had a family of six boys and four girls. Elizabeth married an Irishman by the name of Samuel Mooney and produced twelve children. Samuel was a farmer and hotel keeper. Lastly Mary married in Auckland Francis Rowe from St. Agnes, Cornwall and had thirteen children. Francis was a forwarding agent and carrier.
Also living around Auckland in these early days was Henry William Trevarthen who was born in Thames in 1862, which is still at least eight years before our Thomas was reported to have arrived. Henry who was a carpenter married Mary Ann Robertson in Auckland in 1888 and they lived at Montagul Street, Newton before later moving to Water Street, Mount Eden. I know nothing about this family except that they had two girls, Agnes and Ruby.
Also in New Zealand around this time was an engineer by the name of Thomas Trevarthen. He lived with his wife Margaret in Auckland where they had a son named Douglas who died in 1883 at the age of one year from diarrhoea.
One assumes that all these Trevarthens are descendants of William Trevarthen from the "Chelydra" or "Bolton". Descendants of these families still live in Auckland today and one of their descendants even emigrated back to England. He was William McVee Trevarthen.
Central Otago.
But back to Central Otago. Our family were to immigrate to the bustling mining town of Cromwell. The town's history dates back to 1862 when, after the discovery of gold in Central Otago, miners flocked to the area. In the same year there were several stores, three hotels, a shoemaker and two
Map of Thomas Trevathan's Mine, Kawarau River 1870

blacksmiths. In 1865 the population of miners around Cromwell was reported as being Cromwell 50, Bannockburn 30, Bannockburn district 90, Kawarau Gorge 90, Gorge to the Meg 50, Between Quartz Reef Point and Rocky Point 18, Poison Creek and neighborhood 45.

By 1878 the commercial sector had grown substantially. The number of hotels had doubled, the town had a doctor and a surgeon, a printing office and community newspaper, two churches, a school and police station. There were 100 houses and a population of 400.

Our first Trevathan to arrive in New Zealand was Thomas who was first reported to be in the Kawarau Gorge and later at Quartz Reef an area on the river flats near Cromwell in Central Otago. This was never a township but rather a scattered locality. There was a hotel there from 1865 to 1869 kept by John Perriam and his wife Charlotte who were the parents of John William Perriam who later married our Thomas's daughter Elizabeth Jane Trevathan. A new hotel, the Welcome Home Hotel, was built across the river from Quartz Reef at Lowburn in 1869 and demolished in 1988 to make way for what is now Lake Dunstan.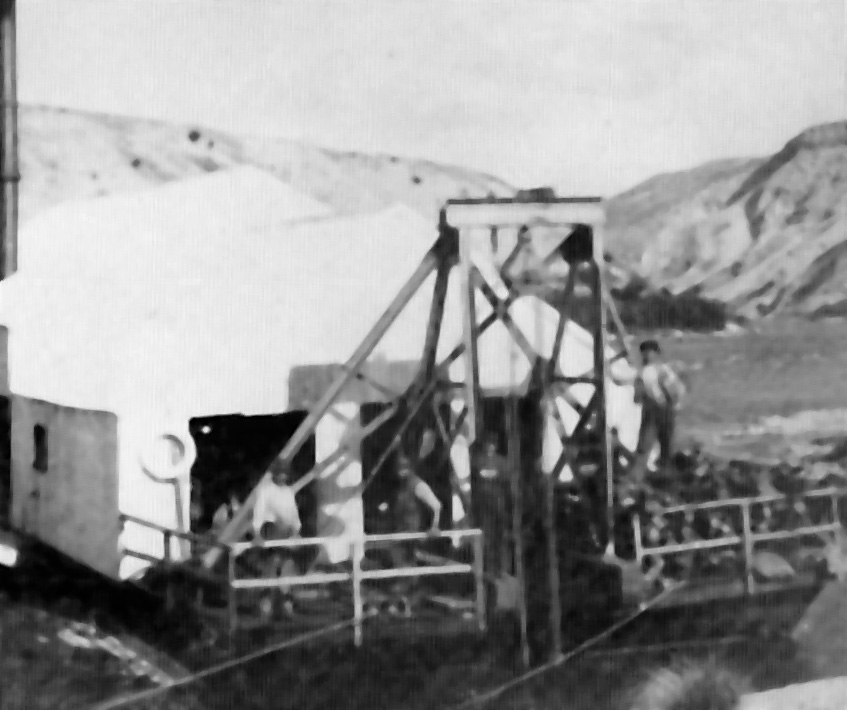 John Parsons on the dredge "Prince Albert" at mouth of the Cardrona River.

John and Charlotte came down from Auckland when the Gabriel's Gully gold rush started and their first child was born at Weatherstones near Lawrence and claimed by Charlotte to be the first baby born there. When the Dunstan rush started they went back to Dunedin, got a dray and goods and materials for a goldfields store and kept a store at Clyde till 1865 when they moved to Quartz Reef Point. John had been in the Californian gold fields in 1849 and must have decided there was more money in stores and pubs than in gold mining though he did well in California. John Perriam died in 1883 and Charlotte ran the Hotel, store, butchery and bakery for another twenty five years. It was quite a substantial business until the coming of the motor car.

Thomas Trevathan, 1850 - 1894 aged just 44 years.

We first meet m

y great grandfather

Thomas Trevethan at the age of nineteen when he was living at Tregunna in Cornwall and at the time of his marriage to Jane Ball in the St. Breock Parish Church on the sixth of March 1869. Jane who was twenty years old came from a large family of nine children who lived close by at Haycock. She was the daughter of George Ball who was a farmer of thirty one acres. Thomas at this time was employed as a slate quarrier and still unable to write as he signed the registrar with his mark. The ceremony was witnessed by Jane's older brother and sister John and Bethia Ball.

Thomas was the first of our family to arrive in New Zealand coming to the colony in 1870. Like many he arrived during New Zealand's gold rush period, which lasted from 1861-71. During this time people arrived in droves, all hoping to get rich quickly but in Thomas's case seems he wanted also to leave behind his sorrow of losing his pretty young wife of just 20 months, Jane and start a new life.

Jane gave birth to their only child, Elizabeth Jane, on the 16th of October 1870 and although no record of Jane's death can be found it seems likely she die during child birth for when the next census was taken just five months later in 1871 there is no mention of her and her baby daughter was living with her in laws David and Elizabeth Trevethan. Her husband Thomas was now already in New Zealand.

Fifteen years later Jane made her way to London and boarded the 300 ton "New Guinea" for the long sea passage to Brisbane, Australia arriving on the 3rd of March 1886. It was however a further eight years before she was re united with her father having followed in his footsteps and came to New Zealand arriving in Cromwell around 1892.

Thomas must have left St Issey in 1870 and mostly likely in the month of October after the birth of his daughter for his own death certificate later shows he was in New Zealand by 1870 and he was certainly in Cornwall in January of 1870 to have fathered his daughter Jane. The result of the influx of immigrants to New Zealand at this time the publication of full passenger lists was suspended. So, this would appear to be the reason why I can not find a record of his arrival in Otago. The time he had available to travel to New Zealand during 1870 tells me he must have traveled direct to Otago harbour and not landed at any other port.

However he is first mentioned in the New Zealand records when he applied for a mining right. The records of the Cromwell Wardens Court show that he was granted a Miner's Right (No 904) on the 23rd of December 1871. By the third of May 1872 when he and two others applied for permission to construct a new water race about three hundred yards long to terminate south of Surface Point in the Kawarau Gorge David appeared to be living at a place called Gorge Town near Surface Point in the Kawarau Gorge. Construction of this new three feet wide race was expected to take them five weeks.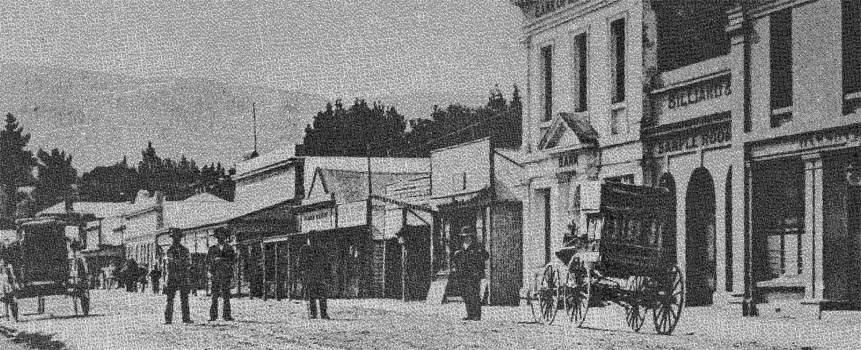 Cromwell at the turn of the century.

His new wife Elizabeth Jane gave birth to their only child a daughter named Elizabeth Jane Trevethan on the seventeenth of October 1870. Fifteen years later Jane made her way to London and boarded the 300 ton "New Guinea" for the long sea passage to Brisbane, Australia arriving on the 3rd of March 1886. It was however a further eight years before she was re united with her father having followed in his footsteps and came to New Zealand arriving in Cromwell around 1892.

According to Thomas Trevathan's death certificate he arrived in New Zealand in 1870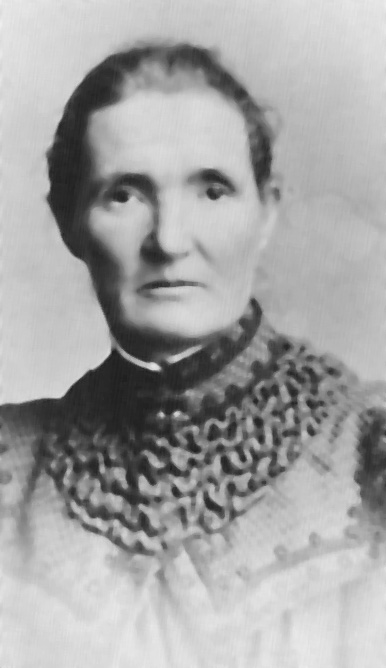 Jane Trevathan

In the same year David and five others applied three times for protection of their mining claims. On the first of April they asked for thirty days protection of their tunneling claim which they had been working for three months so that they could economies on labour and employee two men. Later on the sixth of September they applied for sixty days in respect of their block claim which they had been working for eighteen weeks so that once again they could economize on labour while tunneling operations were in progress. Finally on the fourteenth of November they were granted sixty days protection on their sluicing claim which they had occupied continuously since 1870 during further tunneling operations.

The tunnel they were constructing was an ambitious project requiring special application to the Wardens Court on the twenty third of August. They asked for permission to build a tunnel three hundred feet long from their extended claim east and west to the Kawarau river. It was expected that the greatest depth of the tunnel would be eight feet while it's greatest width would be ten feet. They expected this project to take six months to complete. The map on page 33 is a copy of a drawing on a writing pad from the Wardens Court records and is presumably in Thomas's hand writing.

On September the fifth Thomas and his five friends applied for a new claim that they had pegged out consisting of six acres of alluvial ground about half a mile north of the Kawara Gorge but by the twenty fourth of the same month Nicholas Campion wrote to Mr Baird of the Wardens Court saying that his party wish the application to be crossed off the Wardens Book. In the previous year, 1871 the other four members of David and Elizabeth's family who were eventually to come to New Zealand were still living with their parents at Tregunna, St. Breock, Cornwall. Emma was thirteen years old, David was a scholar aged ten, Maria was a scholar aged seven and Mary also a scholar aged five. Also living with them were their other children William and Edith and their first grand child Elizabeth Jane Trevethan, the daughter of our Thomas and Jane mentioned above. She was by now five months old.

What happened to Elizabeth's mother Jane and why was her father Thomas now in New Zealand is a mystery. Maybe Jane died at child birth as one would expect the child to at least be with her mother. A search of the 1871 census and the death records in between the birth of Jane and then show no sign of her mother. Did she come to New Zealand and leave the child behind or maybe she died on the ship on the way to New Zealand?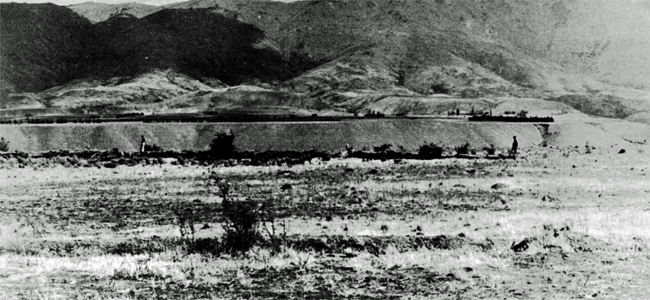 Quartz Reef Point 1976

By the year 1875 Thomas had moved to Quartz Reef township near the present settlement of Lowburn in Central Otago where he mined for gold. This was a small settlement of only fourteen males and nineteen females. A year later Jane Partridge moved to Cromwell and married Thomas who was now twenty seven years of age. The wedding took place on the 9th of May 1877 in the Cromwell house of her father George Partridge and was conducted by Rev Bay Drake. Jane was twenty two year old and had been born in Queensbury near Cromwell after her parents emigrated from Geelong, Australian. Thomas stated that he was a bachelor but in light of his earlier marriage mentioned above, this cannot be correct.

The Annual two day Lowburn Sports were held on the twenty sixth of December 1877 and New Years day 1878 and the local champion Thomas Trevathan won easily the Cornish style wrestling from William Cameron. First prize was two pound. He also competed in the high jump.

Thomas and Jane's first child George was born at Quartz Reef on the 14th of August 1878. Later that same year on the 1st of October Thomas was commended for swimming out to an Island at Rocky Point to rescue valuable horses caught in the great flood.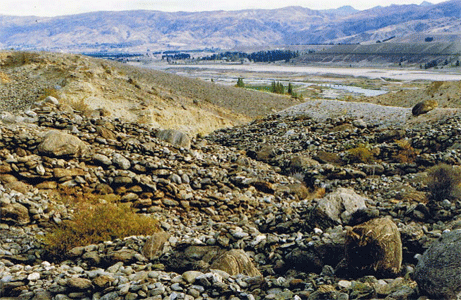 Old Quartz Reef Mine

By 1880 Thomas owned a horse by the name of Ruby which he entered at the horse races at Mrs Byron's, Mt Pisa on the 23rd of March. Thomas's Ruby finished second in the Maiden Plate weight for age over a distance of one mile not being good enough to beat Mr J Kane's Maori Chief who took first prize of five pound. Later in the same year on the 26th of July Thomas and Jane's first daughter Mary Annie was born at Quartz Reef. Thomas was still mining for gold and was granted a Wardens Court Application for mining at Frenchmans Gully and Five Mile Creek.

In the same year Jane's brother George Partridge suffered the loss of about one hundred and twenty pounds of property in a fire at the junction of the Lindis and Clutha rivers. George had a small hut and yard in which he did his shearing. In the hut were ninety fleeces of wool, several suits of clothing, a double-barrelled gun, eight pound in cash and other articles. On the evening of the disaster George was on business at Bendigo, and a man named R O'Neill was engaged shearing in the yard which was fenced with scrub running close to the hut. O'Neill had been smoking and the thatch of the hut was on fire before he noticed it, so that nothing could be done to save the contents.

The following year the population at Quartz Reef had risen to a total of forty two with twenty five males and seventeen females. This was also the year that Thomas Anderson and McIntosh opened a new three story stone flour mill at Luggate. Their advertisement at that time read "The mill is fitted with the latest machinery, and utmost care will be exercised in milling". Thomas Anderson's daughter Isobel was later to marry David Trevathan.

Later on November the 5th Thomas moved his family to Luggate after purchasing the Luggate Hotel from Henry Maidman which he had built in 1869. The 20 acre site was on both sides of the main road cost Thomas and Jane four hundred and eighty seven pounds ten shillings. This land was unsurveyed until 1883 when the task was completed by Campbell Mch. The hotel was known as the Albion and still retains that name today. Thomas however still continued with his gold mining.

Thomas bought with him to his Albion Hotel his expertise at Cornish styled wrestling. Every Sunday morning Thomas would come into the lounge calling "Who is it to be today". Locals came from far and near to see Thomas challenge any new wrestler to the district as he was the champion of Central Otago for many years.

On the third of September 1882 Jane gave birth to a baby girl who up till now has been unknown to our family. Thomas registered her birth two weeks later but without a name so it would seem that this baby died at birth as no other record can be found of her.

Jane's father George Partridge was a miner who, according to the Return of Freeholders in New Zealand, owned one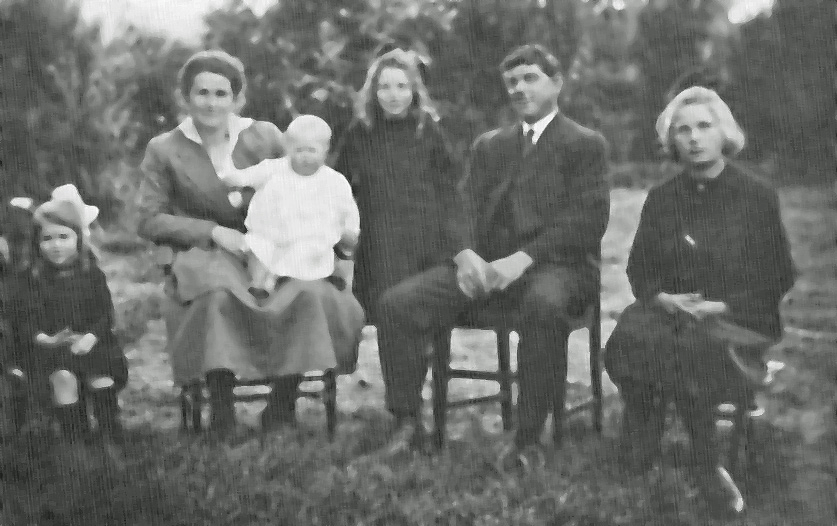 Wilfred and Amy Hardy nee Trevathan) with children Eva, Ivy and Edna.

hundred pounds worth of land in the Borough of Cromwell in October 1882. Henry Partridge, a farmer, also owned land in Cromwell to the value of four hundred and forty five pounds. Maybe these two men were brothers.

Meanwhile Maria Trevathan along with her brother David, and his first wife Elizabeth Jane and their family together with Maria's sister Polly and her niece Elizabeth Jane Trevathan had arrived in Australia. The year was 1882 and the event was the marriage of Maria to John Betts who was aged twenty two years. The service was held at the Church of England's Church, St. Pauls, Ipswich near Brisbane in Queensland and conducted by Rev Herbert Heath. The best man and witness to the wedding were William Betts and David Trevathan who signed the marriage certificate. The consent of David Trevathan, guardian of the bride, was given to the marriage of his ward Maria who was nineteen years old. At that time John was working as a planing machinist and Maria was a dressmaker. The wedding photo on page 51shows the bride and groom along with David, Polly and Elizabeth Trevathan. On page 51 you can see a copy of the Marriage Certificate.

While living in Australia Maria and John Betts set up home in 1885 at Lennon Street, North Ipswich, Queensland and had five children - Minnie, David, Emily, Maude and Amy. Later this family were to live at Gulland Street, North Ipswich. This family of seven were also later to come to New Zealand except Amy who died in 1891 at the age of eight months. They also lost their first home by fire and another by flooding.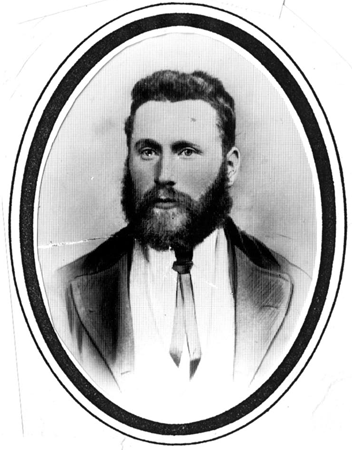 David Trevathan

David Trevathan who came to New Zealand around about 1883 was already married with two children. His first marriage has always been a mystery to his New Zealand family but at last, as the result of a number of different people giving me different small parts of the puzzle, I have been able to solve the mystery.

David married Elizabeth Jane Bunt on the eighteenth of November 1876 at the Registry Office, St. Columb Major in Cornwall and stated that he was twenty one years of age and a bachelor. Elizabeth said she was also twenty one years of age, a spinster and the daughter of William Bunt, a blacksmith. Both indicated that they lived at Tregunna, St. Breock, and the ceremony was witnessed by Fanny Lobb and Evan Julian.

What is of interested to us is that Elizabeth Bunt had a child born to her out of wedlock a year earlier on the sixteenth of November the year before her marriage to David. His birth was registered as Alfred Bunt but he later took the surname Trevethan and one can only speculate as to weather David was in fact his father. At the time of the birth David was only sixteen years old and Elizabeth was eighteen.

Also of great interest to me was the fact that this wedding was performed at the St. Columb Major Registry Office and not at their home parish of St. Breock . Both David and Elizabeth stated they were twenty one years of age when in fact David was only seventeen and Elizabeth nineteen. Did this young couple marry without the consent of their parents as at the time in Cornwall there was a law requiring the consent of your parents before you were allowed to marry if you were aged less than twenty one? If the consent was likely to not be forthcoming then in the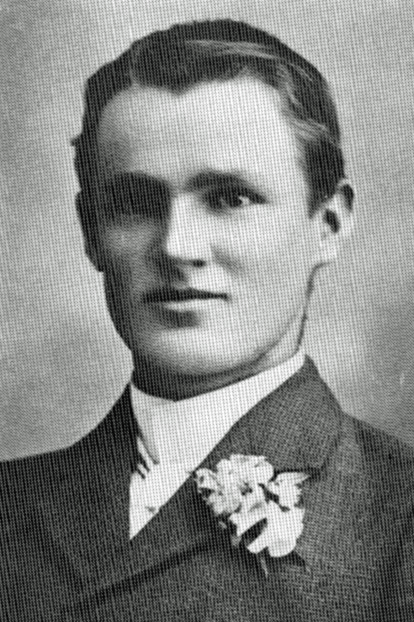 George Partridge

case of men they would lie about their age. Girls, who often contributed nothing to the family budget, would usually obtain the consent of their parents', implied or otherwise, since it would mean a saving, particularly when she came from a large family.

In any case they settled down to married life and on 13 February 1877 three months after their wedding their first daughter who they named Elizabeth Jane Trevethan was born. Her birth completed their family before they set of for Australia around about four years later.

We know that David was in Australia in 1882 for his sister Maria's marriage to John Betts and that soon after the wedding David brought his family to New Zealand in late 1882 or early 1883. This was twelve years after his older brother Thomas who was already well established at the Luggate Hotel in Central Otago. David was twenty three years of age while his wife Elizabeth was twenty five. They had their young family of Alfred aged seven and their daughter Elizabeth Jane aged four with them.

They traveled to Luggate where Alfred was enrolled at the Luggate School in November of 1885 at the age of ten. Earlier that year on the tenth of February their daughter Elizabeth died in the Cromwell hospital after being in New Zealand only two and a half years. She died of typhoid fever after a short illness of three weeks.

In the year 1888 David Trevathan is first mentioned in Stones Otago Directory as being a miner of Mount Criffel.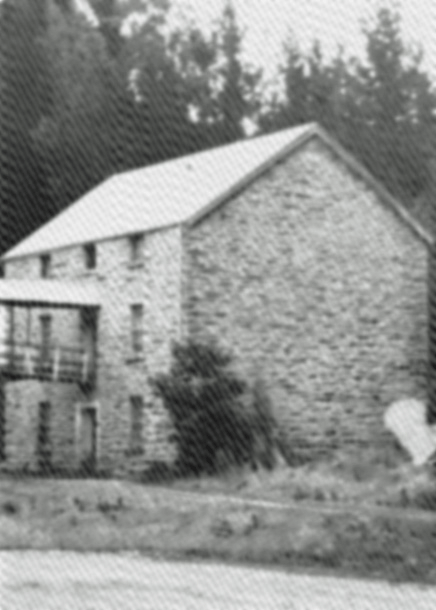 Thomas Anderson's Mill, Luggate

Seven years later her mother was also to die after a painful illness and was buried in the old Cromwell cemetery where her daughter was also buried. Her death notice in the Otago Witness on the 12th of January read "At Frankton on the 29th of December after a painful illness. The beloved wife of David Trevathan - aged 35 years. Greatly respected and deeply regretted. Gone but not forgotten". This left David at the age of thirty three with only Alfred alive after but a few years in New Zealand and he may not have even been his son.

Alfred Trevathan, 1875 - 1897.

What an interesting family we have in Alfred and Anna Trevathan (nee Wilson). Some four years after the death of his mother Alfred was to form a relationship with Anna Wilson and what an interesting person she turned out to be. Anna was born in 1875 at Albertown to her father Alexander Wilson who was a labourer and her mother Margaret (nee Cumming).

Anna first had a child at the age of twenty one years. He was named Alfred Ernest Trevathan and was born on the 27th of March 1896. Anna at the time was unmarried but married two months later to Alfred Trevathan from Cornwall who it seems certain was the father of young Alfred. Alfred's birth certificate leaves the father's section blank but when Alfred senior later died his death certificate shows Alfred to be his son.

Alfred junior was later to become a Corporal and serve in the New Zealand Vet, Corps to the Middle East in the First World War. He died in the number seventeen General Hospital while in Alexandria, Egypt from leukaemia on the 14th of July 1915. He is buried at the Chatby Memorial Cemetery near Alexandria. He is the Alfred Trevathan mentioned on the Wanaka War Memorial.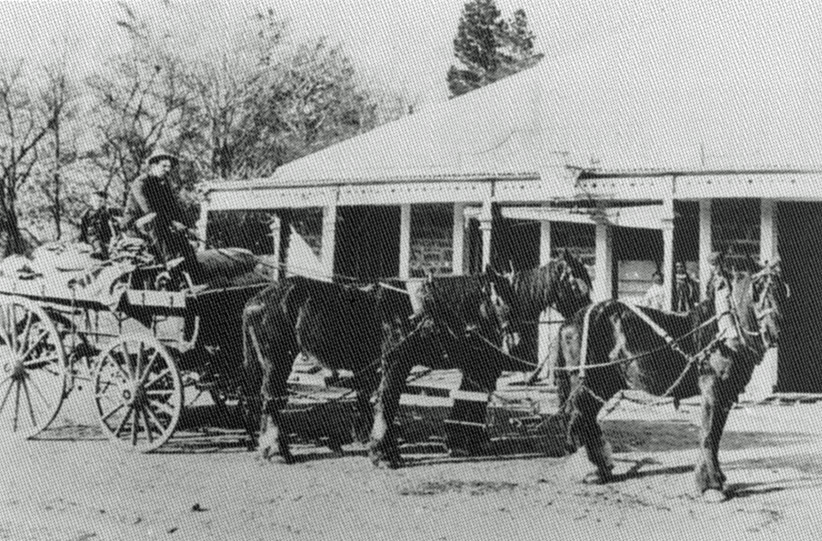 Luggate Albion Hotel, taken between 1903 and 1911 when owned
by Thomas McLoughlin after the death of Jane Trevathan.

Anna's marriage to Alfred Trevathan was held in her father's house, Alexander Wilson at Pembroke on the 25th of May 1896. Both the bride and groom were twenty one years of age and the marriage was witnessed by S Maud Anderson and Ernest Wilson both of Pembroke. The minister was Rev Grant.

Alfred senior was the son of David Trevathan whose wife was Elizabeth Jane Bowden. This is a mystery to me as David Trevathan's first wife was a Bunt not a Bowden. Seems an error has been made in the registry office. Alfred first appeared at Luggate at the age of ten years where he enrolled at the local school in November 1885.

Alfred lived at Luggate in 1896 and worked as a rabbiter. By 1897 Alfred and Anna lived in Tarras where Alfred worked as a blacksmith.

Their second child was another boy who they named Richard Cumming. His middle name is of course a family name from Anna's mother. Richard was born at Tarras on the 1st of June 1897. As a young man Richard moved from Wanaka to Hunts Beach where he worked for the Post Office for five years from Fox Glacier to Jacksons Bay.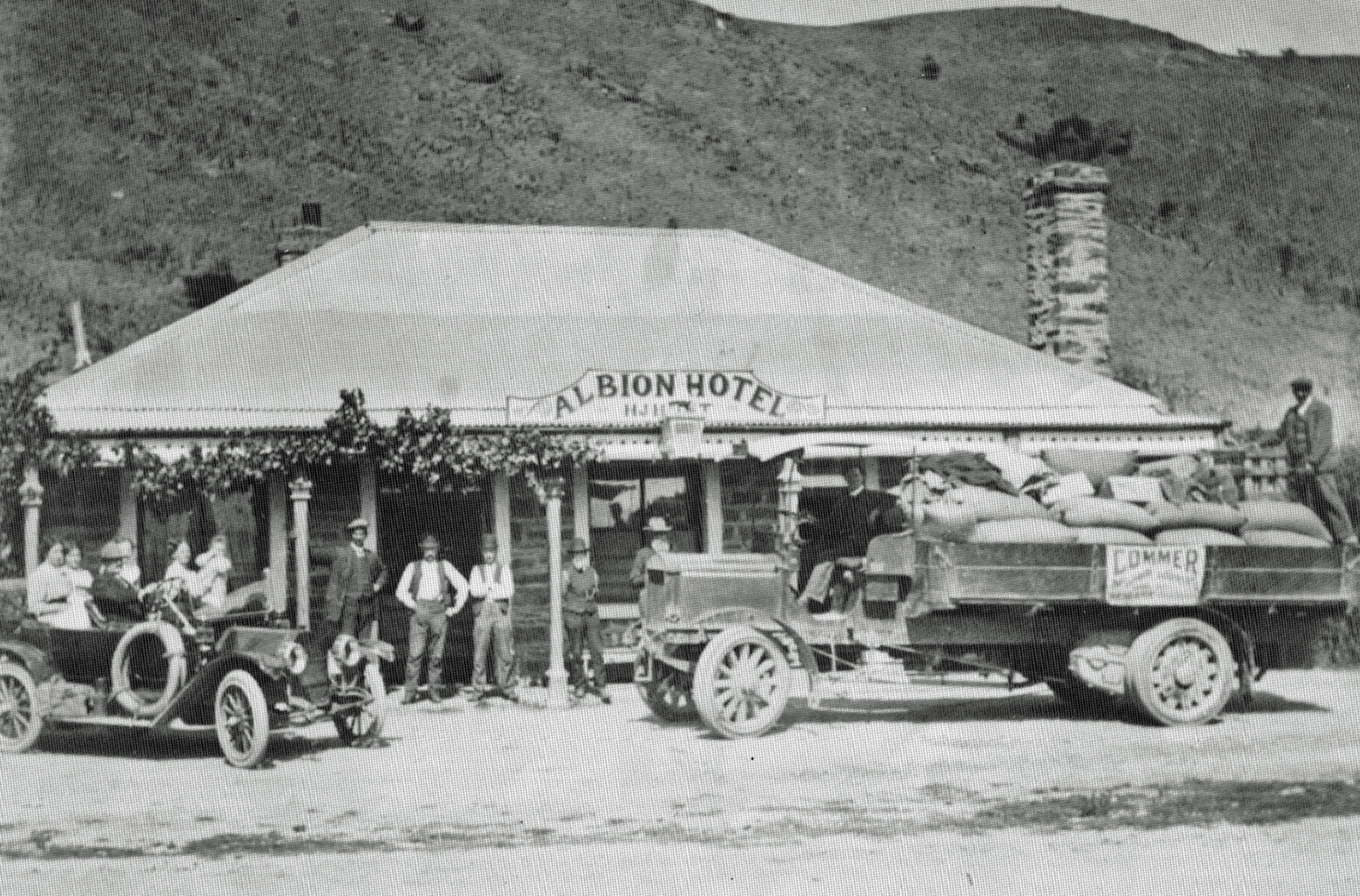 Thomas Revarthan's Luggate Hotel taken between 1915 and
1923 when the owner was H. J. Hunt.

In the early days the service was once every three weeks, but was later shortened to fortnightly, subject to weather conditions. Dick picked up the mail at Fox Glacier Post Office and loaded it onto two horses for destinations south. By the time the mail had arrived at Mahitahi, near Bruce Bay, many deliveries on the way had lightened the load to where one pack horse could carry the remainder on to Okuru, the end of the line.

Nearly all the settlers had private bags which cut down the sorting of loose letters for delivery to private individuals. As he and his horses wended their way he was often held up with flooding rivers or slips on the cattle track and at times was forced to stop. Copper Creek was one of his regular stopovers and was notorious for its plagues of mosquitoes, especially in summer. He didn't carry a mosquito net but had his own method of combating the pests by getting into a chaff sack and pulling it up to his waist, and another down over his head to meet the other. He would then throw himself onto the bunk and sleep the night through undisturbed.

Next he worked on the Public Works from Karangaroa to Paringa repairing the roads and bridges. He also learnt to repair shoes from his grandfather in Wanaka and he also at one time worked as a blacksmith.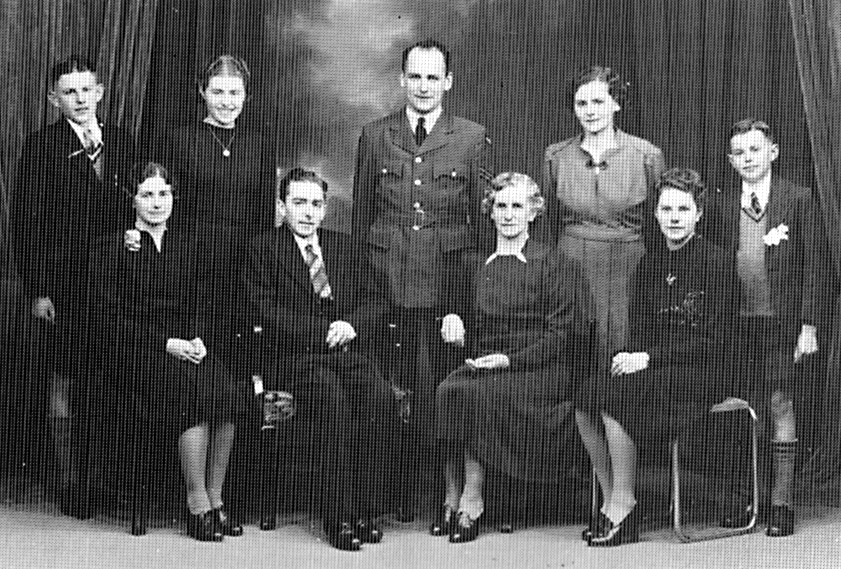 Mrs David Betts Family 1942.
Back row: Clifford, Enda, Leslie, Minnie, Douglas.
Frint row: Florence, David, Mrs Betts, Thelma.

Richard met his future wife, Florence Owen at Bruce Bay and they lived together at Paringa, Jacobs River, Hari Hari, Karangaroa before moving up to Ruatapu south of Hokitika where he worked in the saw mill as a bushman. They liked to go to dances where Richard often acted as M.C. Florence remembers sleeping under the Harst bridge with her husband on the day it was opened as it was raining and the road was blocked by slips.

Richard and Florence retired at Takutai and Richard became the curator of the Hokitika Museum.

The Boer War started in 1899 and it seems to me that Alfred is the mystery relation who went to this war and was killed, as in 1900 Anna, his wife, was to have an illegitimate child on the 11th of May who she named Linda Rose. Linda was later to marry a person by the name of Henderson and they had a daughter Joyce.

Anna Trevathan went on to marry Allan Bremner and have another eight children making a total of eleven.

Meanwhile back to Alfred senior and Anna Trevathan. Their married life was to be a short one with Alfred being ill most of the fourteen months of their marriage. Alfred died at Arrowtown on the twelfth of July 1897 from phthisis and was buried in the old Cromwell Cemetery where his mother and sister had been buried a few years before.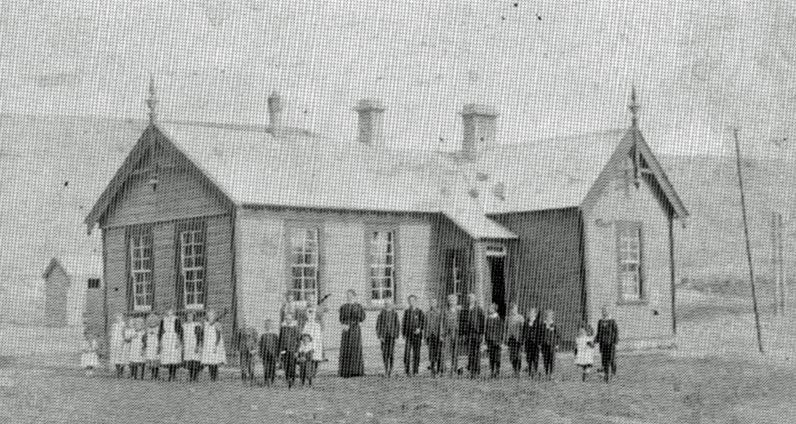 New Luggate School. Some of the pupils will be Trevathan relations.

This left our David Trevathan who had come to New Zealand to start a new life twelve years earlier and now aged thirty eight with his wife and two children all dead. Fortunately for David, three years earlier at the age of thirty five, he had remarried Isobella Anderson the millers daughter from Luggate and started a new family.


Meanwhile Thomas and Jane Trevathan's third child and second son who was my grandfather was born on the 18th of October 1883 at Luggate. His name was Thomas.

By the year 1885 Thomas senior had built a new hotel and the people of Luggate had been put to a considerable expense in lining, flooring and fitting out Thomas's old Albion hotel as a school house entirely unaided by the Education Board. On the 30th of July a Kawarau District Publicans Certificate was applied for by Thomas for the Luggate Hotel and this was granted.

Mary (Polly) Elizabeth Trevathan, 1865 - 1953.

Later in September of 1885 the Cromwell Argus reports that Miss Trevathan was among the singers at the Bendigo Quadrille Party and that she shone out with special lustre. The following Christmas a concert was also held, this time in Cromwell in aid of funds for the Cromwell Caledonian Society where once again Miss Trevathan sang. The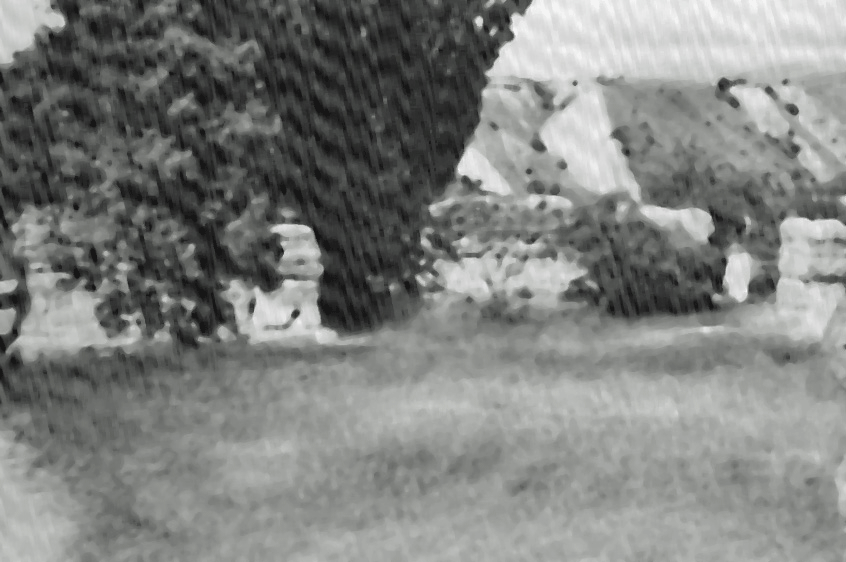 Site of Thomas Anderson's 1st Way Side lpdgings for waggoners
- between Cromwell and Queensberry.

song on that Monday evening was "Until we meet again" which was much admired, and a repetition demanded. As Thomas's daughter was by now only five years old it would appear that the Miss Trevathan referred to must be his sister Polly Trevathan who would be twenty years of age by then. George Morris however remembered his mother as coming to New Zealand at the age of sixteen which would make her arrival in 1881. We know that this cannot be correct as she was definitely in Australia in 1882 with the rest of the family at the wedding of her sister Maria. It would appear however that she came to New Zealand shortly after the wedding.

Polly was a pretty young thing with real Cornish looks - very dark hair, olive complexion and round face. She had a wonderful voice and was named the prima donna of Central Otago. There were a large number of Cornish people in Cromwell about that time and they all seemed to have good voices like the Welsh.

She lived with her brother Thomas and served behind the bar at his Luggate Hotel. He knew the whims and wants of the men in this isolated district and used her to attract customers but it nearly broke her heart with all those old miners coming to drink and leer at her. She said that there were however few who were not gentlemanly and some even brought her along a horse with a side saddle to take her to dances at Hawea Flat.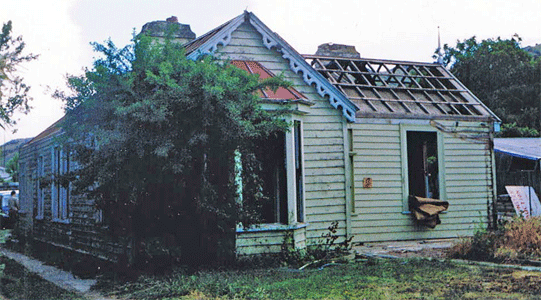 Dr Morris's house in Cromwell purchased in 1890. Photo taken 1988

Polly was so unhappy that she finally ran away from the hotel to Cromwell where she moved in with a kind lady, Granny Stumbles. She was a seamstress, a widow with three daughters and a son, and taught Polly to sew which is how she made her living.

Later Polly was to become a housekeeper for Dr Morris in Cromwell and eventually ended up marrying him.

Thomas continued with his gold mining and was granted a prospecting license by the Wardens Court on the 25th of August 1885 for Midrun Flat, Mt Pisa. Later, on the 13th of October along with another man he was granted an extension to his existing claim in Frenchmans Gully.

By the time of the 1886 census Quartz Reef Point in the Vincent County had a population of fifty two people made up of thirty one males and twenty one females. Thomas on the 8th of June of that year was granted opening for his Luggate Creek Albert Hotel till 10.00pm.

Born at Hawea Bush, Central Otago in 1887 on the twenty eighth of December was an illegitimate baby girl who was named Ida Trevathan Lange. Her mother Mary Lange was eighteen years old at the time and no father is shown on the birth entry. Mary Lange soon left for Australia and baby Lange was bought up by her parents. It seems reasonable to assume that the father was a Trevathan for the baby to be given Trevathan as it's second name. If this is the case the father would either need to be Thomas Trevathan or his brother David. Both brothers were married and lived at Luggate, which is close to Hawea, at that time while Ida's mother lived at Hawea.

Thomas and Jane Trevathan's fourth child William was born on the 31 July 1886 at Luggate.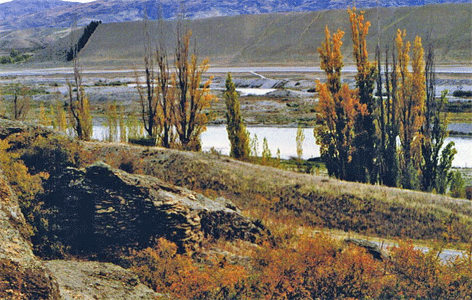 Miners Hut between Cromwell and Wanaka

By the year 1886 David and Polly Trevathan are definitely in New Zealand with a report from the 24th of August Cromwell Argus describing a Concert and Ball held at Luggate where Misses Trevathan and Bennett sang a song. Dancing went on to daylight with the music provided by Mr Keith on the violin, Mr D Trevathan on the accordion and Mr Henry McKay on the pipes. Although the Cromwell Argus writes of David playing the accordion, his grand daughter, Mrs Mary Kitto, remembers the instrument he played as the concertina.

This year also saw the first mention of Emma and John Parsons. John came from a small village in Cornwall called Tideford. When they arrived in New Zealand John went up to Luggate alone and later Emma took the family of four children up in a dray single handed. Emma was a most handsome woman, strong in ideas and held a strong rein over her children. In April John made application in the Wardens Court for a residence area at Luggate Creek and later in November he enrolled their eldest son John at the Luggate school. While at Luggate the Parsons were involved in concerts to raise money to build the school. J Parsons gave a recitation of 'The Curfew' while Miss L Parsons 'The Beggar Man'.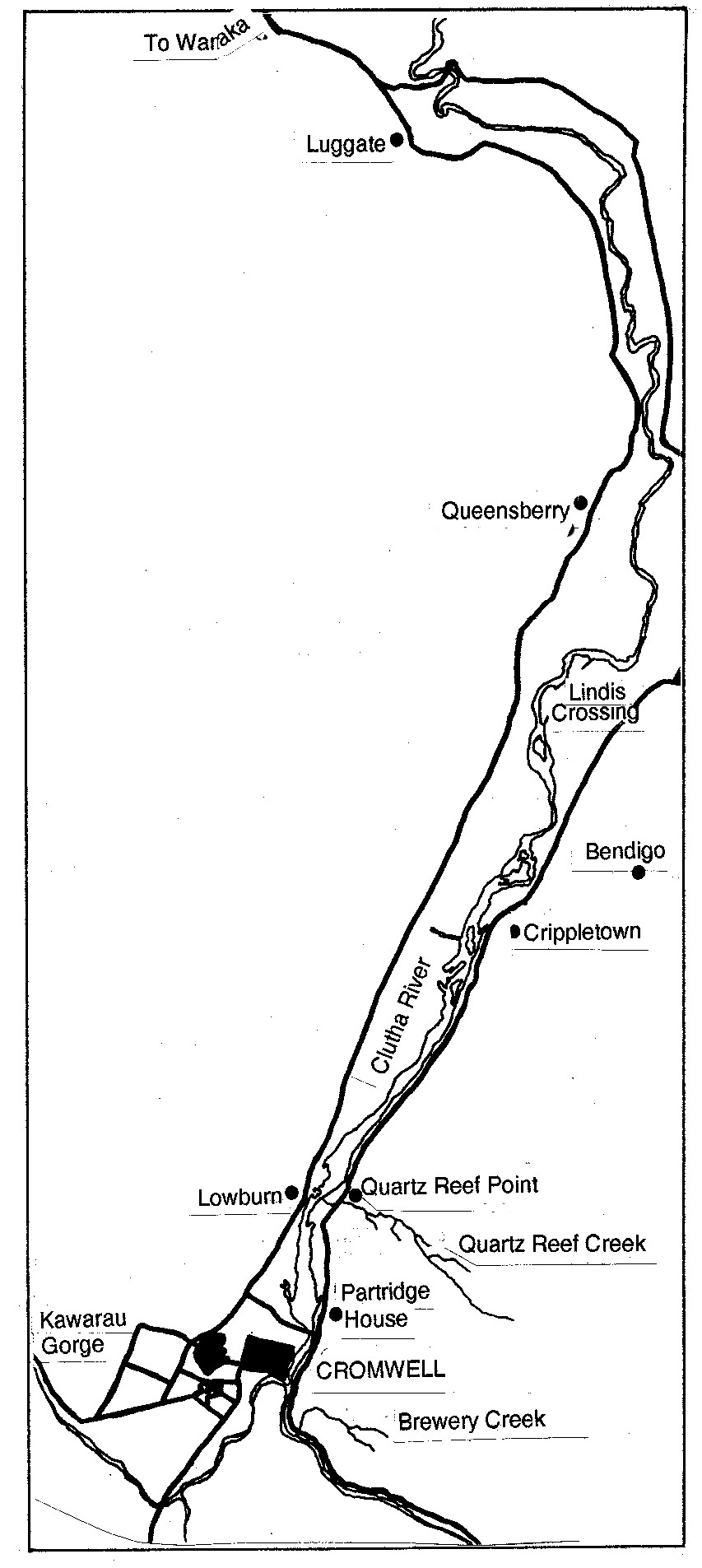 Map of Central Otago

In 1888 Thomas transferred his land at Luggate to his wife Jane for the sum of ten shillings. The date was the 4th of January.

Jane and Thomas's fifth child and last son John David who was later to be known as Jack Trevathan was born on the 1st of February 1888 at Luggate.

David Trevathan in the meantime had been working as a gold miner and farmer. He also on occasions worked for the miller at Luggate, Thomas Anderson who was to be his future father-in-law. In 1889 he was granted the lease of twenty three acres of land at Luggate for two shillings per acre.
The Cromwell Argus reports that on the twenty third April 1889 a fire occurred at about eight o'clock on the Quartz Reef Point property of Mr George Partridge, the father of Jane Trevathan. Twenty five ton of oaten barley and eighty bags of wheat and oats were destroyed in the twelve foot square barn. George estimated that he had lost 200 and was not insured. About half an hour before the fire George Partridge junior had visited the barn and stacks leaving them safe. The origin of the fire was therefore a mystery as no one had been known to be near the stacks that day but themselves and the mystery was further enhanced by the fact that George Partridge junior did not smoke. Sergeant Rasmussen visited the scene and made inquires but without detecting any clues.

Jane and Thomas's sixth child and second last daughter Edith known as Edie was born in 1889 at Luggate. Also that year on Friday 14th of May a concert was held at Luggate where Misses Trevathan, Craven and Anderson rendered the trio 'Juanita' with good effect and later on Misses Trevathan and Craven sang the duet 'What are the wild waves saying'. The farce 'Rooms to let' was well acted with Miss Trevathan as the landlady. The gem of the piece was the monkey a part which was well filled by Master George Trevathan. Later on the 11th of June Thomas had his license granted for his Albion Hotel by the Kawarau Licensing District Committee.

In April of the same year there was an accident at Thomas's hotel when Mrs Small from Hawea Flat was leaving to go home. Her horse shied and threw her, breaking her arm. She was taken to the Cromwell hospital were she needed surgical treatment.

By the year 1890 Thomas's premises were described by Stone's Directory as a Hotel and Store at Tarras. Apparently Luggate was also known as Tarras at that time. David was still reported to be a gold miner.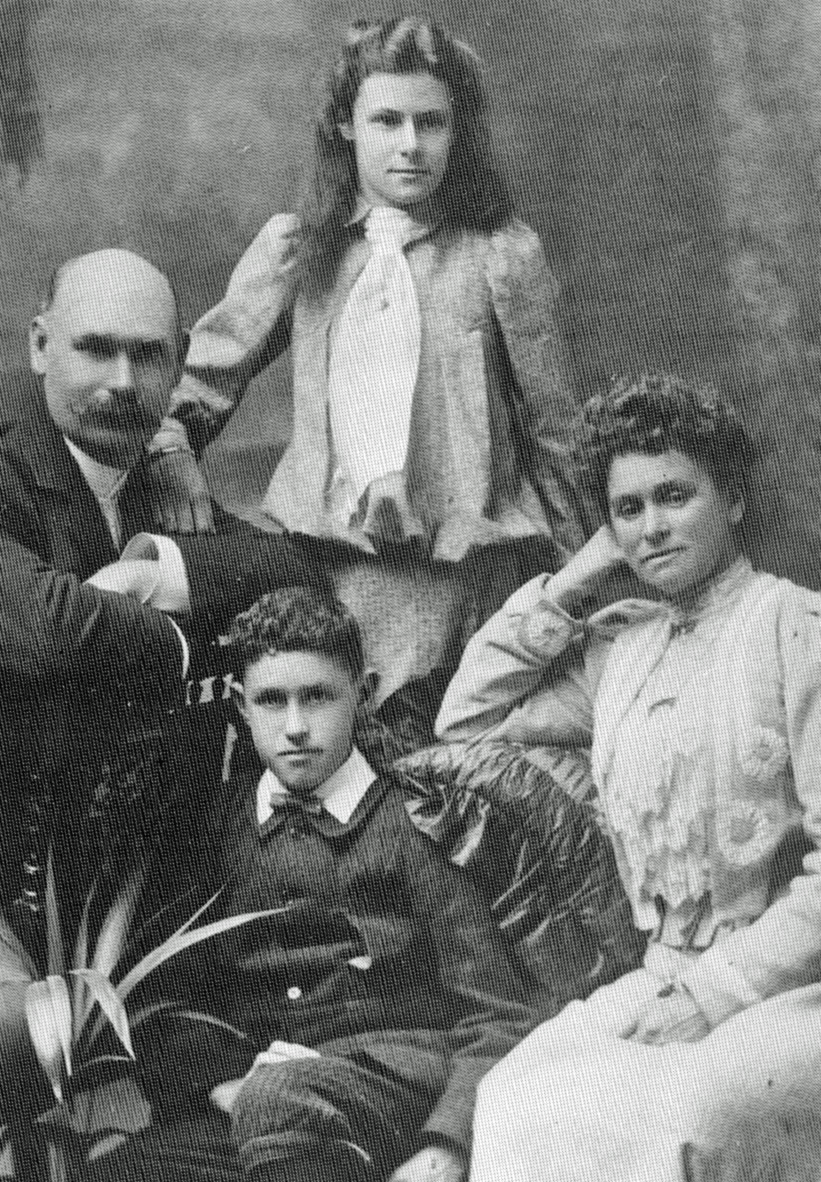 Dr Morris and Mrs Morris (Polly Trevathan)
d their children George and Ida

The year 1891 saw the marriage of Polly Trevathan to Dr George Morris. The service was held in the Cromwell Presbyterian Church and witnessed by James Terynson who was the local Bank manager and Polly's niece Elizabeth Trevathan. Born in Dalry in Ayrshire, Scotland George Morris was educated at Glasgow University and Glasgow Academy where he graduated in medicine in 1883. After practising for two years at New Abbey, Galloway-hire and a similar time at Fenwick, Ayrshire in Scotland he came to Port Chalmers in the Coptic in 1888. He then practiced at Mataura until February 1890 when he came to Cromwell and purchased a house at 27 Inniscourt Street from Charles Aitken. This 105 year old house was still standing until 1988 when it was demolished. Dr Morris retired in 1914 after twenty five years service and went to live at Criffil Run, Wanaka.


This year also saw the birth of the seventh and last child of Jane and Thomas. She was born at Luggate and named Amy Isobel Trevathan.

The following year David Trevathan's first wife Jane died on the 27th of December 1892. We know that there were two children from this marriage, a son Alfred aged seventeen and a daughter Elizabeth Jane who had died earlier from typhoid.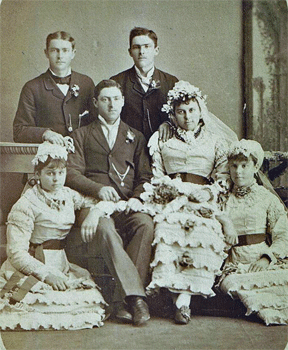 Wedding of John Betts and Maria Trevathan

John and Maria Betts were next to come to New Zealand. They arrived in 1892 going to Luggate from Dunedin by wagon with their four children, the eldest Minnie aged nine years, David aged seven years, Emily aged six years and Maude aged only four. The trip took a week. Minnie was enrolled at the local school in November of that year. John Betts was a cabinet maker, carver and joiner but could find little work at Luggate so moved on to Cromwell where he became a builder and undertaker. He was responsible for a good number of the early buildings in Cromwell including the school which was opened in 1893.

John and Emma Parsons moved to Albertown in 1892 and leased the local hotel from Henry Norman. He also had the local store and hall.

Two years later David Trevathan remarried. His new wife was Isobella Anderson who he married at her father, Thomas Anderson's home in Luggate on the 31st of August 1894. David was a 34 year old farmer and Isobella who was born at Queensbury, near Cromwell was a twenty one year old millers daughter and a spinster. Later in the same year on the 22nd of December they had their first child Isobel who was born at Luggate.

David's brother Thomas died at his Luggate Hotel on the 20th of September 1894 at the age of forty four. He died of pneumonia after two weeks illness and was attended by his brother-in-law Dr Morris. His grave is at the new Cromwell cemetery. His wife Jane continued on with the hotel and made application for a provisional licence on the 18th of December to carry on the hotel and store until probate had been granted.

It is reported that during 1895 the Luggate mill was built by Thomas Anderson the father of Isobel. As Thomas Anderson also built a mill in 1881 it would appear that this was a new mill. This impressive two storey stone mill can still be seen today behind the buildings of the present Luggate transport company. The mill was driven by a large water wheel which got it's water from the Luggate creek.

Thomas Anderson was born at Dumfries in Scotland in 1843 and came to New Zealand in 1859 at the age of sixteen as an assisted immigrant. He arrived in New Zealand at Lyttleton on the Shaw Savill 514 ton ship 'Cashmere' and stated his occupation as a farm labourer. Thirteen years later he married Jane Metcalf from Skipton, Yorkshire at Wanaka who had come to New Zealand as an assisted immigrant in 1863 on the 'Victory' which also arrived at Lyttleton.

They had a large family of ten children who all went to school at Luggate and the five boys all worked for their father in the flour mill.

Thomas and Jane Anderson built and started an inn at Kids Gully where the coach and horses stayed overnight. Later he built and operated the Queensbury Hotel along with some adjoining farm land. Thomas named Queensbury after Marquis of Queensbury and the locality still retains that name.
David Trevathan was still a popular accordion player, playing for dances in the district and when at Luggate helped to raise money to build the first school. Concerts and dances were held in the granary using sacks of wheat for seats.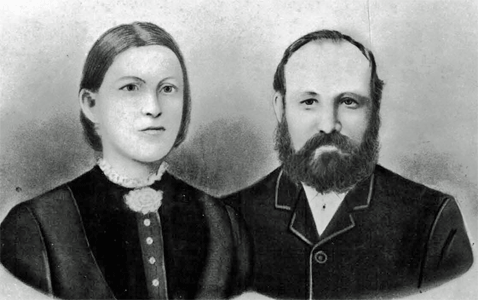 George and Mary Partridge

Jane Trevathan's parents built on the back road to Lowburn what was known as the Partridge house which was still standing until 1987 when it was demolished to make way for Lake Dunstan. Bagley in a report on the area said while this substantial stone house is of architectural merit, possibly of more historic interest is it's predecessor now used as a washouse. This corrugated iron habitation is one of only two known in the area. The house frame is built of two and three quarters by two inch timbers with nailed battens bearing the iron walls and roof. The interior studs support scrim and wallpaper with a tongue and grooved lining to four feet from the floor level. The early metal building was one of a series which were built in the vicinity of the Quartz Reef Point workings.

The Cromwell Argus reports that Jane Trevathan a widow on the 21st of May 1895 desired to obtain a licence for accommodation at Luggate at the Luggate Hotel. Later the same year Jane

remarried a miner, James Bruce on the 23rd of November in Dunedin and they had one daughter Nellie Bruce. James and Jane Bruce continued to run the hotel for the next seven years till Jane's death on the fifth of March 1902.

Meanwhile 1898 brought trouble for Dr Morris when a special meeting of the Trustees of the Cromwell District Hospital was held on the 19th of April to ask for his resignation as surgeon to the Hospital. Later on the 10th of May a further meeting rescinded the previous motion. On the 14th of June a public meeting was held at Lowburn to discuss the dismissal of Dr Morris by the Hospital Trust Board. This protest meeting insisted that Dr Morris be reinstated.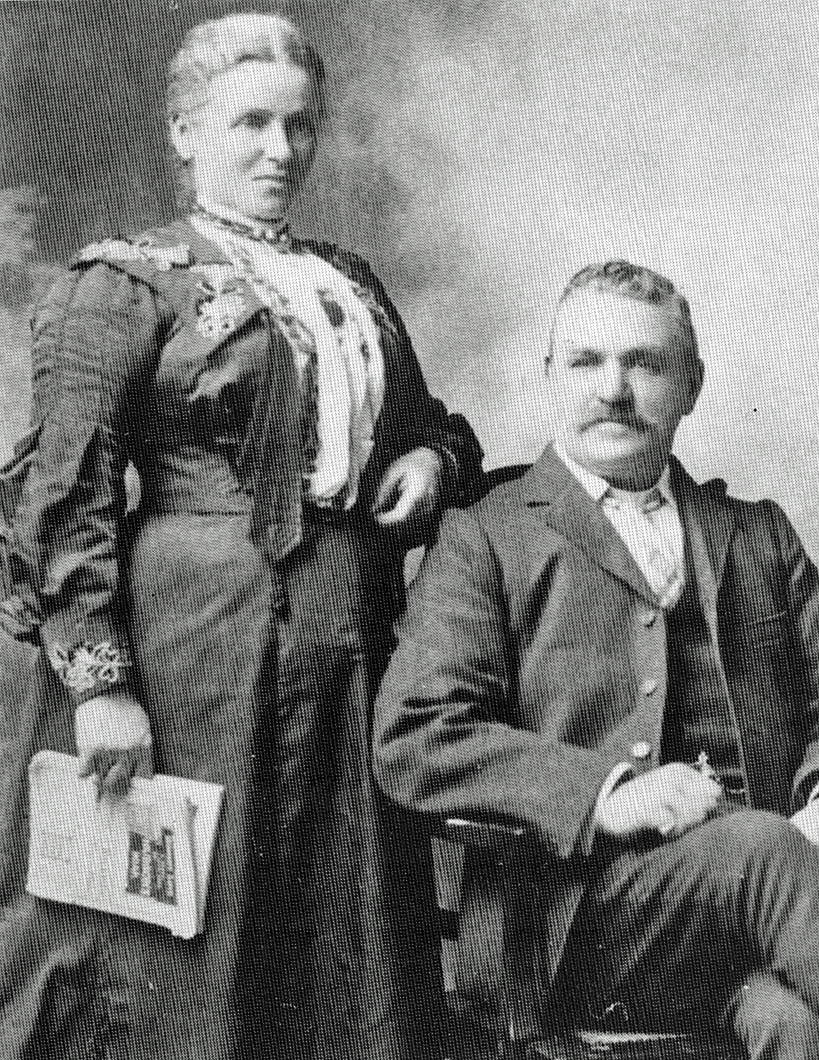 John & Emma Parsons

In 1899 John Parsons appeared at the Bannockburn Hotel along with his son, also John Parsons, who was a station hand. John junior was later in 1921 to become a rabbiter at Bannockburn. An advertisement in the Cromwell Times on the 11th of April 1899 reads:-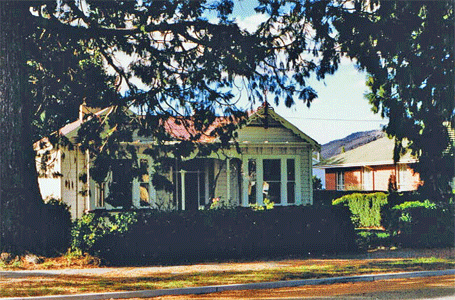 Parsons House, Cromwell

"J D Parsons Prop Bannockburn Hotel. J D Parsons begs to inform his numerous friends and the public generally that he has purchased the above well known Hotel and trusts by strict attention to business to merit a fair share of patronage. The Public Rooms, bar and bedrooms have all been decorated. Also additional accommodation provided which places this Hotel in front rank of Goldfields Hotels. Private rooms set apart for families. Large new Billard Room with an excellent table. First class stabling. Simpson and Hart's Tuapeka ale always on tap."

John Parsons senior was the husband of Emma Trevathan and they were married in Cornwall before they came to New Zealand. This is the first time that Emma is mentioned and nothing is known about when she came to New Zealand but we do know she and John arrived in Australia in 1878 on the "Glamis". John was making a name for himself as leader of a strike at the Bendigo mine. He was a champion striker in both senses of the word and had no equal at the gruelling task of hitting the head of a rock drill all day with a heavy hammer (five to seven pounds weight).

They had twelve children in all but only six survived into adulthood as they lost three sets of twins. Those who survived were John, Laura, Amy, David and the twin boys Albert and Fredrick.

Emma and John later owned a hotel at Arrowtown providing overnight accommodation and subsequently owned the Ocean View Hotel and St. Kilda Hotel both in Dunedin. Their second daughter Amy and son in law Stev Cairns later took over the hotels which were said to have been the cause of his downfall and drinking problem. Stev was a popular person with too many mates, made his money far too quickly and lost it all to drink and gambling leaving Amy to bring up a family of five children.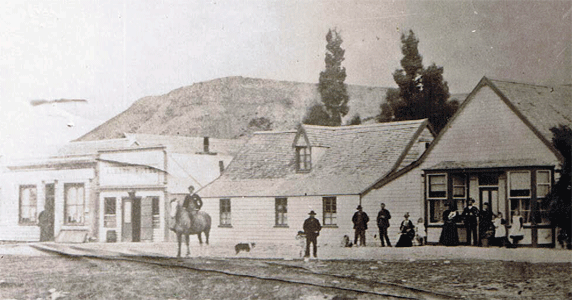 Albert Town Hotel when owned by John and Emma Parsons 1892 - 98. Some
of the family are in the photo.

On the twenty second of January 1902 at the age of forty five Emma Parsons purchased the property at 33 Inniscourt Street, Cromwell which today is famous for the two large trees at the front of the property. It is understood that the present day house was built for Emma and she lived there for the following sixteen years.

Stone's Directory for that same year shows that David and his nephew William Trevathan were both gold miners at Luggate. There was also another Trevathan without a first name being shown was a miner at Bullendale.

Around 1900 Dr Morris took his wife Polly and their two children Ida and George back to Great Britain so that he could attend his old university in Glasgow. George Morris his son remembered the trip by coach to Roxburgh and then by train to Dunedin before boarding their ship for England. Polly and the two children stayed on a small farm at Wadebridge in Cornwall with Polly's sister Jane Herd while George was at the university. The photo below shows George Morris junior sitting on a donkey on that farm with Jane's son Horace Herd standing beside him.

On the 5th of March 1902 Jane Bruce died and her estate was administered by the Public Trustees. Jane of course was the wife of James Bruce and earlier of Thomas Trevathan senior. Her Luggate Hotel was sold to Thomas McLoughlin, the son of John McLoughlin from the Cromwell Brewery. The hotel stayed in his possession until 1911.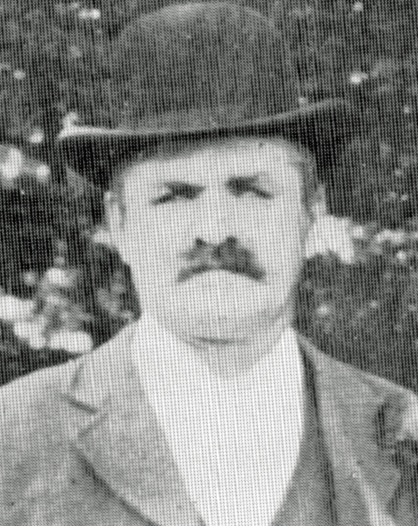 John Parsons

By 1903 John Parsons and his wife Emma had moved from Albertown to the Ocean View Hotel in Dunedin where they remained until 1911.

On the 17th of March 1909 the marriage took place between David Charles Betts, the son of John Betts and Florabell Thompson at the residence of George Woodhouse. Reverend Amos Reader officiated. David was aged twenty four while Florabell was eighteen. The service was carried out in the presence of the bride's father William Thompson, a miner from Macetown and John Betts.

The sub division of the Central Otago Morven Hills Station was carried out in 1910 and Edwin Jolly was successful in obtaining run 236 n & o of 3,600 acres known as Ram Terrace. The half yearly rental was fifty pounds. Edwin's son William was later to marry Jill Lethbridge who is a descendant of George and Polly Morris. Jill's father John Lethbridge who was formerly of Hawkdun Station and the son of the manager of Dalgety and Company was also able to obtain a part of Morven Hills at a rental of eighty pounds per year. His run was 236u known as Point Run and was 12,000 acres.

John and Maria Betts were interested in farming and irrigation and planted a small orchard on a dry section of the Cromwell flat where the new school complex now is and lived there from about 1913. They had ten of a family. John served on the Borough Council, the school committee and the Athenaeum committee. He was also a staunch supporter of St. Andrews (Anglican) Church and a musician of considerable ability. He helped out the local band for a number of years as well as assisting at many public functions.

A number of Trevathan's left New Zealand to fight in the First World War. The New Zealand Expeditionary Force for the 1914 - 1918 war listed not only some names we recognise but also some Trevathans with different spelling to ours. It seems from this evidence that our family was not the only one in New Zealand at that time. Those to leave were:-

Trevarthan Alfred Ernest, trooper from Pemboke, Otago. Next of kin Mrs H Bremner (mother) Pembroke.
Trevarthen Ernest Marshall, private from Auckland.

Trevarthen Henry William, private from Hamilton.

Trevathan Thomas, trooper from Cromwell. Next of kin George Trevathan (brother), Lowburn, Otago.

Trevethan John Daniel, private of Reefton. Next of kin William Trevethan (father), Ballarat, Victoria.
Those to die in the war from the Wanaka district were A Trevathan who is listed on the Wanaka Presbyterian Roll of Honour and Corp. Alfred E Trevathen who is shown on the Wanaka War Memorial. These two are the same person being the son of David Trevathan from his first marriage.
In 1915 William Trevathan and F Collings junior were the handicappers at the annual Hawea Flat Sports Club meeting.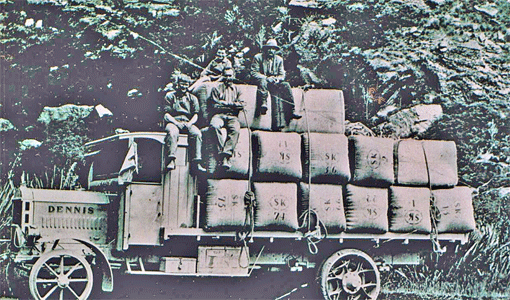 Matheson Trevathan Truck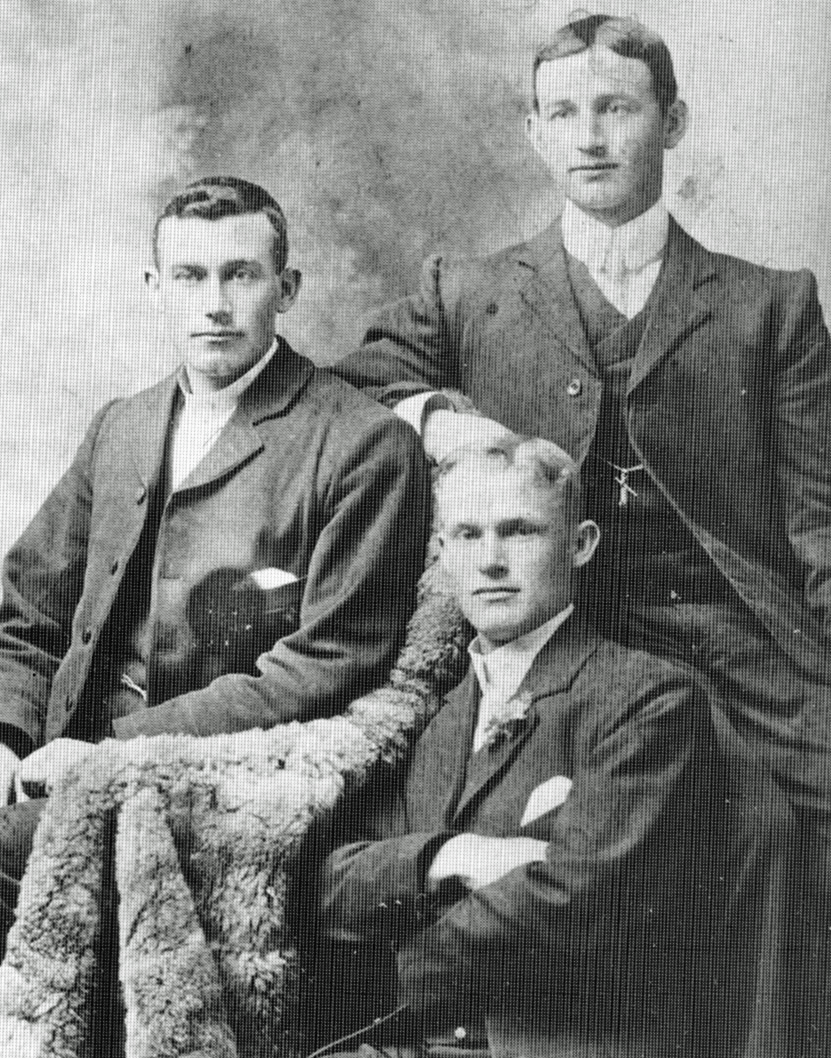 Front: William Trevathan. Left: David Matherson
About 1915 a partnership was formed between David Matheson and William Trevathan as carriers. David Matheson had resided in Wanaka since 1892 working as a musterer and shepherd. One of the major problems facing farmers of the area at that time was the bottle neck of getting all their produce transported to the railhead and the extra cost of the long haul. Reid and McDowell, and also Matheson and Trevathan with their six and eight horse wagons did their best. This firm was eventually sold to Don McLeod in 1939 and later purchased by Reid Transport. It is now what is known as Upper Clutha Transport. William started off by borrowing one hundred pounds from Thomas Henry Trevathan who thought he would never see his money again. On return from the war he got his money back with interest. While business started with wagons they were later to buy a solid rimmed wheeled Dennision truck with a top speed of fifteen miles per hour. His son Ray Trevathan has a deformed finger which he caught in the tail door of the first truck which is pictured on the left. This picture was taken in the 1920's and pictures William Trevathan and Dave Matheson seated in the front. Matheson and Trevathan were the first to complete the change to the modern motor lorries in the Wanaka district. Note the brand' SK' on the wool bales from the property of Stuart and Kinross, Wanaka.
By the year 1921 John Betts the husband of Maria Trevathan was a builder and undertaker at Cromwell. David Charles Betts his son was also in the business. The advertisement in Stone's Directory uses Post Office box number nineteen, Cromwell.
During the years 1918 to 1929 Miss J Betts and Miss E Betts were exhibiting at the Cromwell Horticultural and Industrial Society's annual shows. These shows were held in mid February each year and the results were -
1918 2nd Prize for Mountmellick Miss Betts
1919 2nd Prize for 6 Buttonholes Miss Betts
1922 1st Prize Decorated Bowl Miss J Betts
1923 2nd Prize Doilies, Crochet Miss Betts
2nd Prize Cotton Tray Cloth Miss Betts
1924 1st Prize Decorated Basket Miss Betts
1929 2nd Prize Crochet Cosy Miss E Betts
By 1921 the now grown up family of Jane and Thomas Trevathan had moved away from Luggate. George who had been a dredgeman was now farming at Lindis Crossing on a farm which is still farmed today by his grandson Beau Trevathan. John was a carrier at Cromwell and David Trevathan who was Thomas's brother had by this time moved to Dunedin where he worked as a labourer. He lived at 28 Marlon Street, Caversham.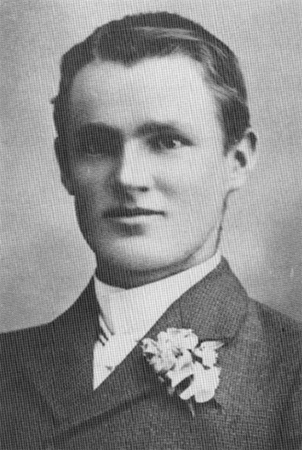 Jack Trevathan

John Trevathan who was better known as Jack is mentioned in a family diary belonging to Connie Perriam (nee Kane) who lived as a girl on her parents farm "Grandview" which was four miles from Luggate across the Clutha river. It states that "Jack Trevathan from Luggate used to tell of the boredom of hoeing turnips at Grandview. They got slower and slower and at twelve o'clock they downed their hoes and raced home". Jack by the latter part of the nineteenth century had become a wagoner. At this time there were four or five wagons on the road, pulled by teams of horses and Jack drove with a team of nine horses so that he could haul five ton loads instead of only one ton that was possible with two horse with a dray. He would travel to Clyde and collect supplies from the train for farmers and dredgers. There was also barley for the breweries and once he carried five tons of dynamite and a case of caps to the Bendigo mine. On another occasion travelling from Bannockburn to Bendigo loaded with only two ton of coal it took him over an hour to turn the sharp bend in the road partway up the hill. When he finally reached the mine at the end of a twelve hour journey he was told by one of the miners that the mine was closed and that the coal was therefore not required.

Jack was also registered to take coal to the dredgers. One day three of his horses died after they got into the bags of hay he was carting and over indulged. In those days it was a good day's travel from Cromwell to Clyde but you could call in at any house along the way for a meal or bed for the night. Jack in his younger days learnt to speak some Chinese and on occasions this had been useful. In winter sometimes Jack was so frozen to his seat on the wagon that it was almost impossible for him to get down. Work for Jack usually started at 6.30 am and the days were long as the wagons only traveled at two miles an hour. There were times that Jack was not near a house when it came evening so he would bed down in the wagon and hang his clothes on the shafts but on occasions this was not highly successful as the horses would shake his clothes into the wet and mud.

1906 = Jack Trevathan carting coal from Bannockburn - load 6.5 ton.

Later in life Jack was the handicapper at the Cromwell races and worked as a rabbiter and stacking timber. He owned a small farm on the hill and leased Rabbit Island in the Clutha river. Sheep were ferried backwards and forward across the river two at a time in a chair. Jack also looked after the war memorial at Cromwell, also the bowling green and was a member of the Cromwell Volunteer Fire Brigade for forty two years from September 1908 till January 1956. He died in 1980 at the age of 92 years.

In 1925 George was still farming at Lindis Crossing and John remained a carrier at Cromwell. Their brother Thomas who was my grandfather now appeared at Cromwell as a clerk while their other brother William was still in partnership as a carrier at Pembroke trading as Matheson and Trevathan.

In the same year Florence Betts was awarded by the Cromwell St. Andrews Sunday School, a small bible for the Kewley Memorial Prize for Catechism. I have seen this bible which is now owned by Baydon Partridge of Lowburn.

1945 saw the death of Dr George Morris at the age of eighty two years. He was buried at the Wanaka cemetery where later his wife Mary Elizabeth Morris nee Trevathan also was buried after her death on 28th of May 1953.

John & Mary McLoughlin's Family.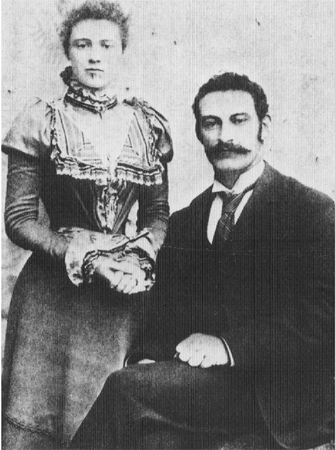 John and Mary McLoughlin
(nee Trevethan).

John McLoughlin who was one of the pioneer waggoners in the Cromwell area married Mary Annie Trevathan before the turn of the century and went on to be a businessman of some substance. They had a family of three girls Pearl, Helen and Florice along with one son Thomas.

John McLoughlin owned and operated the brewery and soft drink factory at Brewery Creek from 1900 until 1916. The site of the brewery was located about two kilometres south of the old Cromwell bridge on the old Cromwell - Clyde road. Access to the site is still available today from the new road adjacent to the memorial erected in memory of the gold miners of the district. The managers house has been restored and is occupied but all that remains of the factory are some concrete foundations.

A thunder plump came down Brewery Creek in March 1902 and washed part of the cordial factory away. John McLoughlin, not to be put off, erected a new cordial factory in Cromwell. The old factory
Thomas McLoughlin.

was repaired and leased to T Lester for a time in 1905 before John took it over again finally selling it to Lanes Limited in 1917.

John also owned a number of hotels in Central Otago including the Rocky Point Hotel from 1870 to 1882 which is now a potters studio at the head of Lake Dunstan and the Junction Commercial Hotel which used to be a large wooden building on the left hand side of the road as one crossed the bridge into the old Cromwell township now under Lake Dunstan. This hotel he purchased on the twenty first of October 1905 from James Kerr Simpson, Benjamin Hart and Jessie Thomson and later sold to John Laffey on the sixteenth of January 1907. This is the same Jessie Thomson who later leased the Cromwell Brewery from John McLaughlin. Also of interest is the fact that Simpson and Hart Ltd who operated the brewery at Weatherstones near the present day town of Lawrence held part of the mortgage over the hotel. It would seem that things were not too different eighty or so years ago with breweries holding an interest in local hotels.

The Nevis Hotel was also operated by John McLoughlin from 21 October 1907 until 1909. The hotel was unfortunately destroyed by fire but the foundations still remain today.

On display today in the Cromwell Information Centre is a relatively rare bottle embossed "J McLoughlin". These marble or codd bottles were made at Barnsley England to the Reliance patent and shipped to New Zealand for use. Also in the Cromwell Museum is a large collection of other bottles from the Cromwell brewery. The "Extra Stout" label reproduced in this book is red, blue and black.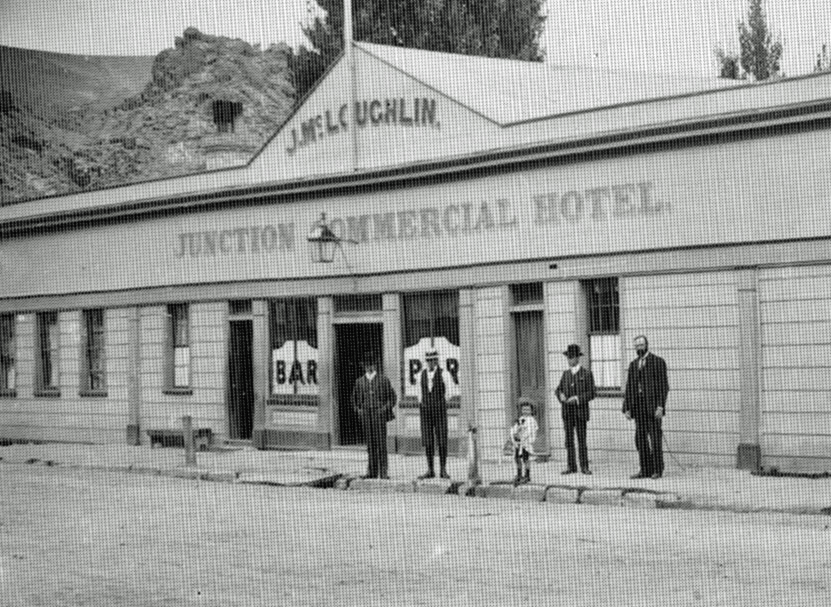 John McLoughlin's Junction Commercial Hotel, Cromwell.

John was also involved in gold mining being the proprietor of the battery at Bendigo know as Jubilee & Co. About four miles from Bendigo he also operated the Upper Clutha Ferry and the hotel at Wakefield in the years 1873 and 1874.

John and Mary McLoughlin's only son Thomas spent his early years wagon driving and assisting his father around the brewery. When Jane Trevathan died he took over the ownership of her Albion Hotel at Luggate on the 27th of February 1903 with help from his father who provided the mortgage money. He operated the hotel until the 14th of May 1910 when he sold out to Frederick Millar and Henry Hunt. He later moved to Wellington where he worked for a good number of years as an overseer on highway construction with the Public Works. Shortly after the war in 1945 Thomas commenced his own contracting business which specialised in bitumen sealing and tram line maintenance. The company was very successful in Wellington and led to branches being opened in Southland, Tauranga and Hastings operating under the names of Bitumen Distributors in Tauranga and Southland, McLaughlin Asphalts in Wellington and Hawkes Bay Asphalts in Hastings.

The McLoughlin Holdings Group of companies was very much a family run business employing both of John's sons Lance and David and his two nephews Errol and John Dawson. The company was finally sold to BP New Zealand Ltd in May 1988.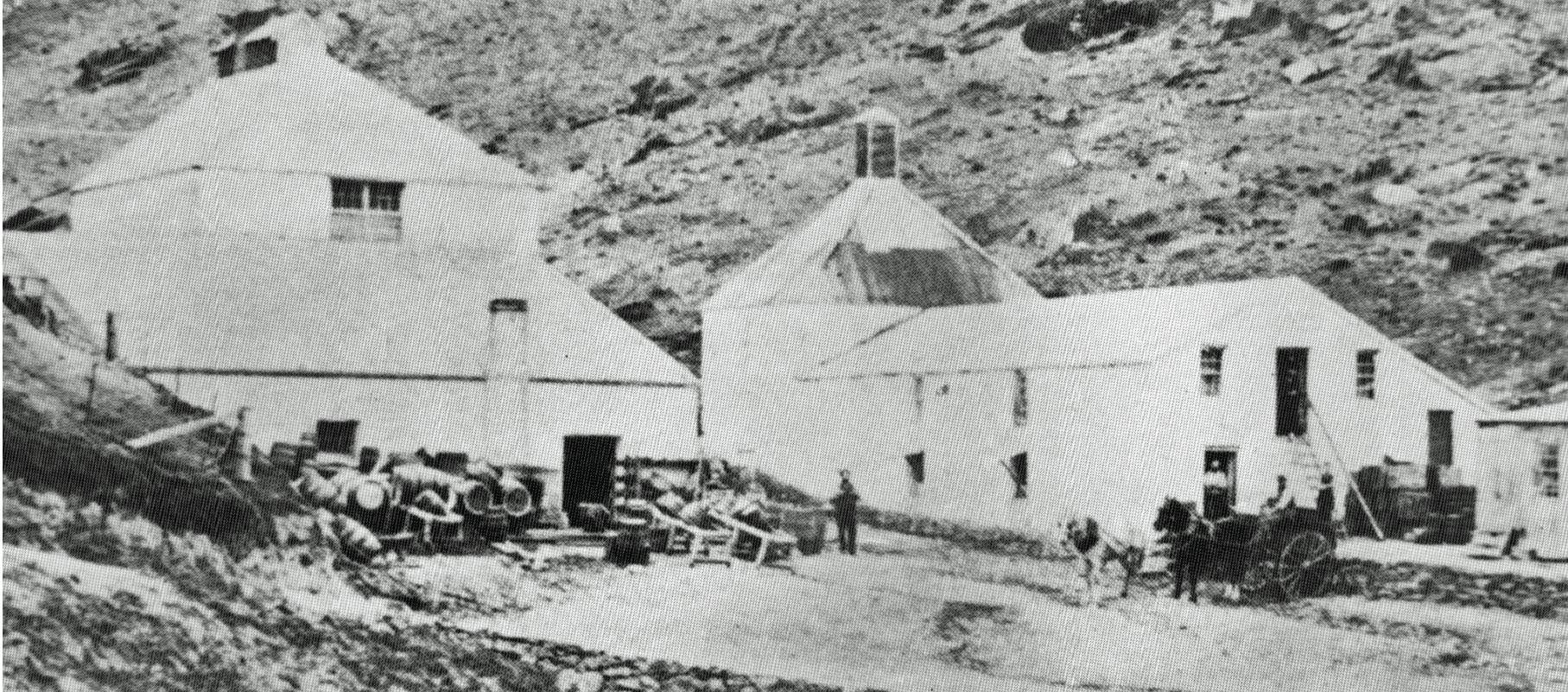 Brewery building at Brewery Creek, Cromwell.

The ownership and operation of the Cromwell Brewery has been intertwined with our early family history since the 7th of September 1891 when the brewery was purchased from the original owners, the Cromwell District Brewery Limited, who sold to David Auchinvole.

David & Elizabeth Auchinvole (nee Trevathan).

David Auchinvole, whose father was a bank agent in Glasgow, Scotland, arrived in Cromwell in the middle of 1891 and married Elizabeth Jane Trevathan the following year. It was the 25th of April and the wedding was held in the home of her uncle Dr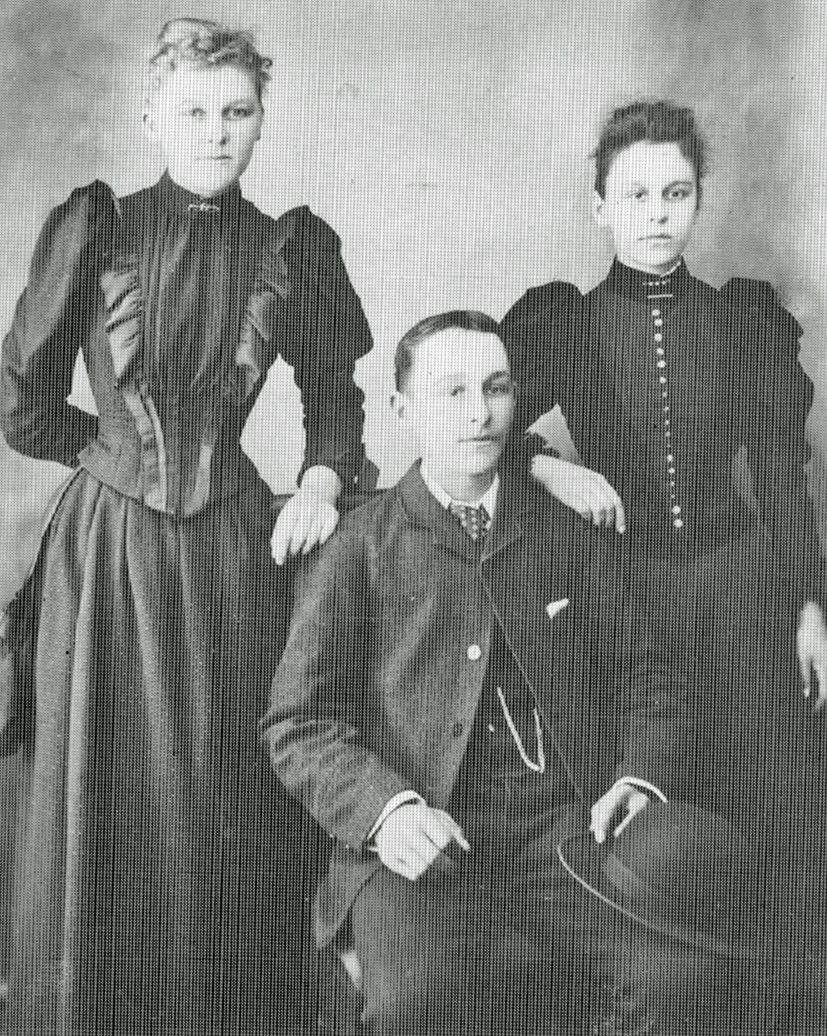 John Perriam and maybe his first wife
Elizabeth Jand Trevathan on right.

George Morris. Elizabeth has been bit of a mystery as up until now it had always been assumed that only the five children of David and Elizabeth Trevethan had immigrated to New Zealand. We have now found out that this Elizabeth Trevathan was the daughter of Thomas Trevathan the original Trevathan to come to New Zealand. The mystery is that when he married Jane Partridge in New Zealand in 1877 he stated that he was a bachelor but the birth certificate for Elizabeth Jane Trevathan shows her mother as being Jane Trevathan (nee Ball). I also now have the wedding certificate for this wedding. Even more interesting is the fact that he reported that he arrived in New Zealand before the birth of this daughter which may be just possible.

Elizabeth was born at St. Breock, Cornwall in 1871. She was present at her grand parents home when the 1871 census was taken along with David and Elizabeth's own children William aged 15, Emma aged 13 who both worked on the farm and David aged 10 scholar, Maria aged 7 scholar, Mary aged 5 scholar and Edith who was two. David at that time was aged 45 and farming fifteen acres. Thomas Trevathan was already in New Zealand but our Elizabeth was not to arrive in Cromwell until twenty one years later in January 1892. She was however in Australia with the rest of the family in 1882 and also present at the wedding of Dr Morris to Polly Trevathan in 1891 in Cromwell although she lived at that time at Luggate.

However returning to New Zealand, David Auchinvole and Elizabeth Trevathan's marriage was not to be a long one as David died less than two years later on the 7th of January 1894 from softening of the brain. He had been unwell for previous six months and his Doctor George Morris had been with him that day. He was buried two days later at the new Cromwell Cemetery. There were no children from this marriage.

John and Elizabeth Perriam (nee Trevathan).

On his death the brewery transferred to his wife Elizabeth Auchinvole who later that year on the 24th of October married a farmer from Cromwell. His name was John William Perriam and he took over the operation of the brewery on the 29th of November that year.
Elizabeth and John Perriam's house built 1880

Little is known about the marriage of Elizabeth and John Perriam except that it ended in divorce in 1902 with no children from the marriage. They did however, after two years of marriage, adopt a child by the name of Ivy May Davidson whose parents were Robert Davidson and Elizabeth MacDonald. She was born on the 29th of March 1897 and baptised at the Cromwell Church of England on the 23rd of May that year. They lived in a substantial stone house on the corner of Sligo Street and Inniscort Street from the twenty sixth of February 1897 until May 1901 when it was sold to Mr Verdon. This house was later to be used as a convent for the Dominican Sisters and was still standing until 1989 when it was demolished to make way for a new church hall. For the first five years of their marriage they continued with the brewery before leasing it to John McLoughlin for a period of three years from the beginning of 1899.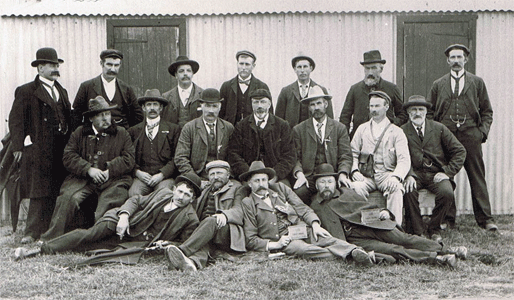 Cromwell A & P Society. Front left is John Perriam

Problems with their marriage must have come to a head before 1902 as Jane had a caveat placed on the three acre brewery property on the nineteenth of February of that year. She now lived in Dunedin and claimed that her husband John Perriam only held the property in trust for her. The caveat was withdrawn on the seventeenth of June presumably after the divorce was granted.

After his divorce from Elizabeth, John Perriam married Mary McKenckney and they raised five sons.

John McLoughlin, mentioned above, was married to Mary Annie Trevathan who was a cousin to Elizabeth Perriam. After their divorce in 1902 John Perriam transferred the brewery back into Jane's name who extended the McLoughlin's lease for a further two years and then finally sold the property to them on the 2nd of October 1905.

John McLoughlin operated the brewery for a further five years before leasing it to Jessie Thomson on the 1st of May 1909 with a right of purchase. Jessie Thomson must have decided not to purchase the business as she surrendered her lease five months later but John McLoughlin finally sold the property in March of 1915.

Maurice & Elizabeth Curran (nee Trevathan).

Meanwhile Elizabeth Perriam, who was not very lucky with husbands, remarried for the third time on the fourteenth of December 1904 at the age of thirty four. This time the wedding was held in Dunedin where she married a labourer by the name of Maurice Curran, the son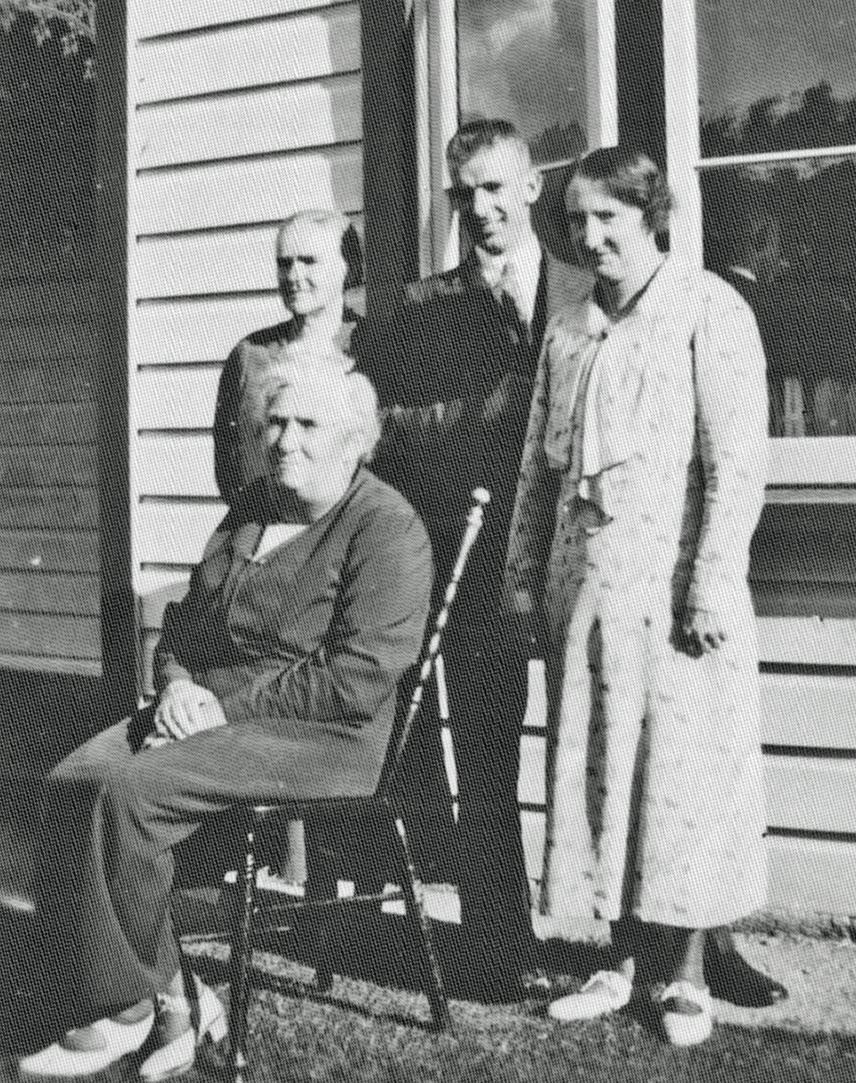 Standing: Bess Curran (nee Trevathan), Dave
Curran, Ivy Trevathan (nee Mitchell). Seated
Mrs Mitchell (Ivy's mother).

of John and Anstie Curran (nee Connelly), who had arrived in New Zealand of the "Cork" at Timaru back on the twentieth of October 1876. I have heard family talk of a Bessie Curran (nee Trevathan) who had two sons Dave and Pat and they have turned out to be the sons of Elizabeth Curran.

Little is known about the next few years in the Curran family but Maurice and Bessie had three children, Dorice Marie who was born in 1906 and the two boys mentioned above. Dorice only lived to the age of ten and died in Ashburton on the nineteenth of July 1917. Next born was Patrick and finally Maurice David Curran in 1911 by which time Elizabeth was forty one years old. They may have first lived in Dunedin and then Waipara near Ashburton before Bessie purchased a house in 102 Cox Street, Ashburton from Ellen Meeking on the eighteenth of May 1920. Maurice and Elizabeth lived together in Ashburton for the next fourteen years until the death of Maurice at the age of eighty one years on the fifth of June 1934. Elizabeth remained in the same house for the next sixteen years before selling to Ellen Hill on the thirty first of October 1950.

Her son David Curran married Nellie and it is understood that he and his brother Patrick were motor dealers in Ashburton. Patrick liked nice cars, had a pilot's license, served in the Pacific and was a Auckland City Councillor. He married Phyllis and moved to Auckland before the War. David was still in Ashburton in 1946 but also later moved to Auckland.

So ends the early history of our family after arriving from Cornwall to live in Central Otago.

Just a snippet from the present. At it's meeting on August 3 1988 the planning committee of the Wanaka District Council chose several street names for the new Scurr Heights subdivision. Some of the names were connected with early pioneers of the area, most of whom still have descendants living in Wanaka. Along with the names of Aspinall, Bovett, Farrant, Hogan, Ironside, King, Manson, Mcleod, Scaife, Templeton, Umbers and Wilson, our family name Trevathan was chosen.

Cromwell Brewery Bottles

Cromwell Brewery Label

Cherry Brandy Label

Cherry Brandy Label
Of course our most well known footballer was Dave Trevathan from Otago. David Trevathan was born at Mosgiel Junction on the 6th of May 1912 to his parents David and Isobel Trevathan (nee Anderson). In his early years he was educated at Caversham and Macandrew Road Schools.
Dave played senior rugby for Dunedin's Southern club and was selected for the Otago team in 1934. Dave was a reliable five-eight noted for his goal kicking ability, particularly the drop kick. Dave and his brother Thomas were both nominated for the 1937 All Black trials and although Thomas was not called upon to play in any of the six trial games or the inter-island match Dave played well and was chosen to play for New Zealand. The team did not inspire much confidence in the minds of rugby followers as none of the backs had played in a test.
His brother, Tommy, represented North Otago before playing Rugby League for New Zealand in 1936.
Dave Trevathan played his first game for the All Blacks in front of a crowd of forty thousand on the 14th of August 1937 against the touring Springbok team. The game was won for New Zealand by the forwards and the kicking of Dave Trevathan. While Dave missed two kicks on that showery day at Athletic Park in Wellington he did kick two penalty goals and a brilliant field goal.
Three weeks later the second test was held at Lancaster Park in Christchurch before a crowd of forty five thousand people. Dave's boots were not in luck for New Zealand on that day as he missed each kick and the South Africans beat the All Blacks by twelve to six to draw the series.
The 25th of September saw New Zealand lose the third and final test also, in front of a record crowd of fifty eight thousand people at Eden Park in Auckland. The Springboks completely outclassed New Zealand and Dave's two penalty goals were not enough to match the five tries and one conversion from the South Africans.
Dave although one of our most known relations, only played for the All Blacks for the one year.
Dave married Rennie Pickering and had two children, David and Dawn. He was employed at the Taieri and Peninsular milk factory and later at Fletcher Merchants. He died at the age of seventy four on the 11th of April 1986.
Another football player was William Trevarthen a descendant of the original William Trevarthen who came to Auckland in 1840. While not a rugby union player he was a member of the very first New Zealand rugby league side which toured England in 1907.
The game was introduced to New Zealand in 1907 when a band of rugby union players contacted the rugby league clubs in England to see if a visit from a New Zealand side would be acceptable. When a favorable reply was received a strong side led by W Baskerville which included William Trevarthen playing in the forwards left for England. In order not to confuse this team with the Union All Blacks, the colours of the side were all-gold. Each player had to put up a deposit of fifty pounds in case gate-takings overseas did not meet the expenses, but fortune smiled on the venture and each player received about one hundred pounds.
Quite a big itinerary was arranged for the local side, playing 34 matches for nineteen wins, twelve losses and three draws. A splendid effort by a team playing a strange code of football. On the points side they were even more impressive, with 449 for and 299 against. They also won the ashes by two to one, losing the first test, but winning the final two.
On the way home the great side played three games in Queensland, winning two and drawing one. The first game of the new code was played in New Zealand when a benefit game was played in Wellington after the team's return in June 1908.
Before his death George, told me that he had not wished to follow his father and become a doctor but rather from a very early age had wanted to be a farmer. He was eventually to own Criffel Station after his father bought it from a young man who had acquired it by ballot. He remembers the land at that time being completely bare and overrun with rabbits.
He moved to Criffel about 1915 and for the first two years he lived in a tent with the flap turned back so that he could build a chimney with sods and an open kerosene tin on the top. It was very cold as there was often a lot of snow around. Eventually he built a two- roomed hut but this was used by Miss Stumbles, their family housekeeper, who came out to Criffel to cook for the shearers.
Progress on the station was slow until they installed irrigation. This was thanks to a scheme left from the early days when there was a lot of gold mining being done on the top of Mount Criffel. George remembers that there were hundreds of men up there at one time and even a hotel.
It was a five mile ride from Criffel down to Luggate for the groceries and mail but they mostly lived off the land. They grew all their own vegetables and meat and his wife made butter for three families. The wool from their merino cross sheep was taken to the railhead at Cromwell which was then a two day trip.
George married Beatrice Waldon who early in her life became an orphan. She was bought up on Minaret Station at the head of Lake Wanaka.
Thomas Trevathan, 1883 - 1959.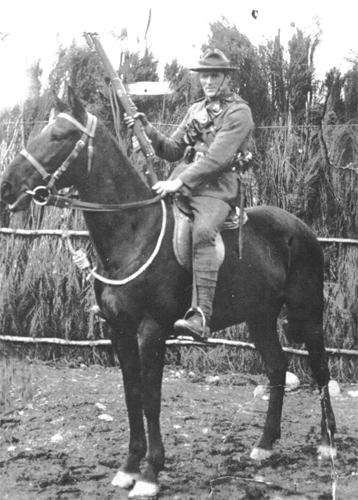 Thomas Trevathan just after World War I

Thomas Trevathan was born in 1883 at Luggate. He was seen from time to time in his father's hotel bar but needed a box to see over the top of the bar.

Tom first worked as a musterer in the Luggate area before the First World War. During the war he was wounded in the arm from shrapnel which resulted in him losing his arm. He also lost three toes from one foot. A letter date August the 11th, 1916 to his brother Bill from one of Tom's "mates", J B Hunter, written from "Somewhere in Frances" tells of the incident.... "This is just a few lines hoping it will reach you safely. And my reason for writing is to give you the particulars of how your brother Tom got severely wounded here three days ago. You will of course get official notice long before this reaches you and I know it will be a time before Tom will be able to write himself. Though I did not actually see it myself, this is what happened. He was on guard that day and was on sentry duty from two till four during the afternoon. Somewhere about three o'clock an enemy shell came over and struck immediately above his head, perhaps 40 feet above him. It was a high explosive shell and of course exploded at once. Poor Tom had his left arm very badly wounded and his right foot also. The medical orderly at the dressing station told me they might save his arm but to tell you honestly, it seems to me to be very doubtful. One toe was gone, another almost so, at the worst he might lose his three smaller toes, his big toe and the ball of his foot is all right. I am sure they will do their best for him and with the experience of war wounds they may save his arm too. It was a miracle he was not killed. No one else was hit and only the one shell came over just then.

Though he must have been in considerable pain and also with the shock of the explosion yet he did not lose consciousness and the last words he said as they took him away were to the stretcher=bearer, to watch his arm did not get over the edge of the stretcher. He has the heart of a lion.

I put his things together then but there was nothing of any value or personal property. He would have anything like that in his tunic so it will be taken care of till he recovers again. I took all his things (that is blankets clothes etc) along to the dressing station, but as I said there was nothing of any value, and he will get all that sort of outfit in any hospital. He had had his wounds dressed there
Cromwell Fire Brigade 1904. Thomas Trevathan is third
from left in back row.

and gone further along to the field hospital, so I did not see him again. Of course he would be sent to England and is no doubt there now. You can rest assured he will have every attention and care . I have missed him very much as we have known each other since we were in Trentham together and have been the best of friends and latterly "mates." We have slept together since coming to France and I can tell you the best one can have out here is a good "mate." I have never had a better than Tom. He always made the best of everything and had a smile for all. Our platoon officer said, "I have lost the best man in the platoon."

Now I don't Know that there is anything more that I can say. He will have a long spell in England and then New Zealand again. The war is over for Tom. Though it was very hard luck, these things are happening every day out here and none of us know when our turn is coming. The rottenest part of the whole business is that the shell was not meant for us at all and but for striking this steel rail would have burst about a hundred yards further away. I am not just sure of this address is correct but if it is wrong I dearsay it will find one of Tom's brothers anyway and I hope you will understand my reason for writing this. I just thought you might like to know the particulars. In closing I may mention that Sam Hunter who used to drive between Pembroke and Clyde is my Uncle. I dearsay you will know him. Hoping you get this safely. Yours sincerely, J B Hunter.

As a result, long before the 1918 victory the glamour of war had disappeared for Thomas who wrote home from an English hospital, "the old yarn that wooden legs are cheap is a mile out". On return from England Tom led the Pembroke band, heading a procession of fourteen decorated cars to the picnic ground on the Wanaka flats. There the victory gathering was addressed by the Rev Mr Ryley and W Scaife. Everybody in the crowd was bubbling over with joy.

Jack Laurie Trevathan, 1925 - 2003.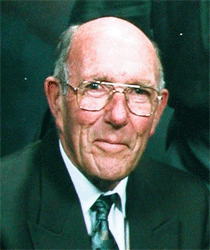 Laurie Trevathan 2000

Laurie started work first of all as an office boy for Stronach Morris Ltd but a year later took a job as a farm labourer milking five cows and doing tractor work. His clear fortnightly pay was two pound and six pence. He later went to Lincoln College for a year before starting work for J K Mooney grading sheep, opossum and rabbit skins. Around the end of the Second World War a short time was spent at Burnham Camp before returning to his former position at Mooney's.

At the age of nineteen he married Noeline Jackson in 1944 and purchased his parents home in Concord when they moved to Cromwell to live. Later the property was sub divided and they built a new brick home on the bottom section. This house will always be remembered by me as it has every colour of tile on the roof that were made at that time.

In 1950 he moved his family of Kenneth, Jeniferann and Robyn to Christchurch for two years before moving to Palmerston in 1952 to start a wool buying business. These were happy times in a country town where Laurie became a Borough Councillor. Their final child, Nicholas was born in 1955.

They left Palmerston in 1963 and lived in a number of houses in Dunedin working at Reid Farmers in the wool store while Noeline ran boarding kennels for dogs.

His wife died at the early age of 63 and Laurie eventually moved into the Birchleigh retirement village in Mosgiel. He died in 2003 just after his 78th birthday and is buried in the Green Island cemetery alongside his father.

Kenneth Laurie Trevathan, Born 1945.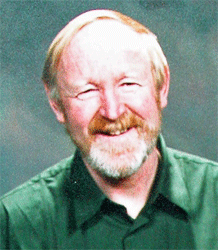 Ken Trevathan 2000

I was born just at the end of the Second World War, on the 17th of September 1945, in Dunedin where I lived for the next six years with my parents in Concord. My earliest memories of my early childhood are of my parents building a new home in Concord in front of the older one they had purchased from my Trevathan grand parents. On the roof of the new house my mother insisted that the tiles, instead of being one colour, which was the norm, she would have a mix of every colour they made. I can't remember where my bedroom was in the house but I can remember my father installing two thicknesses of blue feltex on the floor.

I have memories of going to school at the Concord primary when I was five. It has stuck in my brain all these years that the school had contractors carrying out earth works and they were using a truck that had a tip back which was raised by hand with a winch arrangement turned by hand by the driver. Another memory was of the very steep decent into the garage under the new house and of my father leaving me in the car; an Austin 7, while he opened the garage doors. Being a young inquisitive mind I experimented with the all the switches and levers resulting in my releasing the hand brake sending the car down the drive into the garage doors nearly hitting my father.

I don't remember more about Concord as my parents were soon on the move to Christchurch where I continued with my schooling for the next two years. We had a newish house in Christchurch across a small bridge over an open drain. I remember the weeds were up to the windowsills when we moved in and that there was no garage for the car. A garage was built using a car crate my father acquired from somewhere. Our time in Christchurch I don't remember as a happy time and we were soon on our way back to our home city of Dunedin.

For some reason we stopped in Palmerston on the way back to Dunedin and our family ended up living there for the next 10 or so years. Dad set up there as a wool and skin buyer on his own account. Life in Palmerston was happy with memories of swimming down at the river at a place called "the plank", going fishing on the Shag River, of joining scouting and going to the jamboree in Auckland. It was at this time my interest in fire engines and the fire brigade was born. I used to race off to the station on my bike if the siren went, ride on the back on practice nights and held the hoses when they pumped water from the Shag River.

During holiday times I always went to stay with my grandmother in Green Island. She lived across the road from the fire station and I remember swinging on her front gate watching the engine come and go. Holiday times with her were always special. I loved helping with the baking on Thursdays and we always made gingersnaps among other things. Almost every afternoon we were on the bus to the pictures in the city. Lunch was purchased at the Beaumont tearooms where blue milkshakes were often the drink of choice.

But all this was to change for 1959 saw me off to boarding school at Waitaki Boys High in Oamaru for the third, fourth and fifth forms. A time of my life I did not enjoy at all for boarding school life was very hard in those days, sleeping in dormitories with forty beds. The beds were very hard and the dorms extremely cold with just canvas sides and a large healthy air gap along the roofline. We were given six blankets each and most of us used to fold the middle four blankets in half giving us ten thicknesses but it was still very cold. I was not very good at schoolwork. I liked woodwork, which I was only allowed to do one period of a week, I played in the school brass band and enjoyed my rugby and developed an interest in painting and drawing.

In the holiday time of Christmas of 1961 I convinced my parents that I could leave school and started work in Dunedin, the city that was to become for me always "my home town". I boarded with my Grandma Trevathan in Pine Hill, my grandfather having died just a couple of years earlier. My first job was at Hurst and Palmer as a junior photographer's assistant.

Most evenings saw me out Scottish country dancing where I met a lot of good friends. I attended three summer schools of dancing held in Lincoln near Christchurch, Hastings and Dunedin. TV at the time was new and I had become quite a good dancer and ended up performing on a Scottish show.

As soon as I had enough money I purchased a Vespa motor scooter and was thus introduced to the Otago Vespa Club.

Over the next years the Vespa Club was to become a way of life for me, with Friday nights at the club house, Sundays on club runs to every corner of Otago and regular Saturdays with the display team of stunt riding and procession riding. Time with the Vespa club reached a climax with me going to perform as guest performers at the Auckland Easter Show and meeting Nicki Howard who was to become my future wife.

Nicki and I were engaged in 1965 and we purchased a section in Pine Hill on which to build a new house. The payments were £2 a week, which I paid while she paid the same amount off a bedroom suite for our future home. The section was covered in blackberry and had a long line of "old man" Macrocarpa trees which kept us busy every weekend clearing them and cutting them into firewood. When cutting down the very last tree it swivelled on the stump and pulled down the power wires on Pine Hill Road. It was the last "straw" or stick as it turned out.

Building of our new home was started before our wedding and we moved in in 1967 . Nicki had our two children Geoffrey and Margot born in 1970 and 1971.

I worked at Hurst and Palmer Ltd photographers for two years before being offered an apprenticeship as a photo litho colour corrector at Coulls Somerville and Wilkie Ltd, Dunedin's biggest commercial printer. I didn't really enjoy the job which involved a lot of darkroom work and a great deal of either overtime night after night or weeks with little work to be done. As soon as my apprenticeship was completed I moved to working as the Manager of Camera House in a new branch set up in the new Otago Savings Bank building. It was all new and very exciting but the pressure was always on to try and sell more and more photographic equipment. The shop was rather exclusive having deep carpet on the floor and lovely mahogany fittings.

In 19?? the bursar of Dunedin's private school, John McGlasham College, retired and I was successful in being appointed to the position. This was a time of great advancement in my career marred only by some of the childish antics of some of the school teachers I had to work with. After seven years and in need of a change I was one night out of the blue offered a position as bursar of Lindisfarne College in Hastings. The school up to this point had not had a bursar and I was being recruited to establish the position in the school. I was caught on a low at my Dunedin job and with the offer of nearly double the salary we decided to move but did not sell our Dunedin home in case we did not settle well in Hawke's Bay.

While the position of Bursar in Hasting was good ,Nicki and I both felt very home sick and after just six months in Hastings decided to return to Dunedin just as soon as we could find work. We lived in a rented house out in the country and our children went to a local country school. Each Christmas we travelled to Dunedin to be with our families and friends. The first term holidays saw us travel overseas for the first time and thus our love for travel was born. Just a short two-week trip to Tonga, Western Samoa and American Samoa.

May of 1980 saw us move south again, not to Dunedin but to Lawrence, which was to be our home for the following 17 years. We purchased a small poultry farm and produced eggs for the Dunedin market and also produced point of lay pullets for mainly farming families. I also started a beekeeping business first with 200 hives and finally with 850 spread over the country around Lawrence.

The years in Lawrence made it possible to travel and we had a number of extended overseas holidays traveling to all corners of the world. We visited China and India twice, Thailand a number of times, crossed Russia by train and America by van. We visited Africa, Jordan and Syria and spend two months in South America.

Life in Lawrence was initially stimulating but finally became a drain on both my health and Nicki's. I became a member of the local fire brigade finally becoming Chief Fire Officer and received Life Honoury Membership when we finally left. I was a Borough Councillor for two terms and both Nicki and I announced on the local community radio station.

In 1998 we finally moved back to Dunedin and purchased Mornington Hammer Hardware a franchised store part of a national chain. We moved into our house in Waverley, which we had purchased three years earlier mainly as a retirement home and had been using as a refuge from Lawrence most weekends.

Which brings me to the present with both our children away now living their own lives, Nicki and I have separated and gone our own ways. Mornington Hammer Hardware is stimulating and a challenge but retirement is now looming and it will bring a new phase of my life.

In 2005 I meet Fi who was to become my second wife and I lived with her in Balclutha for a short time traveling every day to Dunedin for work. Just before Christmas 2005 we moved into a new house we had built in Mosgiel and Fi now travels everyday to Balclutha for work.

I have started traveling again with two trips to Australia visiting the east coast and we are soon to travel to India a place I have been to twice before.

Click the links below to view family trees which are in PDF format. If you require a PDF reader click on the link to download a free copy.
| | | | | | |
| --- | --- | --- | --- | --- | --- |
| | | | | | |
| Tree 1 | Tree 6 | Tree 7 | Tree 8 | Tree 9 | Tree 10 |
| | | | | | |
| Tree 11 | Tree 12 | Tree 13 | Tree 14 | Tree15 | Tree 16 |
| | | | | | |
| Tree 17 | Tree 18 | Tree 19 | Tree 21 | Tree 26 | Tree 27 |
| | | | | | |
| Tree 28 | Tree 29 | Tree 30 | Tree 31 | Tree 32 | Tree 41 |
| | | | | | |
| Tree 42 | Tree 43 | Tree 44 | Tree 45 | Tree 46 | Tree 47 |
| | | | | | |
| Tree 48 | Tree 49 | Tree 50 | Tree 51 | Tree 52 | Tree 53 |
| | | | | | |
| Tree 54 | Tree 55 | Tree 57 | Tree 59 | Tree 60 | Tree 61 |
| | | | | | |
| Tree 62 | Tree 63 | Tree 66 | Tree 67 | Tree 68 | Tree 69 |
| | | | | | |
| Tree 71 | Tree 74 | Tree 75 | Tree 76 | Tree 77 | |